Job estimate templates
Job estimate templates in Word and Excel to estimate project time and cost
JOB ESTIMATE, also refered to as WORK ESTIMATE, QUOTE, or simply an ESTIMATE is a preliminary assessment of a project cost. There are different types of pricing estimates:
Not-To-Exceed: provide your customers with a predetermined price quote. This price model assumes that, no matter what, your invoice won't exceed the amount you quoted
Binding: provide your customers with a fixed price agreement. This price model assumes a certain price for a certain work. Make sure you describe your project in detail and write down any extra charges the customer might have to pay if the amount of work exceeds what is agreed upon.
Non-binding: provide your customer with a ballpark number. This price model assumes your estimate will be changing whenever new information comes in. If you quoted 20 project hours and the project took 40 to complete, you will be invoicing 40 hours.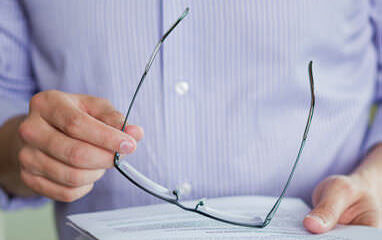 Regardless of the type of Job Esitmate you decide to go with, make sure the terms are crystall-clear to your potential customer before you commence the project.
Our Free Job Estimate templates will help you create a professional document to calculate the cost of an entire project. We hope we can help you to make the process of creating a price quote much easier, quicker, and error-free. Download our templates to create an estimate that is accurate, thorough and professional in a way that will make a good lasting impression on the customer about your company. We hope this template will help you save time and money.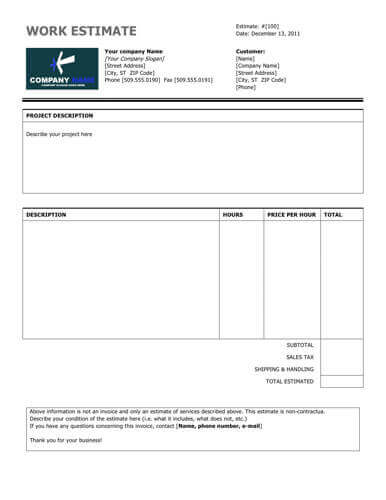 Description:

Word document with two sections: Project description and Project Details. Project description should be used to input an overview of the project. Project Details should be used to break down project to specific tasks, and quote price for each of those tasks.

Size:
48 kB
Format:
doc
License:
Creative Commons
Downloads:
20,936
Type:
Free Download
Uploaded:
2010-12-17 13:23:00 / 2705
Additional format samples
Work estimate template in Excel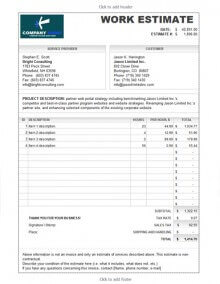 Blank fields include info about service provider and customer, project description, number of hours, price per hour, and a total work estimate. This document automatically calculates each line item total, subtotal and total.
Simple Job Estimate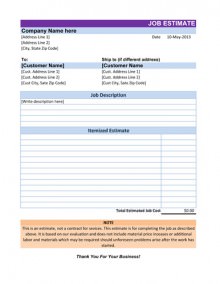 This basic template will automatically calculate total of your project. Simply enter individual line items, and price for each.
Simple Job Estimate with tax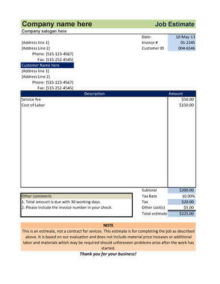 Basic estimate template in Excel where total cost of a project is calculated automatically. Enter tax rate to calculate total tax, and add 'other costs to calculate total. The template provides space for comments to customer and notes / terms.
Project estimate in Excel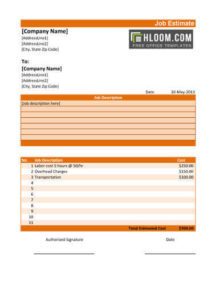 This Excel spreadsheet estimate calculates total cost of project in a style: the color of table rows is alternated automatically by a formula.
Hourly Job Estimate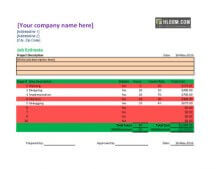 This template is calculated from hourly rate and number of hours billed for project tasks. You can set tasks as billable or non-billable. The document will display total and effective hours for the project, and total and effective cost.
Project cost and profit estimate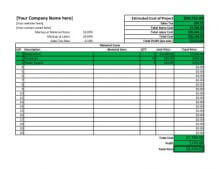 This spreadsheet is pretty complex and will calculate total cost of project that bills for both labor and products. Enter individual items of the project, markup, sales tax, and see total estimated cost of the project, and the profit
Project estimate spreadsheet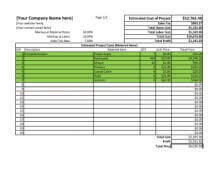 This two-page template allows to calculate both cost and profit of a project where both labor and material items are used.
Project Cost Estimate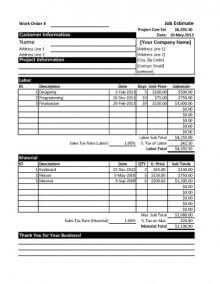 Proposal to send to customers where both labor and material are listed, and different tax rate applied for each.
Job Estimate in Word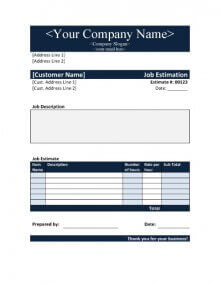 Basic sample in Microsoft Word. Easy to use and modify but does not calculate total automatically.
Tehnical Project estimate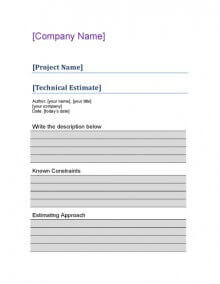 Multiple-page proposal for a technical project with sample content and headings.