Free Service Invoice Templates
Download free Invoice Template for Small Businesses (MS Word / MS Excel)
SERVICE INVOICE is an invoice associated with both professional and non-professional services: legal, medical or accounting, freelance work, consulting, handyman work, housecleaning and babysitting, landscaping and gardening, auto repairs, catering, child care, pet care, tutoring, and other services.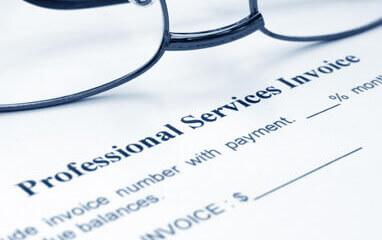 This type of invoice is a perfect invoicing tool for individuals and small businesses that require simple, easy to use and free invoicing tool to bill their customers. As the name suggests, this invoice is used to bill for services, so don't use it for transactions associated with a tangible or physical item. In those cases you might want to use Sales Invoice or Sales and Service Invoice.
Invoice templates are a good alternative to expensive and complicated invoicing software. If you have a small business that does not issue many invoices then a simple template is often all you need to get the job done.
On this page we have put together collection of different Service Invoice Templates. They are all free to use for personal and commercial use, no fine print. You can even distribute those as long as you link back to our site – see Creative Commons license for full details. If you are looking for a different type of invoice please see other invoice templates we created.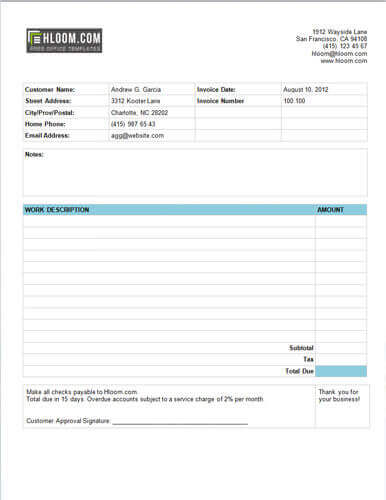 Size:
46 kB
Format:
doc
License:
Creative Commons
Description:
This template is a very basic service invoice format where all you need to enter is a description of work and amount billed. You have to manually add lines and tax to calculate total.
Downloads:
3010
Type:
Free Download
Uploaded:
2012-08-12 / 285
Download Free Service Invoice Templates
Different services call for different type of invoices. In addition to the very basic format above we have a number of different formats to suit different type of uses. Below you will find service invoices with hourly type of billing, for labor only and for labor and parts, with and without taxes, with and without additional charges, with same tax for labor and products, and with different tax. We have templates for Microsoft Word and Microsoft Excel. You can open those without any problems in OpenOffice and Mac iWork (Mac Pages, Mac Numbers). For Word templates you will have to manually add line totals and make the calculations yourself. If your billing is simple, this should be enough to invoice your customers. For more complex invoicing needs see spreadsheet templates where amounds are calculated automatically and all you have to do is enter prices and rates. See small icon in template description to see the format of a template.
Please see this page for Travel Service Bill Templates.
Simple invoice template for hourly Service
Basic format with optional tax and marketing banner
Basic format for billing hourly with banner
Simple service invoice
Colorful free invoice hourly
Simple articstic design
Service Invoice Template for Freelancers
Wait, there is more! Please share!
Pleause use sharing buttons below to unlock 10 more templates.
Please like us to unlock more templates!
External resources for similar invoice samples