The 39 Best Resume Templates of 2023: Our Favorite Free Downloads
February 15, 2023
|
Gabriela Barcenas
|
Create Your Resume Now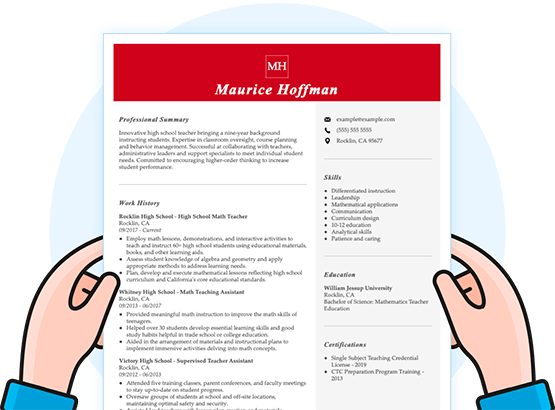 Featured In:
Choose From Our Best Premium Templates
We'll share our favorite free resume templates below, but here's a sneak peek of how to build an optimal resume using our new Resume Builder. Our online tool has premium templates and color schemes, expertly written resume content tailored to hundreds of different job paths, unlimited online storage and machine-friendly layouts to help you breeze through applicant tracking systems during the application process.
Bartender - Acclaimed

Cashier - Accentuate

Freelance Writer- Remarkable
The 10 Best Free Resume Templates
Our professional resume design templates are easy to download on Word and tailor to your needs. We've compiled the best-performing resume templates of our entire downloadable library and recommended the types of jobs and organizations for which each template is well-suited. Use these templates alongside our professional resume examples to craft your resume.
Traditional Elegance

Traditional Elegance

This resume template features a classic and elegant layout ideal for applying to companies with a more conservative vibe. Hiring managers appreciate how easy it is to evaluate your career growth with its chronological format.

Best for:

Attorney

Medical assistant

Customer service manager

Substantial

Substantial

The Substantial resume template offers ample space for a long list of skills while keeping the layout balanced with white space and a simple pop of color.

Best for:

Flight attendant

Cashier

Office manager

Steely

Steely

Formal and refined, this combination resume template has a decidedly corporate feel. The Steely template lends an air of authority while highlighting a balance of accomplishments, work history and education.

Best for:

Banking assistant

Executive assistant

Sales manager

Button-Down

Button-Down

This two-page resume template is tailored for mid-career and advanced professionals seeking executive management positions. The Button-Down template provides ample space to detail your work history, skills, accomplishments and education.

Best for:

Experienced medical assistant

Experienced loan associate

Medical billing and coding specialist

Creative

Creative

This creative resume template is an attention-grabber and one of our top resume templates of all time. Use this bright and innovative resume to grab the attention of potential employers when you want your bold personality to shine.

Best for:

Google or Facebook intern

Retail merchandiser

Middle school teacher

Modern

Modern

This modern, professional resume template provides striking color so that hiring managers and recruiters can quickly identify sections for work history, awards and education.

Best for:

Restaurant general manager

Real estate agent

Human resources manager

Glimmer

Glimmer

With its cutting-edge design, this functional resume template downplays the dates of employment and highlights job titles, experience and accomplishments. Select this template when you want hiring managers and recruiters to notice these areas immediately.

Best for:

Customer representative

Dentist assistant

Volunteer

Clean

Clean

Clear and straightforward, this resume template is a classic. It's easy to scan and read and is the perfect choice for individuals with impressive work histories, awards and education. The Clean resume layouts are suitable for virtually every position and every type of employee.

Best for:

Massage therapist

Internships

Cashier

Infographic

Infographic

This two-column infographic template does a beautiful job of highlighting your work history, education, skills and any industry awards and honors you've received. It's not over-designed and makes it easy for hiring managers to determine if you fit their needs.

Best for:

Software engineer intern

Licensed massage therapist

Pediatric medical assistant

Best Simple Resume Template

Best Simple Resume Template

Wide margins and bold headers give this simple resume design enough style to catch the eye of hiring managers. This resume template is an excellent choice if you're applying to a more traditional field, but you don't want to look outdated.

Best for:

Accounting associate

Attorney

Certified medical assistant
The 6 Best Simple Resume Templates
Use a simple design if you have plenty of work experience and major accomplishments to highlight. These basic layouts offer little distractions and are perfect for job seekers to show off their biggest professional wins.
Upfront

Upfront

This free template follows a straightforward layout but elevates your professional information with the playful use of bright orange section headings.

Best for:

Search engine marketing associate

Medical assistant

Nursing assistant

Broad Appeal

Broad Appeal

This simple resume template uses bold white space and clear columns of text to create natural breaks between your resume sections. This elegant design makes it easy for hiring managers to skim and understand your professional history quickly.

Best for:

Medical office biller

Office administrative assistant

Client account manager

Indent Line

Indent Line

This template prioritizes your work history and is ideal for you if you have over ten years of experience or uninterrupted employment across multiple employers.

Best for:

Warehouse worker

Service technician

Manufacturing associate

Accomplished

Accomplished

This free simple template uses a colored border to frame your name, contact information and key skills, allowing the rest of your work history and education to speak for itself.

Best for:

Medical billing associate

Quality assurance specialist

Accountant

Pretty in Pink

Pretty in Pink

The best resume templates showcase aspects of your personality. If you're a playful individual with strong people skills, this template uses a bold pastel shade to help make your resume pop.

Best for:

Recruiter

Human resource specialist

Academic tutor

Substantial

Substantial

This free simple template uses thin borderlines and stacked resume sections to help you showcase your professional skills and work history. This universal design can follow you throughout your career.

Best for:

Client service associate

Software assistant

Brand ambassador
The 6 Best Professional Resume Templates
These professional resume templates are the best of their type. They use elegant designs and simple page layouts to outline all of your career accomplishments.
Blue Side

Blue Side

A professional job seeker can rely on their professional experience to impress recruiters, but the best resume templates use designs to make hiring managers stop and look at a document for a few more seconds. This template's bold blue border can help you attract those crucial extra seconds.

Best for:

Product manager

Sales associate

Business analyst

Point

Point

This straightforward free template relies on bold font treatments to help your professional qualifications stand out, making it the ideal choice for senior professionals responding to recruiters.

Best for:

Supply chain associate

IT director

Growth analyst

Vibrant

Vibrant

This professional resume template dedicates most of the page to your work history. This makes it the best resume template for experienced job seekers looking for a promotion or career leap.

Best for:

Intellectual property counsel

Medical office assistant

Retail associate

Career Pitch

Career Pitch

This column-based resume template makes it easy to identify key skills and major job achievements.

Best for:

Social media manager

Advertising specialist

Junior accountant

Nonsense

Nonsense

This straightforward resume spares no space for unnecessary information. The clear focus on your past employment and related accomplishments helps you demonstrate what you can bring to your next employer.

Best for:

Quality assurance specialist

Chemical engineer

Merchandiser

Bulletin

Bulletin

This professional resume template uses two concise skills sections and an award section to highlight your technical accomplishments. This is the best resume template for an entry-level to mid-level job seeker with plenty of relevant training but little experience.

Best for:

Web developer

UX designer

Speech therapist assistant
5 of the Best Resume Templates to Show Off Skills
Whether you're a recent graduate wanting to demonstrate the academic skills you studied or a disillusioned employee looking to make a major career change, a functional resume may provide the best resume template. This resume format barely mentions your past jobs and instead uses multiple skills sections to highlight your core accomplishments and transferable skills. Learn more about the various strengths of the functional format versus its siblings in our resume format guide.
Sales-Focused

Sales-Focused

This simple resume focuses on your summary of qualifications and relevant skills, allowing you to explain which relevant skills you can bring to a new job and how you successfully wielded them in the past.

Best for:

Retail sales associate

Outside sales representative

Sales Adviser

Graphic Design

Graphic Design

This resume helps you break your technical skills into three easy-to-spot groups. This strategic use of resume sections enables you to showcase your proficiency with software and practical design theory.

Best for:

Graphic design intern

Visual designer

eComm graphic designer

Mid-Level Retail

Mid-Level Retail

When it comes to retail, your customer service and sales skills are as important, if not more, than your work history. A functional resume lets you demonstrate your core competency with customers and your fellow coworkers.

Best for:

Retail merchandiser

Retail specialist

Assistant store manager

New Teacher

New Teacher

Although this may be your first job, you studied and trained to be the best educator possible. A functional resume format lets you showcase which academic fields you specialized in and how one-on-one tutoring enhanced your teaching approach.

Best for:

Summer camp instructor

History teacher

Substitute teacher

Career Change

Career Change

Even the most passionate of employees can lose interest in their career or desire a professional change. The functional resume is the best resume template to let you highlight transferable skills that relate to your new field of interest.

Best for:

Marketing intern

Career counselor

Yoga instructor
The 6 Best Resume Templates for Entry-Level Job Seekers
Block Step

Block Step

This functional template pushes your light work experience close to the bottom of your resume and lets your skills dominate the majority of this page. This free downloadable template features three slots for different groups of skills: This strategy lets you showcase multiple skill sets based on your professional experience and the needs of a potential employer.

Best for:

IT junior associate

Administrative assistant

Academic tutor

Classic Elegance

Classic Elegance

This functional resume dedicates the center section to a long list of skills and creates a custom section where you can play up your key employable skills before addressing your limited work history. This lets you highlight your academic and practical skills over your limited work experience.

Best for:

UX content strategist

Researcher

Software engineer

Professional Orange

Professional Orange

The best resume templates for entry-level job seekers put your skills front and center. This free downloadable template takes a unique approach to your skills. It allows you to showcase them according to goals and provide data to back up your proficiencies.

Best for:

Elementary school teacher

Sales associate

Accountant

Color Contrast

Color Contrast

Whether you're still in school and looking for an after-school job or internship or you're freshly graduated, this resume template dedicates an entire section to your academic qualifications. This allows you to showcase all your education skills with real-world applications, such as research, attention to detail and time management and technical skills related to your career goals.

Best for:

Engineering

Research

Financial analyst

Simple Underline

Simple Underline

Although this resume does place your work history near the top of your resume, it doesn't dedicate a lot of space to specific details. Instead, you can put more information about your education, skills and job-relevant awards throughout this resume to highlight your skills development.

Best for:

Language arts teacher

Mathematics teacher

HVAC technician

Section Lines

Section Lines

This functional resume takes a two-pronged attack to help entry-level job seekers highlight their skills. This template allows you to add a list of important skills under your professional summary but adds three additional skills sections near the bottom of the document to play up your technical skills.

Best for:

Software developer

Junior data scientist

Paralegal
Best CV Template
Best CV Template

Perhaps you seek a position where a curriculum vitae (CV) is more appropriate than a resume. That's fine! We've got you covered.

A curriculum vitae has the same function as a resume, but it is much lengthier and detailed. It's usually reserved for academic roles and is commonly used in European job markets.

Our CV template is the perfect layout and design to present your education, research, publications, awards and presentations.

Best for:

Ph.D. candidate

Associate professor

European-based professions
Find Your Best Resume Template in Our Builder
Our Resume Builder offers first-rate resume templates that will work fabulously in any role or industry. The best part of using our builder is that you can create the best resume specifically for you, your job title and industry.
Enjoy builder benefits like:
Professionally designed resume templates.
Automatic resume formatting.
User-friendly template customization.
Suggested phrases to include in your resume content.
You'll have the most effective resume tailored to your needs. Simply download or print and you can be on your way to ace your job interviews.
FAQ
What makes these templates the best?
Our carefully curated downloadable templates and Hloom's signature builder templates check all the boxes for good resume templates. They all are beautifully designed, compliant with applicant tracking systems (ATS), easy to edit, expertly formatted and convey the utmost professionalism.
What are the benefits of using a template?
Using a template gives you many benefits when writing your resume. When you use a template, you don't need to stress figuring out the best way to format and organize your resume. A template gives you a layout so you can simply fill in your information and have a resume in no time.
Are these resume templates ATS-friendly?
Hloom's has the best resume templates to tackle ATS. The strategic format, fonts and margins aren't hard for applicant tracking systems to accurately scan and rank. When writing your resume for an ATS, you should always use readable fonts, have a simple design and stay away from photos or graphics.
How do I format a resume template?
To make formatting a resume easier, we recommend following one of the three resume formats: chronological, functional and combination. This top resume format guides you on organizing your information strategically based on the level of experience and the number of skills you have.
The best resume format is the chronological format which will benefit candidates who've had a long and extensive career. It emphasizes your work history and organizes it in reverse-chronological order, hence the name.
The functional format instead puts the focus on your resume skills. This way, your work history has less importance in your resume, making this format ideal for individuals with no previous work experience.
As the name suggests, the combination format combines qualities from both chronological and functional resumes. It levels the playing field between skills and work history, so candidates with limited experience but plenty of skills can benefit from this type of resume.
Gabriela Barcenas
Gaby is Hloom's resident writer, a certified professional resume writer (CPRW), and a baking enthusiast. She likes to defend the use of the functional resume to her friends in HR. She graduated from the University of San Francisco with a B.A. in English and Creative Writing and wrote about career growth, tech startups, education, fashion, travel and lifestyle culture throughout her career.