Certificate of Appreciation
Recognizing employees, volunteers, students, and even (sometimes) bosses for their hard work is a fundamental building block to creating healthy working relationships. Whether the words of appreciation come with a bonus, are given at a ceremony, or are simply said at a daily meeting, including a certificate of appreciation will give the recipient a lasting memento to remind them of the work they've done, the thanks they've received, and the positive effects they've had on the people around them.
Why Use a Certificate of Appreciation?
Whether you want to say thanks to your team after the completion of a long project, show grateful appreciation at a daily meeting to a stellar performer, or have included them as part of a larger program of excellence, giving certificates of appreciation is an excellent way to increase team cohesiveness, work-life balance, and productivity. Here are some examples:
Workplace Cohesion and Improved Performance – Studies show the positive effects of appreciation at work. For example, a 2007 study by Bakker, Hakanen, Demerouti, and Xanthopoulou found that, "Of all the job resources tested [including supervisor support, innovativeness, appreciation, and organizational climate], appreciation appeared to be the strongest predictor of all work engagement dimensions." In this study, feeling appreciated helped teachers in highly stressful classrooms stay motivated and keep their interactions with problematic students positive.
Achieving Work-Life Balance – A study by Dr. Gary L. Bowen, Dean and Kenan Distinguished Professor at The University of North Carolina at Chapel Hill, showed that support given by supervisors can decrease "perceptions of work spillover [into home life], which is a preventive effect, and enhances perceptions of external adaptation, which is a therapeutic effect." When taken with the context of the study by Bakker, et al, this implies that the appreciation shown for workers and volunteers may be a strong predictor of how well employees feel they achieve a work-life balance.
Non-Profit Organizations – If you run a not-for-profit organization, then you may have many wonderful, hard working people who have volunteered their time or expertise to your cause. As discussed by the For Purpose Law Group, thanking people who freely offer their help can be tricky. Gift cards, even of the amount of $25 or less, are taxable income that requires the volunteer to report them on their taxes, and requires the organization to make FICA payments. But saying thanks is important. Certificate of appreciation, gift certificate, or an appreciation letter can help bridge the gap between saying nothing and giving your volunteers—the people who help your organization run—a keepsake that they'll cherish for years to come.
How to Use Certificates of Appreciation
When using certificates of appreciation, especially to thank employees or volunteers, consider these best practices:
Be sincere. Employees want to feel appreciated. They don't want the appearance of being thanked; they want to be genuinely thanked.
Consider creating an excellence program in which certificates of achievement play a part. Studies have shown that "if an organization's recognition program is well structured and effective, it will be a key building block" of its human resources department.
Value workers, not numbers. Studies show that employees who feel appreciated will perform better. However, employees who feel they are being insincerely thanked in order to improve a bottom line will not feel appreciated. Instead, they may feel their emotions are being toyed with.
Use daily or weekly staff meetings as opportunities to give any kind of achievement award, including certificates of appreciation. But don't overdo it. Creating a schedule in which somebody is presented with an award every week or month means that sometimes awards will be given when they aren't deserved. Only giving awards when they have been earned will help people recognize your sincerity.
Be sure to have a few words prepared that include details of the recipient's achievement. For example, if you are appreciating a person for thirty years of service, then be sure to know some of the finer points, such as in what month they started, who hired them, when did you first meet them, etc.
Free Certificate of Appreciation
Getting started with our editable templates is easy. Simply choose from among the printable certificate templates below, click the link to download, then fill in the details, and print. When you are ready for printing, don't forget to choose and use paper of the appropriate quality. Standard paper can be a good choice, but also consider colored paper or even thicker, higher quality paper stock.
If you are at a loss of what to write, please see some ideas for appreciation award wording or 101 effective words to use in recognition.
Blank Certificate of Appreciation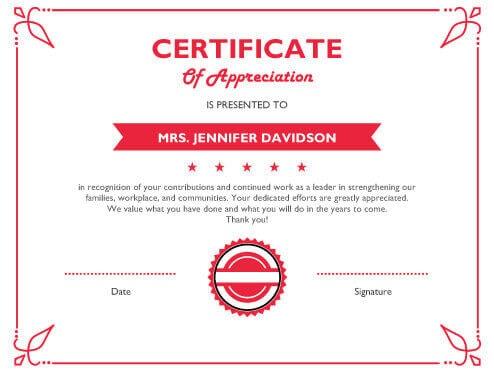 You'll make a bold statement with this hot-rod red printable certificate of appreciation template. While its use of white space puts the focus on the recipient, this template features a thin, red border, a prominent red seal that can include your organization's name, and a large text box to customize your words of thanks.
Size: 183 B
Downloads:

46900

Filename: blank-certificate-appreciation.docx
Download
Employee Appreciation Certificate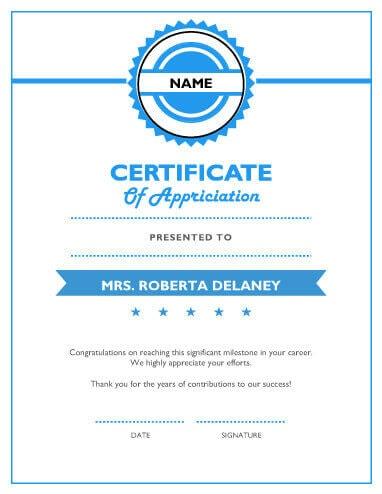 The calming tones of this blue and white award certificate are appropriate for any industry, but may especially work in fields such as healthcare and education. The blue seal at top can be customized with your organization's name, and the text can be changed to fit any circumstance.
Size: 27 KB
Downloads:

16669

Filename: Employee-Appreciation-Certificate.docx
Download
Taupe and Cream Appreciation Certificate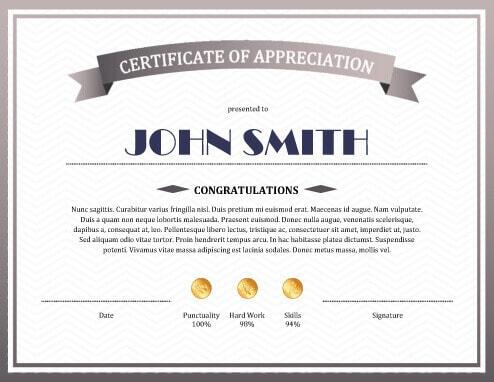 The understated elegance of this taupe and cream certificate of appreciation is a classic way to say thanks. This award template features three medallions centered at the bottom that can be customized to celebrate the recipient's accomplishments, and a large area to personalize your message of thanks.
Size: 183 B
Downloads:

31934

Filename: sample-certificate-appreciation.docx
Download
Rising Star Appreciation Template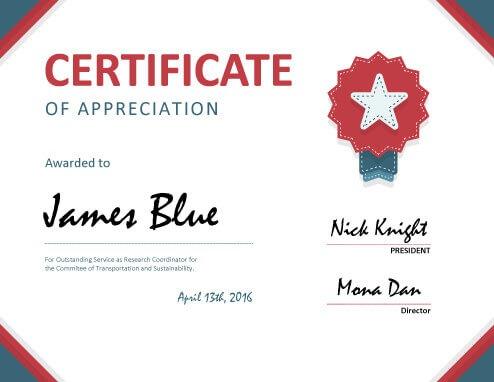 With its colorful corners and matching star and ribbon motif, this printable certificate of appreciation would be perfect for an educational setting, or for a corporation's rising-star program. It includes a small field for you to write the circumstances surrounding the award.
Size: 183 B
Downloads:

16376

Filename: sample-certificates-appreciation-template.docx
Download
Elegant Black and White Donation Certificate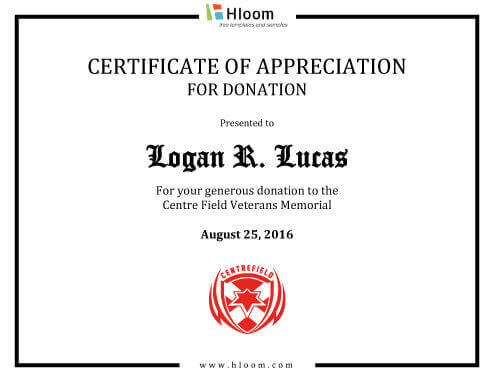 This elegant donation certificate template, done mostly in black and white, features a small space for your company logo and a larger seal at the bottom. It's the perfect way to show donor recognition to those who've made it possible for your non-profit business or charitable organization to thrive.
Size: 183 B
Downloads:

8420

Filename: appreciation-donation-certificate.docx
Download
Donation Appreciation Certificate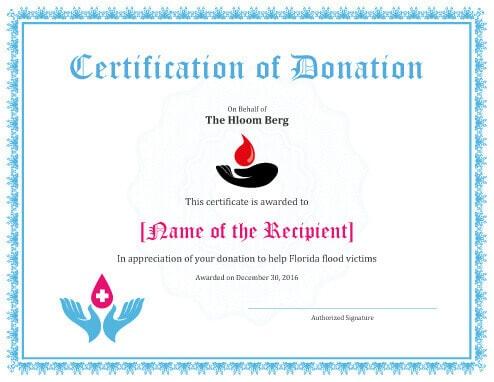 The soft color scheme and images resembling hands holding flames make this the perfect certificate of appreciation for hospitals, clinics, or other healthcare providers. Includes a small space for a personalized, heartfelt message.
Size: 183 B
Downloads:

8604

Filename: certificate-appreciation-donation-example.docx
Download
Generic Certificate of Appreciation for Donation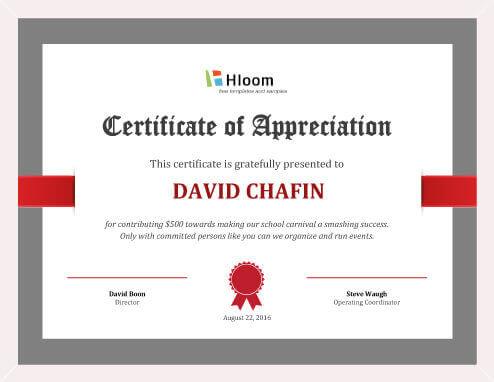 This customizable certificate of appreciation, with its taupe and bold red color scheme, would look elegant on parchment paper. This beautiful template includes space for your organization's logo, a company seal, and room for a brief message to let the recipient know how much you appreciate them.
Size: 183 B
Downloads:

21001

Filename: certificate-appreciation-donation.docx
Download
Volunteer Recognition Award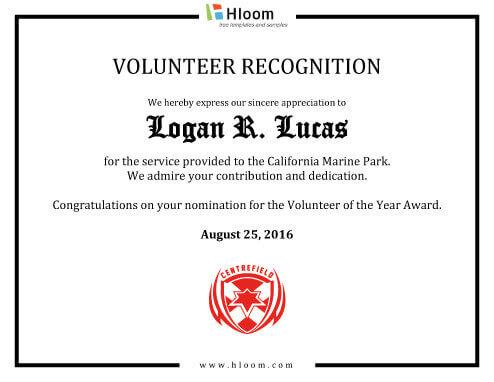 Give volunteers the appreciation they deserve with this certificate template. With an attractive seal at the bottom and customizable text, any organization from food banks to schools could make good use of this certificate design showcasing volunteer recognition.
Size: 183 B
Downloads:

8110

Filename: volunteer-certificate-appreciation.docx
Download