Professional Report Cover Page Templates
Free Editable Report Cover Page Templates for Business Documents
First impressions are critical, especially in the corporate world. When you present a business report, the cover page is the first thing that is seen by your reader, typically right before the table of contents. For this reason, it is important to create a cover design that is clean, professional, and appropriate for the subject matter.
As the first page of the document, the main purpose of the report cover page is to accurately reflect the content within. For some recipients, this may be the only page they read, so
make sure the text effectively captures the essence of what's inside
. What is included in a cover page for reports depends on the specific purpose and audience. In general, the format should include most (if not all) of the following elements:
Title
Subtitle
Author
Author's Title
Company Name/Logo
Date of Completion/Submission
A Brief Description of the Report
The text within the report cover page should also be displayed in a conservative font type that is mostly free of embellishments, abnormal curvatures, and otherwise unusual designs. Unless one of the other fonts has a design that fits perfectly with your logo or the nature of your report, it is generally best to stick with either Times New Roman or Sans Serif fonts. Times New Roman is an ultra-conservative font that is widely used in the corporate world because it is considered very readable. Sans Serif (meaning "without Serif") refers to several fairly conservative font styles. Some of the most popular Sans Serif fonts for business include Calibri and Arial.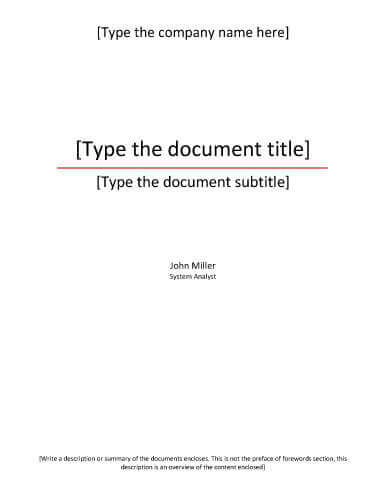 Size: 44 KB
Downloads:

55610

Download: zip and docx
Download
FEATURED TEMPLATE
Formal title page template
Very simple basic corporate cover page.
Creating Professional Cover Pages for Reports
The report cover page is your opportunity to showcase what the report is all about. To create a cover page that really stands out, pay close attention to the following areas:Style: As mentioned earlier, the cover page should be a reflection of what is inside the document. For example, if it is an annual financial report, you would probably want to stick with something clean and professional. On the other hand, if you are preparing a research report about climate science, you may want to include more color and flare.Images: Choose images that complement the report cover page design. For a corporate annual report, the company logo may be all you need. For a scientific research report, you may want to add a flashier cover image, such as a globe, body of water, or nature scene.Brand: The cover page of your report should have a style, color scheme, and font type that are consistent with your company brand. Any images you add should also be consistent with your corporate identity.Title/Subtitle: Your report title and subtitle (if you have one) should be compelling and grab the reader's attention, making them want to dive deeper into the body of the report.Layout: The layout design of the report cover page is where you bring all the elements together. The colors, images, and text should blend together seamlessly to produce a professional and attractive design.
Microsoft Word Cover Page Templates
Microsoft Word comes with several pre-formatted cover page templates; the exact number varies depending on which version of Word you have. If you are good with design, you can utilize one of the templates within Word as a starting point to develop the cover page for your business report. To add a cover to your document, go to Insert > Cover Page, then pick from one of built-in examples.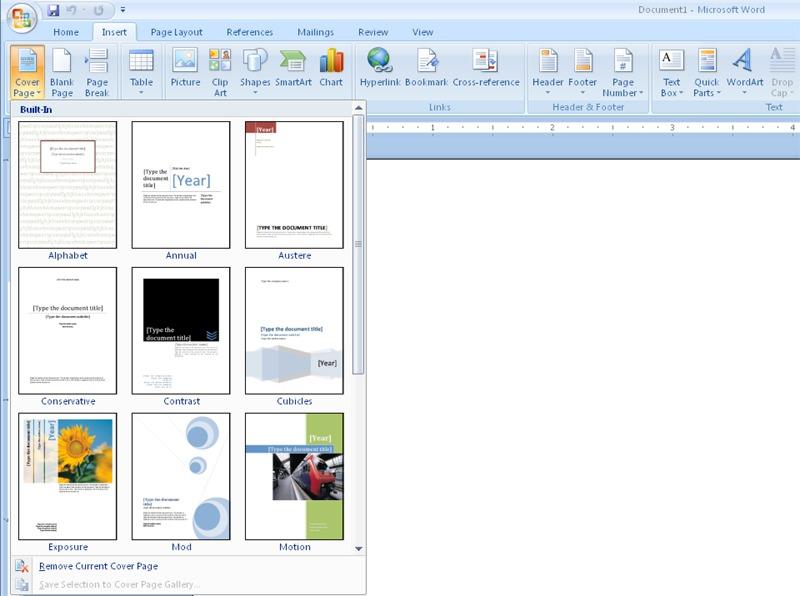 Our cover pages are designed to allow users to easily create professional looking business report covers. They can be used for a variety of purposes, including, but not limited to:
Corporate Annual Reports
Corporate Book Covers
Marketing Reports
Technical Reports
Professional Research Reports
Financial Reports
Progress Reports
Audit Reports
Lab Reports
Test Reports
Project Title Pages
Proposal Cover Pages
Letters of Submittal
These types of reports are generally quite formal, so our designs are very clean and neutral – double space for text, header and footer
Free Report Cover Page Examples
Our cover page gallery below contains templates with very formal and professional designs. Each report cover page template is designed using Microsoft Word with U.S. letter size. If you are in Europe, you can easily change the page size to A4. If you are looking for a template that is less formal, feel free to check out our other
free cover report templates
(
APA format
,
creative designs
, and more).
Annual Report Cover Page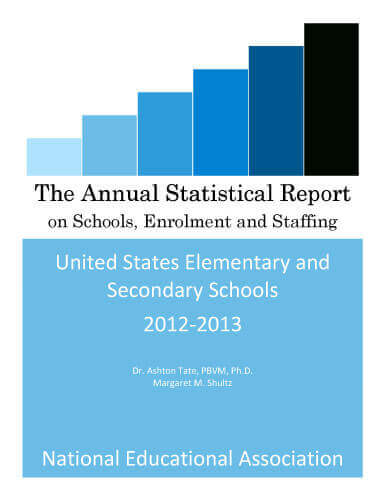 Word document for financial report cover, blue color theme.
Size: 183 B
Downloads:

17234

Filename: annual-report-cover-page.docx
Download
Purple pattern formal design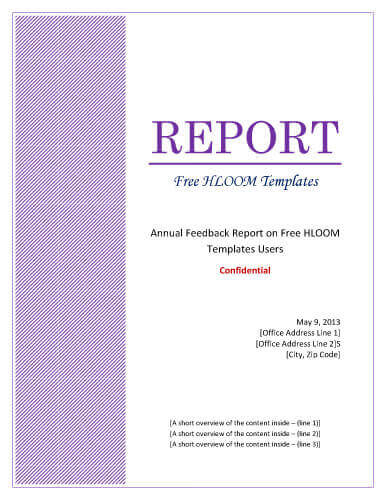 Professional and elegant cover page sample with neutral corporate design. Easily change pattern color to match your corporate style.
Size: 183 B
Downloads:

37652

Filename: purple-pattern-formal-design.docx
Download
Blue Annual Report title page template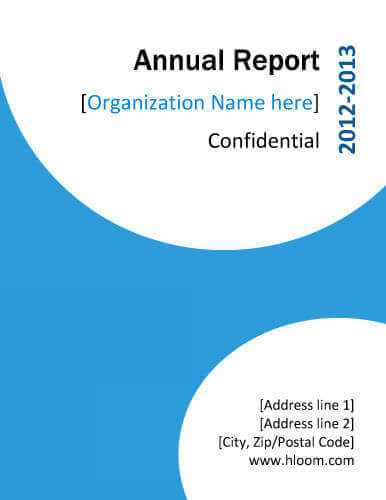 Generic report cover template with multi-purpose flexible corporate design.
Size: 183 B
Downloads:

62224

Filename: blue-annual-report-title-page-template.docx
Download
Formal Design with blue vertical lines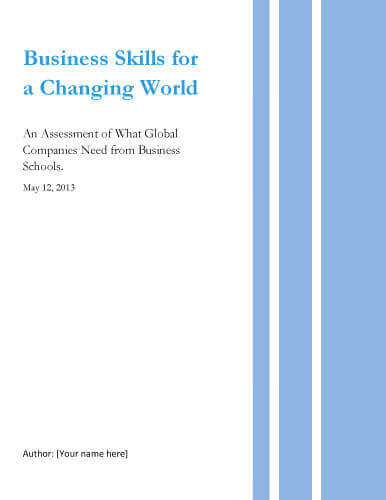 Neutral formal corporate cover layout. The color of blue sidebar can be easily changed to match your corporate style.
Size: 183 B
Downloads:

41807

Filename: formal-design-with-blue-vertical-lines.docx
Download
Dark Blue Weaves Research Report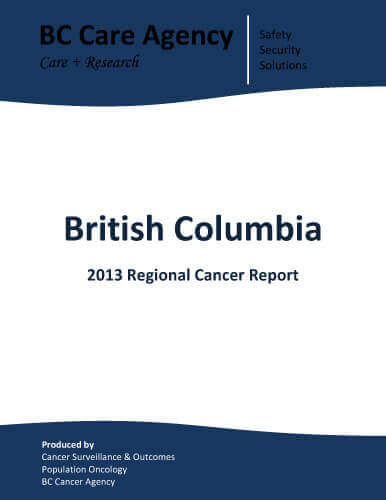 Research report cover sample idea with curvy design element for report header.
Size: 183 B
Downloads:

32078

Filename: dark-blue-weaves-research-report.docx
Download
Purple circles Abstract template design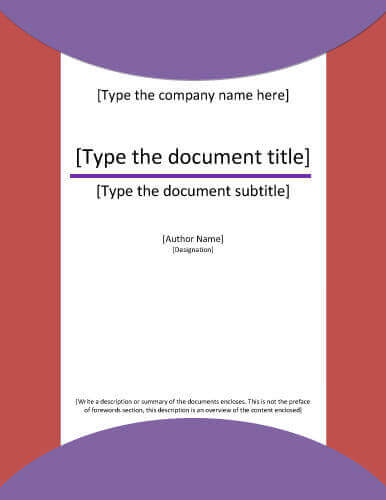 Geometrical simple design with half-circles in the header and footer.
Size: 183 B
Downloads:

13416

Filename: purple-circles-abstract-template-design.docx
Download