Babysitting Flyers
Free babysitting flyers and templates, what information to include, and where and when to market
As the number of working parents continues to grow, so does the demand for quality babysitting services. This growth makes it an ideal time to begin or expand the marketing of your babysitting venture. And while websites and social media are certainly great ways to promote your services online, babysitting flyers offer a creative, cost-effective, and tangible way for you to reach potential clients directly and quickly.
If you're looking for an eye-catching and engaging advertisement flyer to spread the word about your babysitting services, we've put together a collection of templates to help you getting a babysitting job without breaking a bank.
Why Use Babysitting Flyers?
Marketing your babysitting services with flyers can help you:
Save money

– Whether you're just starting babysitting or have been doing so for years, you're likely on a tight budget. Using flyers can help you reach a large audience without breaking the bank.

Find clients fast

– Most of your babysitting customers will likely be located within a five to ten-mile radius of you. Handing out or placing babysitting flyers right in your community can help you find potential clients quickly.

Measure your success

– By using social media or a unique website, and putting a QR code, a coupon, or a discount code on your flyers, you can easily assess the effectiveness of your flyers and adjust your marketing method accordingly.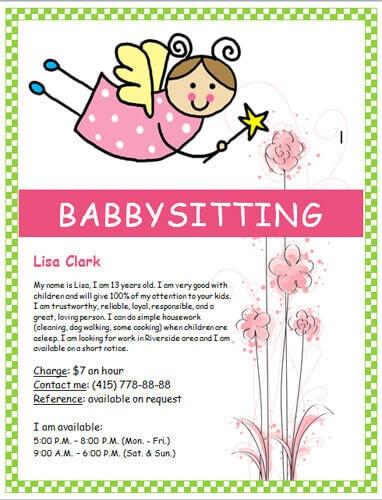 Size: 2 MB
Downloads:

21386

Download: zip and doc
Download
FEATURED TEMPLATE
Free Babysitting Flyer
Attractive and kid-friendly design with green and white checked border. The pink and white colors are used to create a soothing feeling of love, care, and affection. The pretty clip art of a fairy is to show the magic of love and attention.
What Info Should Your Babysitting Flyer Include?
Important information you'll want to include on your babysitting flyers:
Headline or Title

– Your headline or title should grab the attention of your potential clients by including your name and a slogan or catchphrase.

Ages and Areas You Serve

– Make sure you clearly identify the age range and locations you serve. Including specifics like names of subdivisions and streets can be a plus.

Services You Provide

– Clearly list your services, including any special ones such as transportation provided, before and after school care, night time, overnight or weekend babysitting. If space allows, you can also include information regarding your insurance/bonding, certifications (e.g. CPR), years of experience.

Testimonials

– Don't just toot your own horn, let your clients do it. Include a testimonial or two from some of your happy clients and their kiddos, with photos if possible.

Contact Information

– Remember to include the best way(s) for you to be contacted. Add your phone number, email address, website, and social media accounts to make finding and employing you as easy as possible.
Designing Your Babysitter Flyer
With easy flyer maker programs like Microsoft Word,
Canva
, and
Adobe Spark
, you don't have to be a graphic designer to produce a babysitting flyer that looks professional and impressive. Software programs like these offer tips, tutorials, and free flyer templates that are ready to use, and you can even upload your own flyer. Whether you choose from one of our templates below or opt to create your own flyer design, a good babysitting flyer should have:
Quality graphics and images

– Although you're marketing babysitting services you want to avoid a flyer that looks like a kids' project. Choose graphics and photos that are relevant and engaging, as well as parent and kid friendly. Including pictures of yourself, happy babies and children, animals, and nature are all very effective.

Clean fonts and engaging content

–Use fonts that are easy to read and words that help convey trust, reliability, and maturity. You should also be clear on the steps you'd like your potential clients to take by using a call-to-action phrase such as: sign up today, contact me, visit my website, etc.

Extras to Consider

– A few extra design options you may want to consider adding on your babysitting flyer include:

An incentive, like a coupon or a discount for first time customers and referrals
A QR code that can be scanned to go directly to your website or social media page
Tear-off tabs that include your contact information
Where and When to Market Your Babysitting Flyers
Here are six ways you can market using your babysitting flyers:
Libraries, community and recreation centers

– Each of these neighborhood hubs typically have bulletin boards, free events, and kids' programs where you can leave your flyers for others to pick up at their convenience.

With your family and friends

– Children's birthday parties, holiday gatherings, and celebrations are all great occasions to share your services with the people who know you best. Allow them to help you spread the word about your services.

Schools, local nurseries, and day cares

–Some schools and care providers may be happy to share your babysitting flyers, particularly if you offer services during times that they do not (e.g. nights, weekends, holidays, etc.).

Social media

– Social channels like Facebook, Instagram, and Twitter are great places to market your services to parents as well as local and community organizations. Most social sites will also allow you to upload your babysitting flyer.

Online message boards

– Social networking services for neighborhoods, like Nextdoor.com and JustMyNeighbors.com, are prime places to reach stay-at-home moms, grandparents, and other caregivers in need of your services.

Distribution services

– If you have an extensive budget, you may want to consider using a flyer distribution service. These companies can help you target, track, and deliver your flyers to reach customers who earn a specific income, live in certain neighborhoods, have children, and other demographics that you specify.
Customizable Free Resume Templates
Hloom's free resume templates are preformatted with every section you need to showcase your career. They also include recommendations from career experts for your industry and experience level. The resume templates are customizable to suit your style and needs.
With easy, guided steps, the free resume templates are practical and convenient:
Select your favorite style: Visit the Resume Builder and select your years of experience and favorite template from the Traditional, Modern or Creative category. You can also choose to view all the styles at once.
Input your information: Add your contact information, education and work history. And don't worry if you're starting your career; the builder can create a resume for people with no experience. You will also have the option to add more sections, like hobbies, certifications, online portfolios and more.
Choose our expert recommendations: Throughout the entire process, you will have the option to select our expert recommended suggestions to make the most out of the resume template. From summary statements to skills, you will have the guidance of expert suggestions. You can always edit the information and customize the design to reflect your style and voice.
Build a Resume
Free Babysitting Flyer Examples
Below are 15 printable flyer designs you could use for babysitting or daycare services. Whether you're looking for something cute and sassy or professional and classy, we've got a template for it. Each of the templates below can be edited in Microsoft Word. Our
day care flyer examples
can also be easily used to promote babysitting services.
Funny robot baby sitting flyer
Mother time off template
Baby sitter flyer with cute kids
Cute baby tear-off leaflet
Template design with funny creature
Pink princess cute baby sitting sample
Baby sitter flyer with animals
Baby sitter leaflet with Baby Carriage
Floral green design
Big block letters template sample
Baby sitter leaflet with puppy
Cartoon rabbit design sample
Purple flowers design
Monkey playing music baby sitter template
Simple tear-off babysitting flyer