Download Free Invitation templates
Customizable printable invitation templates in MS Word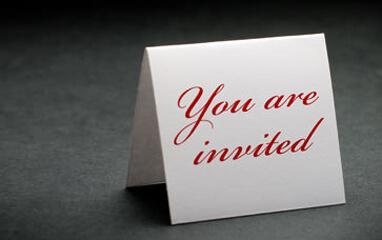 Invitation cards are a perfect prelude to arrangements of an upcoming event. Whether business or private occasion, beautifully designed invitation cards are very important part of preparing for the event. While invitations are not used as much for private parties it's always advised to send one you are planning event for your business. Business invitation can be formal or informal. Business Etiquette dictates sending formal invitations by mail. Depending on the event, invitations should be sent out anywhere from 2 to 8 month before the event so your guests have enough time to make a decision and plan their attendance. Informal invitations can be send by email or fax anywhere from 2 weeks to a few month before the event.
Different types of invitation
Formal business
While creating formal business invitation, make sure you consider including the following components:
Company logo
Nature of the event: conference, party, dinner, or another occasion
Date, time, and the location
Dress code
Purpose of the event
Informal business
There are no strict rules on what must be included in the informal business invitation; consider using the same components as for formal invitation but change the tone of your message to a less formal one.
Private
Private invitations will differ depending on the nature of the event and those you are inviting. For example, if you are sending an invitation to your family you probably don't need to write the address and the tone can be very informal.
Hloom.com offers collection of
free invitation templates
created in Word; the templates are suitable for any kind of party and event whether business formal, business informal or private. Most popular themes include free business invitations templates, free corporate invitation templates, free word invitations, Christmas invitations, office invitation, and more. If all you are looking for is a party invitation (birthday, Christmas, New Year, office) you can check our page with party invitation samples.
Browse our collection of free printable templates for Word
To use the template, simply search for design you like, download to your computer, and open with Microsoft Word, OpenOffice or Mac Pages. You can easily
create your own design by editing one of the templates
or
use pre-formatted template the way it is by simply adding your text message
.
Party
Simple party invitation
It's a party
Who When Where design
Colorful Squares design
Yellow snowflakes
Green floral design
Brown grunge sample
Floral header design
Neutral Corporate sample
Business After Hours Cocktail Party
Eat Drink and be Merry
Holiday Celebration Simple Corporate
Holyday Extravaganza
Peace Love and Cocktails
Festival Dinner
Executive Club Meeting
… and more!

See all Party Invitations
Children Party
Simple Blue for a Boy
Disney characters with Mickey Mouse
Hello Kitty
Costume Party
Blank Pink Invitation with princess
Cars theme
Robot theme
Royal Affair
… and more!

See all Kids party Invitations
Christmas
New Year Event invitation
Blue Christmas party
Holiday event
Snowman image sample
Christmas tree hanging decoration
Annual Holiday red theme
Yellow snowflakes
Christmas tree invitation
… and more!

See all Christmas invitations
Birthday
Colorful Balloons and Confetti
A Cake with Flowering Vines
Pool Party
Confetti and Gifts Stripe Party
Stars, Cakes, and Banners
Gilded and Sophisticated
A Day of Relaxation Spa Party
… and more!

See all Birthday Invitations