Christmas Party Invitations
Download free printable invitation templates for all Christmas parties
Creating and sending out invitations is one of the first tasks on the Christmas party hosting checklist, but it's easy to get overwhelmed when choosing the right graphics and wording. You already have plenty of distractions this time of year – designing an invitation card from scratch doesn't have to be one of them. To help you make attention-grabbing Christmas party invitations, here's a quick guide and 14 free invitation templates.
Invitation Wording
The invitation wording sets the tone for your holiday party. Include a short and sweet message that introduces the event and lets guests know what to expect. Keep the wording relevant to your party theme and appropriate for the guest list. Stumped for the right words? Here are a few cheerful Christmas party invitation wording ideas to get your guests in the holiday spirit:
Try out a Christmas rhyme to reveal some fun facts about the holiday party. Here's an example for a gingerbread cookie exchange:
Quote a popular Christmas movie that guests will recognize. For a Grinch-mas party, try this quote:
Incorporate lines from your favorite Christmas carol.
Make your employees laugh by adding humor to an office Christmas party invitation. Try these funny Christmas invitation wording samples.
If you have a diverse guest list, print "Happy Holidays" on the invitation card in the different languages represented.
Offer gratitude for your guests with a simple and sweet message:
Hook your guests in with one of these festive messages. Then, transition into the party details (date, location, RSVP, etc.) with a phrase such as, "We cordially invite you," or, "You're invited…."
Tips for Making an Impression
Once you've decided on a
party theme
, booked a venue, and secured the date, plug the specifics into your invitation template. Be sure to include important details such as RSVP specifics, dress code, start and end time, and whether spouses or children are welcome to attend. Make it clear on the invitation if your party has a theme you'd like guests to follow. If you're throwing an ugly Christmas sweater party, a black-tie Christmas cocktail party, or a glitz-and-glam New Year's Eve party, indicate the party theme and dress code on the invitation so guests can prepare. Also, include information about holiday games or activities you'd like guests to participate in. The invitation should tell people if they need to bring a gift for a
white elephant gift exchange
or baked goods for a Christmas cookie exchange. During the holiday season, people can be bombarded with Christmas celebrations. Let the invitation card entice your friends to enjoy a merry Christmas with you! Include a personal, creative touch so guests don't easily forget about your party. Here are a few tips to make your Christmas party invitation memorable:
For an office Christmas party, secure each envelope with a customized company logo seal. (This will impress the bigwigs, too!)
Include a photo montage of the people attending your holiday party, whether it be your family, friends, employees, or church members.
On the invitation card, ask guests to bring a batch of holiday cookies or their favorite holiday recipe to share.
You can also make an impression by getting creative with your invitation delivery. When sending your Christmas party invitations, try one of the following ideas to immediately get people excited about your event:
Dress up as Santa or another festive character and hand-deliver the invitations.
Tape a candy cane to the invitation card as a teaser for your candy cane cocktail recipe.
Add holiday music to your email invitation.
Invitation timing
is important as the busy holiday season gets going. Aim to get your invitations out about one month before the event. It's also a great time to work on your
resume template
.
Customizable Resume Templates
Hloom's free resume templates are preformatted and customizable to your personal style and experience.
How to use a resume template
To use a resume template, visit our builder page. Start the process by answering background questions that will help suggest resume templates that will work for you:
Select your years of experience: If you have no experience, our builder will suggest resume templates to showcase your skills. On the other hand, if you have over a decade of experience, it'll suggest resume templates to showcase your work history.
Select a template and color: Pick the resume template from the suggested list, or select to view them all and choose a style you prefer.
Input your information: Add all your contact information, work history, education and skills.
Personalize: Throughout the entire process, you will be able to edit, add or remove anything you want to suit your style.
You can create or update your resume in just minutes with Hloom's free resume templates. Make use of the customizable features to add your own touch and voice.
Build a Resume
Free Christmas Invitation Templates
Make holiday party planning easy on yourself by using our free customizable and printable Christmas invitation templates. The Christmas party invitations we offer simplify the design process with festive colors, graphics, and wording options for any party theme.
Whether you're throwing a Christmas cocktail party or an ugly Christmas sweater party, our templates are great for any holiday party theme. Simply download one of our free templates, customize it to suit your party idea, and either print it out or save it as a PDF to email your guests.
Red Holiday invitation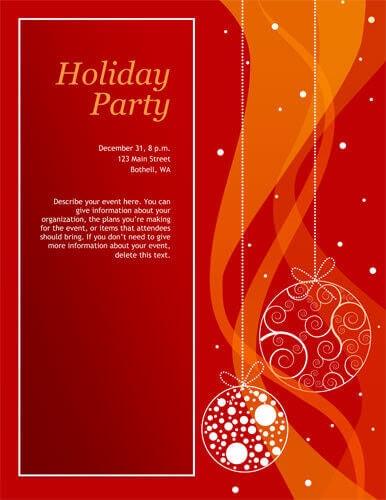 Very elegant and chic holiday party invitation for any winter party.
Size: 183 B
Downloads:

31085

Filename: red-holiday-invitation.doc
Download
Dinner And Dancing Evening Invite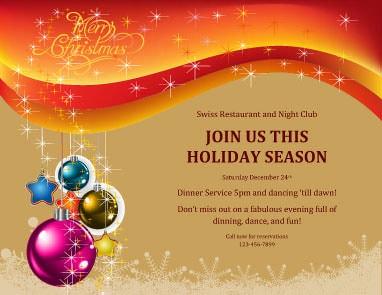 Get guests in the holiday spirit with a night of dinner and dancing. This dazzling invitation with stars and snowflakes serves as a preview of the glamorous, entertaining evening ahead!
Size: 183 B
Downloads:

26794

Filename: Dinner-and-Dancing-Evening-Invite.docx
Download
Square Holiday Postcard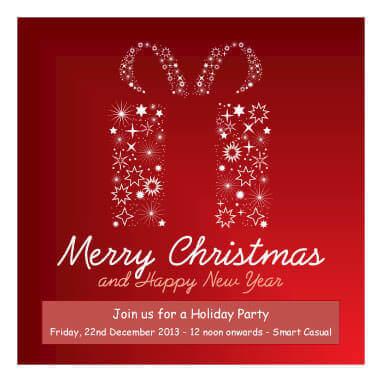 A decorative gift box silhouetted against holiday red makes this Christmas card simple yet elegant, a perfect invite for any Christmas party theme.
Size: 183 B
Downloads:

20068

Filename: Square-Holiday-Postcard.docx
Download
Dinner Party Invitation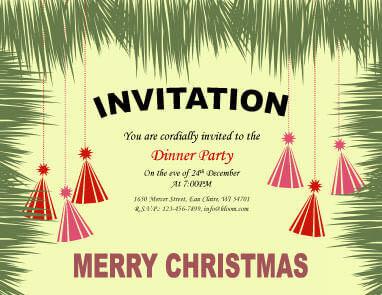 While you work on perfecting your martini, let Santa do the inviting to your Christmas dinner and cocktail party with this printable Christmas party invitation.
Size: 183 B
Downloads:

17138

Filename: Dinner-Party-invitation.docx
Download
Dinner And Cocktail Party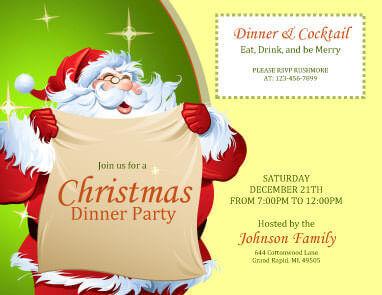 Prepare for Christmas by having a dinner party with friends and family! This flyer can be used as an announcement, or as an invitation.
Size: KB
Downloads:

31130

Filename: Dinner-and-Cocktail-Party.docx
Download
New Year Event invitation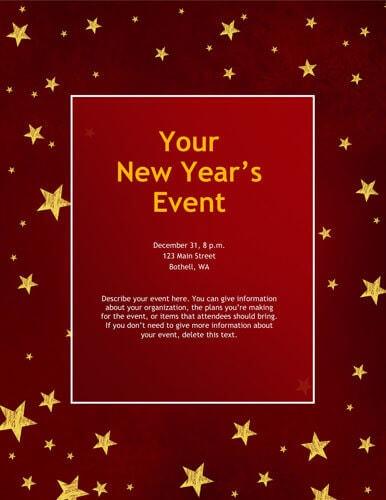 Ready the bubbly! This celebratory invitation with its glitzy gold stars is sure to excite guests about ringing in the New Year holiday at your party.
Size: 183 B
Downloads:

10236

Filename: New-Year-Event-invitation.doc
Download
Christmas tree invitation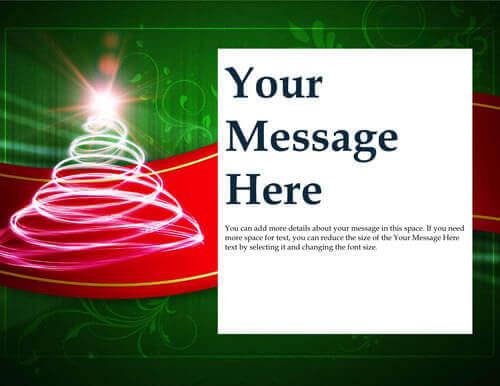 With festive colors and a whimsical Christmas tree, this classic Christmas invitation template can be customized to match any party theme.
Size: 183 B
Downloads:

25683

Filename: Christmas-tree-invitation.doc
Download
Blue Christmas party invitation sample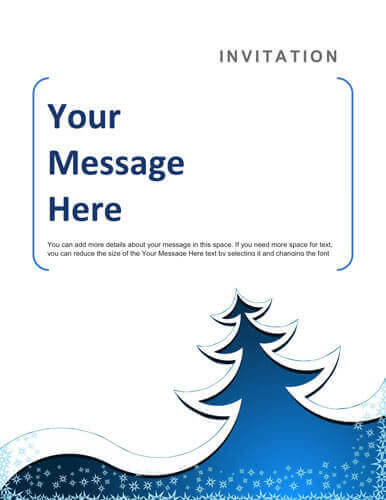 Let your party stand out with large text against a plain winter-blue background. This is a great Christmas party invite to peak your guests' interests without going over the top.
Size: 183 B
Downloads:

15657

Filename: Blue-Christmas-party-invitation-sample.doc
Download
Holiday event invite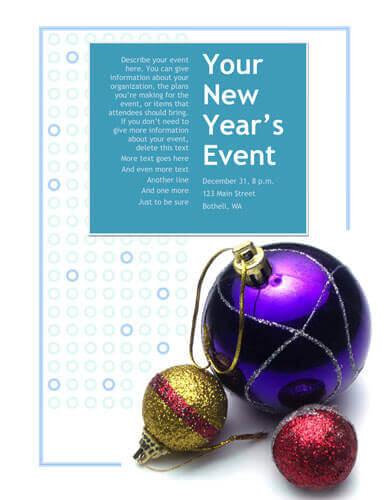 Use this unique holiday invitation template with vibrant, sparkling ornaments for a New Year's Eve or annual Christmas party – it works great for both!
Size: 183 B
Downloads:

14026

Filename: holiday-event-invite.doc
Download
Snowman invitation sample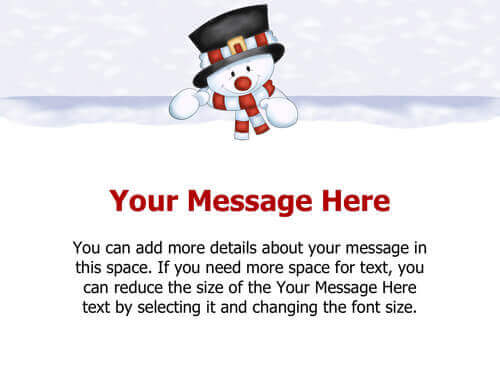 Bring a little life to your Christmas party invitation with this sweet, inviting snowman. Simple and to the point, this is the perfect invitation template for the busy party host.
Size: 183 B
Downloads:

15596

Filename: snowman-invitation-sample.doc
Download
Christmas tree hanging decoration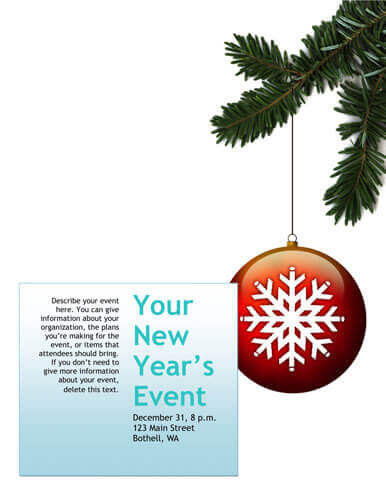 A simple Christmas tree branch adorned with a single ornament sets the frame for your Christmas party in this straightforward invitation template.
Size: 183 B
Downloads:

10734

Filename: Christmas-tree-hanging-decoration.doc
Download
Annual Holiday red theme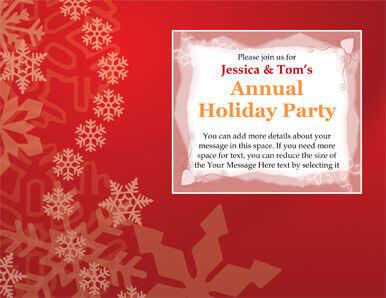 Frame your invitation text with a beautiful red design, a color that warms yours guests' hearts just by looking at it! Elegant snowflakes add a wintery touch to this holiday card.
Size: 183 B
Downloads:

12825

Filename: annual-holiday-red-theme.doc
Download
Red Christmas invitation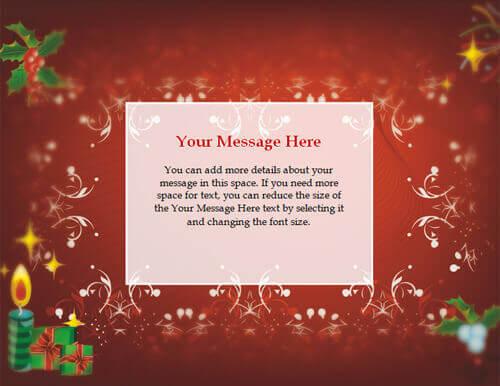 The holiday-red theme of this template frames your message in candlelight, gifts, and holly for a family or office Christmas party, helping it stand out with its beautiful design.
Size: 183 B
Downloads:

17477

Filename: Red-Christmas-invitation.doc
Download
Yellow background with snowflakes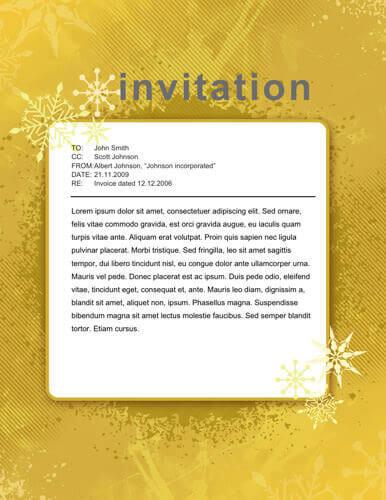 The yellow backdrop presents a creative design for a creative party! This email-style Christmas party invitation is great for an office Christmas party.
Size: KB
Downloads:

16171

Filename: yellow-background-with-snowflakes.doc
Download