Excel Invoice Templates
Take the hassle out of billing with invoice templates made in Microsoft Excel
Whether you're a small business owner or business tycoon, providing invoices to your customers that detail services you have provided or goods sold is critical to your company's financial health and overall success. With this guide and the free invoice templates made in Excel listed below, we can help you take the hassle out of creating and implementing an invoice that fits your specific business needs.
Choosing the Right Invoice Template Software
In today's fast-paced and technology-driven age, providing handwritten invoices is strongly
not recommended
. In addition to being time-consuming and error- prone, keeping paper copies can lead to clutter and lost information. There are many
free
and
paid
invoice software options available, including Microsoft Office. When choosing the right one for your business you should consider the following factors:
Your Needs and Wants

– Carefully identifying the capabilities and features you'll both need and want in your invoice template software can help you establish a budget, narrow your list of providers, and avoid overspending on unnecessary bells and whistles.

Costs and Fees

– When choosing a professional invoice program or system, you'll need to factor in the cost of purchase and any recurring fees that may be associated with its use (e.g. set-up, processing, application fees, annual fees, etc.).

Tech Savviness of Users

– Successful implementation of your system will require at least some minor technical know-how and skills, as well as a knowledge of or willingness to learn these by those who will be using it.

Reputation

– New invoice template programs are being routinely developed. When choosing one for your business, it's important to research the software's reputation, as well as that of the company that produced it, including factors such as reliability, customer service, and uptime.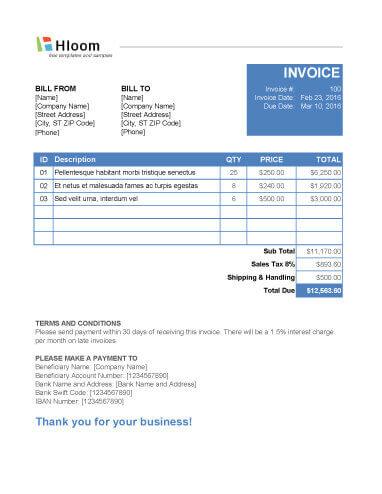 Size: 178 KB
Downloads:

41185

Download: zip and xlsx
Download
FEATURED TEMPLATE
Notebook Excel
A mix of thin black dividers, blue tabs, and blue grid lines make this timeless invoice form resemble a notebook. The standard layout with left-aligned billing details and terms are consistent with formal documents, though the light design twist on this template gives it more appeal.
Download
Creating Invoice Templates in Microsoft Excel – Pros and Cons
When considering the above factors, creating invoice templates in Excel is a great option. Microsoft Excel is a digital, low-cost software that requires minimal technical knowledge to use its basic features, and has been extensively used and respected worldwide for more than 30 years. However, just as with any software, Excel format comes with pros and cons you should consider:
Pros:

Simplistic and complex formulas can be added for customization and efficiency
Available worksheets are limited only by system memory and can also be linked to one another within one or more files
It is ideal for performing calculations
It can be used to create custom reports using queries

Cons:

Excel is not a database, so it can be challenging to connect data in different spreadsheets
It is not designed to store large amounts of data
It is not optimal for modifying or organizing large amounts of data
It can be a challenge for some users to learn the more complex functions and options (e.g. creating formulas, running reports, linking worksheets and spreadsheets, etc.)
Free Resume Templates
Like bookkeeping and data entry, invoicing is a sought-after skill in many industries, from fashion to transportation to small businesses. You could start a new career, change your current one, or change industries. Before you start, work on your resume. Hloom also offers free resume templates with expert advice.
How to use a resume template?
Hloom's resume templates are easy to use. Visit our Resume Builder:
Answer a few prompts regarding your career and work experience.
Customize a free resume template.
If you already have a resume template, upload it and the builder will format it.
Edit, add or remove sections to better suit your needs.
Use the career expert recommendations as a guide throughout the process.
Build a Resume
Free Invoice Templates in Excel
Don't have time to create your own invoice template in Excel? We've got you covered! We've created 19 blank invoice templates for you to choose from and download. Each template contains formulas already inputted to help you calculate prices, totals, subtotals, and more. You'll just need to add in your specific business details, including service or product descriptions and prices. Each of the examples below can be used as a commercial invoice template but you can also change "quantity" to "hourly rate" to use it as a service invoice template.
Technicalities Excel
Banker Blues Excel
Banner Blocks Excel
Greenlight District Excel
Modern Minimalist Excel
Classic Grid Excel
Double Trouble Excel
Corporate Rundown Excel
Money Maker Excel
Waterfall Excel
Teal Time Excel
Clean Cut Excel
Moonlight Excel
Sublime Excel
Tangerine Totals Excel
Sunset Excel
Modern Professional Excel