Invoice Templates for Freelancers
Invoice Templates for Writers, Artists, Translators, Virtual Assistants, and Other Freelancers – Free to Download, Customize and Use
Just for freelancers, we have assembled invoice tips and blank invoice templates that can be used to send professional-looking invoices. There's no invoicing software to sign-up for and no time-consuming web-based invoice generator form to use. Simply download, personalize, and send.
What You Need to Put on a Freelance Invoice
Most businesses use the same sorts of information on invoices: contact information, sequential invoice numbers, etc. Because of the unique nature of freelance work compared to other businesses, freelance invoices should be adapted to reflect these differences. Here are the two sections on the standard invoice format that may need to change to meet the specific freelance needs:
Itemized charges
Payments terms
Billing Charges
A freelance invoice is often different from the standard time-and-materials invoice format because of how charges are itemized. Freelancers such as artists or programmers who charge by the project can use any general service invoice or template but for others, the service invoice format falls short. That's because freelancers often bill in unique ways. Here are some examples:
A freelance writer either charges by the article or by the word.
A professional calligrapher will often charge by the envelope for invitations but by time for hand-lettered certificates or diplomas. Materials like envelopes and vellum are usually provided or paid for by the client.
A video editor or programmer doing software development may charge either by the project or by time.
A photographer may charge hourly, by lump sum, by time plus cost, or by services plus expenses and licensing. Because photography charges can be so specialized, we've put together a web page with invoice templates just for photography work.
For the relatively new field of virtual assistant, the freelancer can end up charging by time, by project, by task, by percentage sales commission, or any combination of those.
The way a sole proprietor or sole trader freelancer bids and then charges for work will vary depending on the work that he or she does. Other than photography, most kinds of freelance changes will be covered by our free invoice templates at the bottom of this page.
Payment Terms
Back in the days before e-commerce, every job was billed using paper invoices, everyone was paid with paper checks, and all those paper records were delivered in person or sent in the mail. Back then it was easy to put together the information needed for an invoice. For the self-employed freelancer in the 21st century, things are no longer that simple and it affects what you put on your personalized invoices. You may still be mailing paper invoices or you may be doing all your billing and payments over the internet, either using a website that accepts charge cards or an online payment system that uses email like PayPal. As a freelancer, this affects the part of your invoice that lists how you want to get paid. You may even offer your client a variety of payment options, and all of those should be mentioned on your invoice. Here's what you should include at the bottom of the invoice in the payment terms section:
A physical address if you take checks
A phone number or website where your client can pay by charge card or debit card
Your payment email address if you take payments through an online system like PayPal
Any additional fees required for using certain payment methods
Free Resume Templates
Like bookkeeping and data entry, invoicing is a sought-after skill in many industries, from fashion to transportation to small businesses. You could start a new career, change your current one, or change industries. Before you start, work on your resume. Hloom also offers free resume templates with expert advice.
How to use a resume template?
Hloom's resume templates are easy to use. Visit our Resume Builder:
Answer a few prompts regarding your career and work experience.
Customize a free resume template.
If you already have a resume template, upload it and the builder will format it.
Edit, add or remove sections to better suit your needs.
Use the career expert recommendations as a guide throughout the process.
Build a Resume
Freelance Invoice Templates
You need a well-drafted invoice that clearly presents your itemized charges. Our invoice design for our templates was done with freelancers and their individual needs in mind. You'll find examples in the section below that include MS Word invoice templates and Excel invoice templates that are ready to use or can be quickly adapted for your business. Whether you need a freelance writer invoice template, a service invoice template for your software business, or a simple invoice template you can customize for your virtual assistant business, our templates use pleasing graphic design and include all the necessary sections required in a professional invoice.
There are 10 free invoice templates available for you to download and adapt to your own freelance billing style. Use our templates to create a custom invoice just right for you using MS Word and Excel. You can then print your invoice to put it in the mail. Or if you send PDF invoices to clients, you can also save your custom invoice in PDF format so you can send it to your client by email as a PDF file.
Colorful free invoice hourly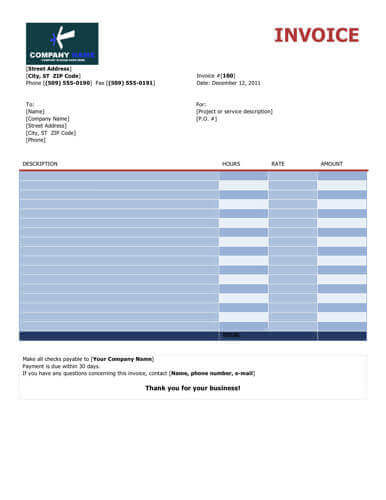 This simple billing invoice template is designed for freelancers who bill hourly. Customize by entering company info, description, price, hours, rate and payment info.
Size: 54 KB
Downloads:

34116

Filename: Colorful-free-invoice-hourly.doc
Download
Service Invoice for article writers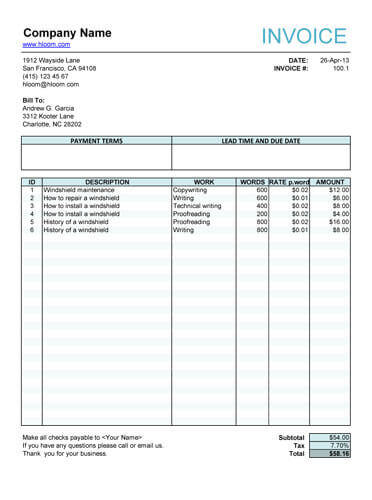 We created this invoice specifically for content writers. It includes all the important elements of a standard invoice, but it's also made in a way to make the invoicing easy. You can enter names of articles, specify what type of work had been done (this is useful if you charge different rate for different writing or provide additional services such as proofreading or translation), and price per word. Total due is then calculated automatically.
Size: 29 KB
Downloads:

32690

Filename: Service-Invoice-for-article-writers.xls
Download
Service Invoice Template for Freelancers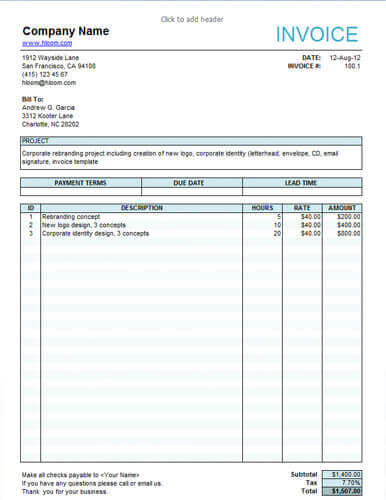 Simple and easy-to-use service invoice template for freelancers. Describe your project, enter payment terms, due date, and lead time. Break down project into smaller projects and list each service along with description, number of hours, and rate per hour. Enter tax rate into provided field. Each line's total, subtotal and total due is calculated automatically from the data entered.
Size: 183 B
Downloads:

50994

Filename: service-invoice-template-for-freelancers.xls
Download
Sample Service Invoice spreadsheet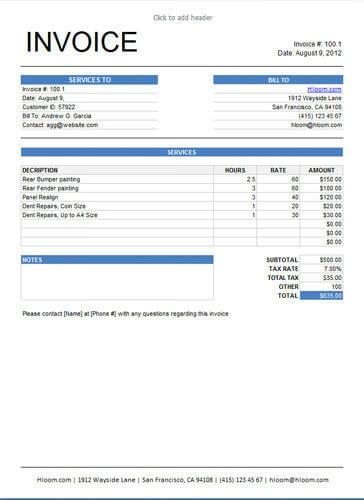 Enter description, hours billed, and rater per hour. The freelance invoice sample in excel calculates each line's total, subtotal before tax, total tax and total due. You can add additional misc charges into "other" field. Simple and elegant, this template is a great billing tool for any self-employed person.
Size: 183 B
Downloads:

47619

Filename: sample-service-invoice-spreadsheet.xls
Download
Basic service invoice template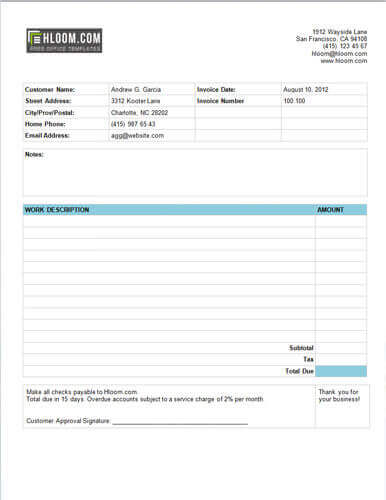 This template is a very basic service invoice format where all you need to enter is a description of work and amount billed. You have to manually add lines and tax to calculate total.
Size: 183 B
Downloads:

114520

Filename: basic-service-invoice-template.doc
Download
Basic format with optional tax and marketing banner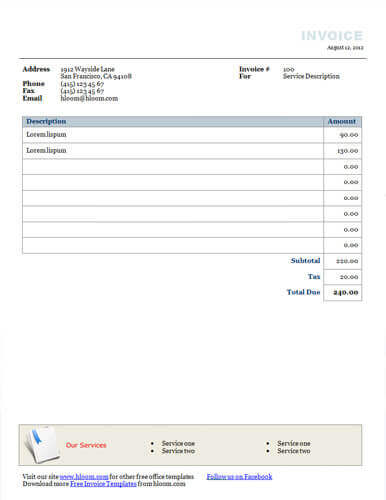 Another sample invoice where all you need to enter is a description of work and amount billed. You have to manually add lines and tax to calculate total. Marketing banner in the footer of this invoice allows you to advertise other services your company provides.
Size: 183 B
Downloads:

18646

Filename: basic-format-with-optional-tax-and-marketing-banner.doc
Download
Basic format for billing hourly with banner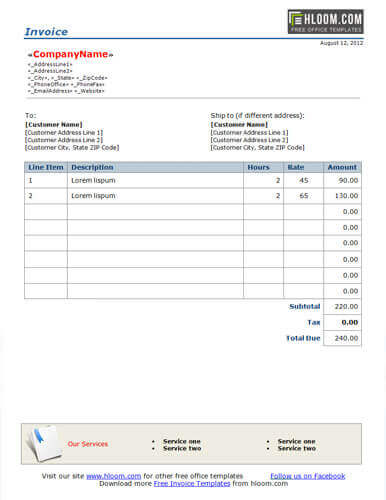 This freelancer invoice template comes with a table for outlining line item number, description of work provided, hours, rate, amount, subtotal, tax, and total due. Marketing banner on the bottom of the page can be used to advertise products and services.
Size: 75 KB
Downloads:

18189

Filename: Sample-of-Invoice-Template-for-Word.doc
Download
Invoice for hourly rate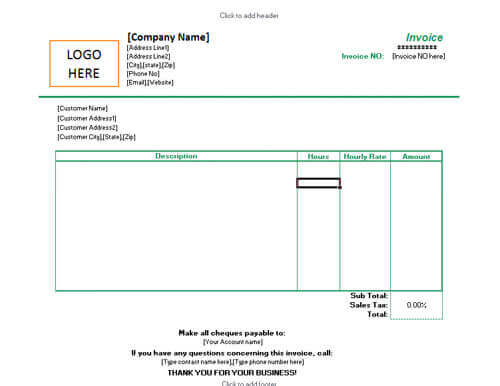 Perfect errorless calculations within seconds with this invoice template Excel. Enter the hours worked on project, the rate charged per hour, and the tax rate to be applied. The sub total and total due will be calculated automatically.
Size: 30 KB
Downloads:

50832

Filename: Invoice-for-hourly-rate.xls
Download
Colorful free invoice
This is a very simple invoice wit two columns: description and amount. This invoice is great for freelancers who needs a simple service invoice.
Size: KB
Downloads:

9053

Filename: Colorful-free-invoice.doc
Download
Service Invoice Hourly with Minutes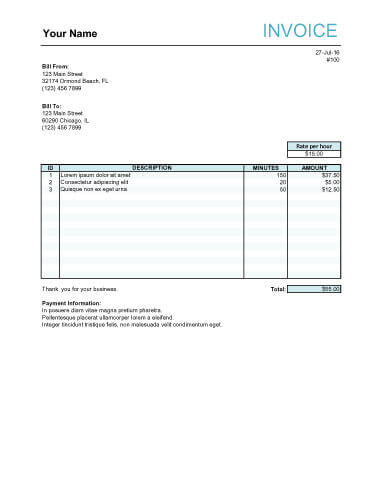 Line-item invoice for freelancers who are paid on hourly basis (transcription, proofreading, video editing). Enter your hourly rate, and the minutes worked on a project.
Size: 183 B
Downloads:

14047

Filename: service-invoice-hourly-minutes.xlsx
Download