Free Proforma Invoice Templates
How to Create a Proforma Invoice + 8 Blank Proforma Invoice Samples
A proforma invoice
is a document that is issued from the seller, the exporter, to the buyer, the importer, to confirm the buyer's intentions of purchasing the order. This is different from a purchase order, in that the purchase order is issued from the buyer to the seller. This guide covers the essential components of a proforma invoice, several tips on
how to create and use one
, and
free proforma invoice templates
.
David Noah, in an
article
for Shipping Solutions, offers these benefits of issuing a proforma invoice:
It serves as a negotiating tool between you and your international customer.
It is a voluntary document, and it is the preferred method in the exporting business. It's good form to include a proforma invoice whether or not it is requested.
It is a blueprint for the entire export process.
All proforma invoices should be valid for a specific period of time.
How To Create Proforma Invoice
Proforma isn't used for account receivable or account payable, however, it is a legal document and you could be bound to the terms and conditions laid out in it. Your proforma invoice is your offer to sell. Don't undervalue yourself. There are three things you can do to make sure this type of invoice is created correctly:
Calculate your export costs using a cost sheet
Determine acceptable costs of the goods you're selling
Cover all issues important to buyers
This guide will cover the necessary sections and proper proforma invoice format.
Other printable invoice templates by Hloom:
Invoice Header
The first part of your document is going to be the header. It's
very
important you include the words "Proforma Invoice" here. You'll also want to include your business logo and business name. This makes your invoice easy to recognize and find if it gets lost. This invoice form is usually printed on official company letterhead, so it frequently includes this information. Next to include is your contact information: mailing address, telephone/telex number, email address, website, and country of origin. It is also helpful to include the date the invoice was created, the date it was requested, and the date it expires.
Buyer's Contact Information
You should also add your buyer's name and their contact information: mailing address, phone number, company name, and company email address.
Invoice Number and Dates
Your invoice needs a number. This number is going to be referenced in your and your buyer's accounting information. You can use any number system you want, starting anywhere you want, but it should be sequential. For example, your invoice can read "Invoice #00516." Your next invoice should be #00517 and so on. This helps keep track of invoices and helps you stay organized. Figure out what system you're going to use to number the invoices and then develop a system to keep track of them. You should know who you sent an invoice to, when you sent it, and when payment is due. This can all be tracked in a Microsoft Excel Spreadsheet, Microsoft Word Document, Google Doc, or in some other accounting software.
Reason for Export
Since these invoices are being used to export goods, you will need to explain why you need to export them. Mention if the items are for sale, sample, repair, return, or gift. If the export is temporary (i.e. it's going to have to be exported back in the case of repairs), put "temporarily exported."
Shipment Information
At this point, you need to add the mode of transportation (air, car, train, etc), the total number of packages you're sending, and the total gross weight of the shipment.
Itemized Breakdown of Charges
This part is where you need to break down the shipment and get into the nitty-gritty details. You need to be as specific as possible here. The majority of rejected proforma invoices are because what was provided either wasn't important to the buyers or didn't tell them what they needed to know. The more specific you get, the less chance there is your buyer will choose another supplier. Here's a sample of what you should include:
Assign a line item to each good being provided
Type a detailed description, which includes a description of what's being sold
Number of units included
Price per unit of each individual item
Total cost
For instance, if you were selling a shipment of giant stuffed bears and giant stuffed pigs, your invoice would look something like this:
| ID | DESCRIPTION | QTY | UNIT PRICE, $ | TOTAL |
| --- | --- | --- | --- | --- |
| 1 | 9 Foot Soft Giant Teddy Bear 108 Inches Honey Brown Long Fur | 1 | $577.11 | $577.11 |
| 2 | 5 Foot Giant Stuffed Pig 60 Inch Soft Pink Plush Piggy, Wears Official T-shirt | 2 | $157.21 | $314.42 |
Tax, Shipping, and Total Due
Check the tax laws before calculating the proper sales tax. Add the shipping and handling charges that are necessary. For export, this includes and duties levied at customs by either country. Clearly list the total amount in the next line. Make sure all of this is clearly stated on your invoice. You don't want to cover hundreds of dollars in shipping, tax, or customs fees because you calculated it wrong or completely forgot to add it.
Footer
Use the bottom of the blank invoice form to include additional information, such as your guarantee or your return policy on goods sold. Last but not least, take the time to thank your customer for their business. A little courtesy can go a long way!
Additional Items
If this invoice is being generated for international trade, it should also include things like the Buyer's reference number and date of inquiry, the price of each item (in your country's unit), delivery point, insurance, shipping, and customs costs, and estimated shipping date from a port or airport. If your business requires additional fields such as discounts, terms of sale, estimated shipping date, etc., you can modify the template appropriately.
Free Resume Templates
Like bookkeeping and data entry, invoicing is a sought-after skill in many industries, from fashion to transportation to small businesses. You could start a new career, change your current one, or change industries. Before you start, work on your resume. Hloom also offers free resume templates with expert advice.
How to use a resume template?
Hloom's resume templates are easy to use. Visit our Resume Builder:
Answer a few prompts regarding your career and work experience.
Customize a free resume template.
If you already have a resume template, upload it and the builder will format it.
Edit, add or remove sections to better suit your needs.
Use the career expert recommendations as a guide throughout the process.
Build a Resume
Proforma Invoice Samples
Making anything from scratch can take a lot of time. While each invoice needs to be customized, use an invoice template to help get you past the repetitive formatting and structuring portion. Thankfully, we've done all of that for you!
We've included 8 blank proforma invoice templates, free for you to use below. Just hit 'download invoice' and start customizing them for your business needs.
Simple free proforma invoice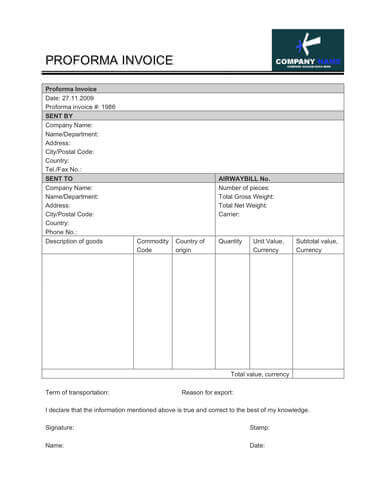 This template shows company info, description of goods, quantity, commodity code, unit price and total value.
Size: 47 KB
Downloads:

93166

Filename: Simple-free-proforma-invoice.doc
Download
Proforma Invoice Form Simple Blue Theme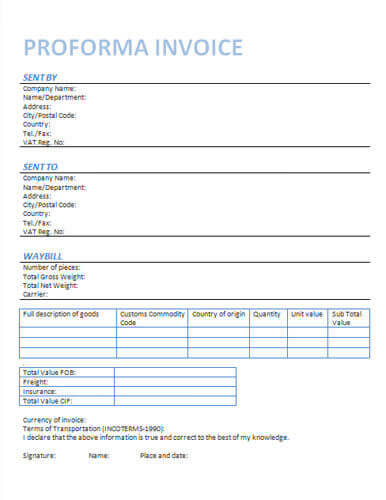 This free proforma invoice form sample shows importer and exporter info, description of goods, quantity, commodity code,unit price and total value. Basic design, blue headings
Size: 183 B
Downloads:

17768

Filename: simple-blue-theme.doc
Download
Free proforma invoice banded rows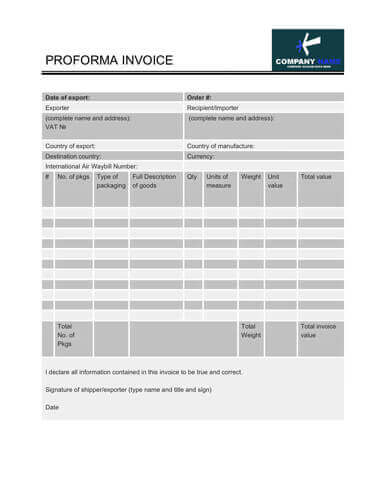 Standard format with the following fields: number of packages to be delivered, type of Packaging, full Description of goods, quantity, units of Measure, weight, unit Value, and total value.
Size: 63 KB
Downloads:

15595

Filename: Free-proforma-invoice-banded-rows.doc
Download
Basic proforma invoice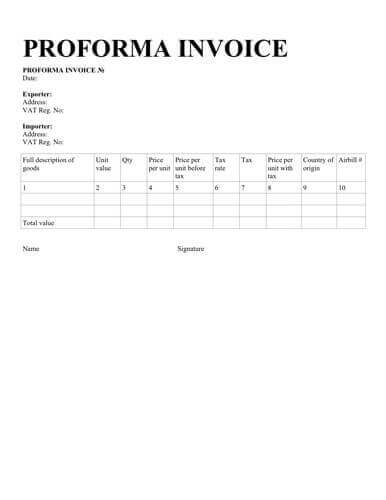 Very simple desig with basic data for creating professional invoice.
Size: 48 KB
Downloads:

14120

Filename: Basic-proforma-invoice.doc
Download
Sample Proforma Invoice Blue Banded Rows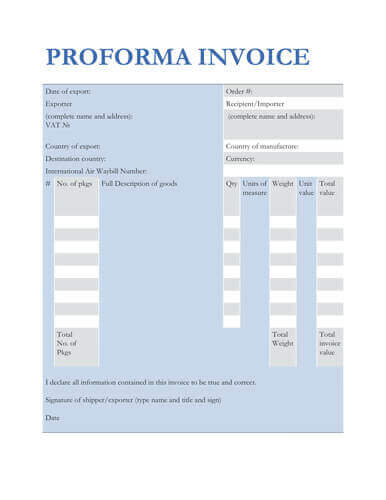 This sample pro forma template shows importer and exporter info, description of goods, quantity, commodity code,unit price and total value.
Size: 183 B
Downloads:

8579

Filename: blue-banded-row-theme.doc
Download
Pro Forma Invoice Template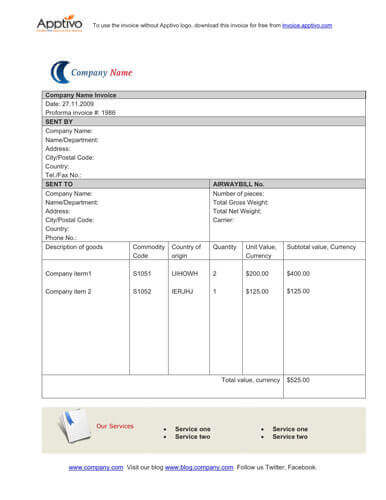 This pro format invoice template includes the following columns: description of goods, commodity code, country of origin, quantity, unity value currency as well as subtotal value currency and the total value currency.
Size: 72 KB
Downloads:

14910

Filename: Proforma-Invoice-Template.doc
Download
Compact Pro-Forma Invoice Format Sample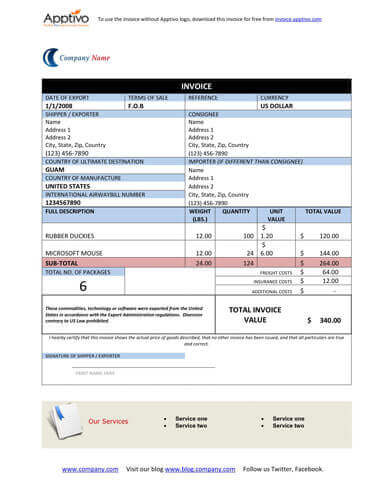 This pro-format invoice can be used as both proforma and sales invoice for product import / export. Includes information about the shipment of products from one place to another: products transported, shipping details, and the number of packages.
Size: 183 B
Downloads:

12497

Filename: compact-format-sample.doc
Download
Detailed Proforma Invoice Template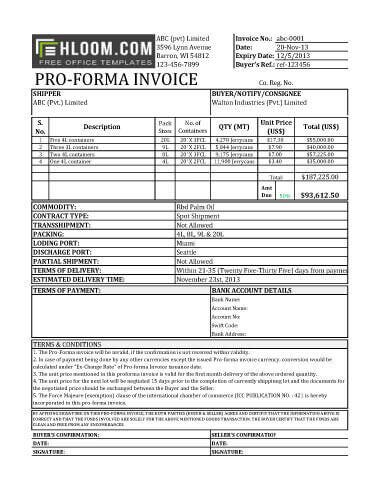 A detailed proforma invoice, include space for item number and description, pack sizes, number of containers, quantity, unit price, and total. Total and amount due are calculated automatically with formulas. Number of fields for additional information such as commodity, contract type, packing, ports, delivery, and payment.
Size: 24 KB
Downloads:

16897

Filename: Detailed-Proforma-Invoice-Template.xlsx
Download