Sales Invoice Templates
Understanding Sales Invoices and Sales Invoice Templates to Download
A sales invoice
is a document issued by a seller to a buyer. It may also be known as a
purchase invoice
or
commercial invoice
. The invoice is a record that details what has been ordered, the date it was despatched and the amount of money owed. Some invoices may be more detailed than that and could include payment terms or other order-specific information.
Variations in Sales Invoice Formats and Terms
You'll find a wide variation in sales invoice templates because there are so many different uses for them. There is no 'one-size-fits-all' rule for how they should look and the information they should include. Not only can invoices differ based on the company, but you can also expect differences depending on the industry you're in and sometimes even the country. Because business is so global these days, it's good practice to make sure you include all applicable information if you're dealing with clients in a foreign country and billing in a different currency. Here are some related sales invoice terms you might see:
VAT Invoice
. If you routinely deal with firms in Europe, you'll need VAT invoice that contain a field for a VAT (Value Added Tax) identification number, which is used by international companies instead of the retail sales tax common to U.S. businesses.
Purchase Invoice
. This is the same thing as a sales invoice, and the phrase used usually depends on which end of the transaction the user is on. The buyer may call it a purchase invoice since he or she is the one making a purchase, whereas the seller may refer to it as as sales invoice.
Credit Note
. Also known as a credit memo, a credit note is issued by a seller to a buyer to detail that a specific amount has been credited to the buyer's account, often due to correcting a mistake. It may be considered the opposite of a sales invoice.
Proforma Invoice
. This document is a preliminary bill documenting the commitment of a seller to deliver goods for a specific price. Because the product hasn't yet changed hands, a proforma invoice, also known as a sales order, isn't a true invoice or official receipt. To make things simpler, you can just call the document an invoice. Other common terms for the same thing include "billing invoice" or simply "bill." Commercial invoices will often contain much of the same fields and information that you'll find on a general
invoice template
, such as date, invoice number, payment methods and payment terms. Depending on how detailed your records are required to be, you might need to use tax invoice templates that include fields for tax payments, the tax rate and/or tax breakdown.
Free Resume Templates
Like bookkeeping and data entry, invoicing is a sought-after skill in many industries, from fashion to transportation to small businesses. You could start a new career, change your current one, or change industries. Before you start, work on your resume. Hloom also offers free resume templates with expert advice.
How to use a resume template?
Hloom's resume templates are easy to use. Visit our Resume Builder:
Answer a few prompts regarding your career and work experience.
Customize a free resume template.
If you already have a resume template, upload it and the builder will format it.
Edit, add or remove sections to better suit your needs.
Use the career expert recommendations as a guide throughout the process.
Build a Resume
Free Sales Invoice Templates
It's a legal requirement for any business to keep accurate accounting records of everything from tax payments to merchandise numbers. Using templates for invoices allows you to fulfil this requirement quickly and easily, saving you money. As well as that, they allow you to keep track of payments coming in – and when they're due – and goods going out.
Templates also help companies present an organized, professional appearance when dealing with customers. Instead of trying to come up with an invoice form on your own, select one of the pre-designed sale invoice templates below. They are free to download and you can easily choose a simple or more detailed option that best suits your business needs.
Excel
Free Sales Invoice in Excel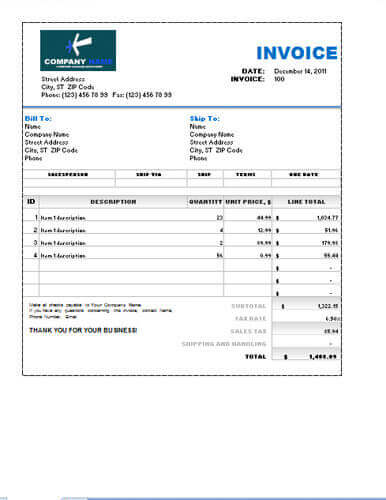 This free simple invoice template shows company info, billing and shipping address, description, amount. It automatically calculates subtotal, tax rate, sales tax and tax. You can edit and customize this template with Microsoft Excel to fit you needs.
Size: 183 B
Downloads:

129635

Filename: free-sales-invoice-in-excel.xls
Download
Sample Invoice Calculates Total With Tax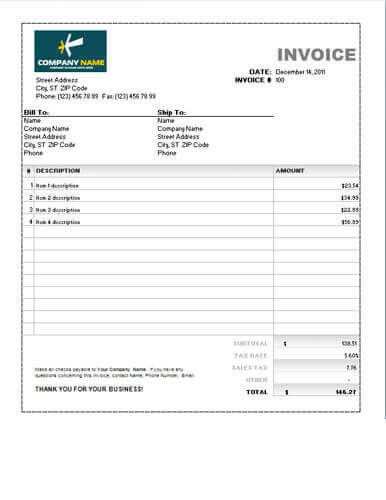 This invoice automatically calculates the sub total, the applicable sales tax (just enter tax rate), and the total. The template is fully customizable: download and edit Microsoft Excel, Mac Numbers of OpenOffice
Size: 40 KB
Downloads:

35478

Filename: Sample-Invoice-Calculates-Total-With-Tax.xls
Download
Simple purchase invoice excel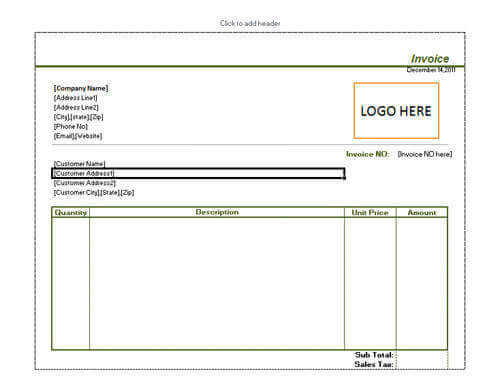 A simple invoice which calculates a sales tax and total. Very basic design, green color theme. By default, this template only supports Landscape orientation.
Size: 183 B
Downloads:

28926

Filename: simple-purchase-invoice-excel.xls
Download
Sales invoice calculating total blue theme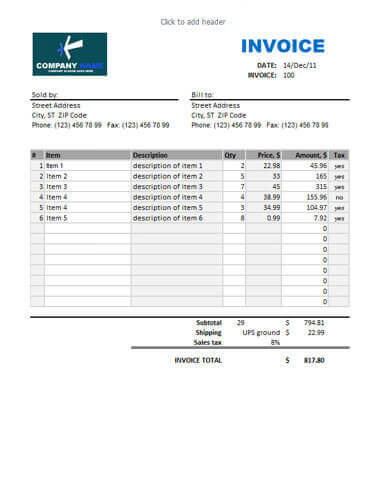 This free simple invoice template shows company info, description, quantity, sales price, amount, tax. It automatically calculates subtotal, shipping charges and tax. You can edit and customize this template with Microsoft Excel to fit you needs.
Size: 183 B
Downloads:

17862

Filename: sales-invoice-calculating-total-blue-theme.xls
Download
Sample invoice with optional sales tax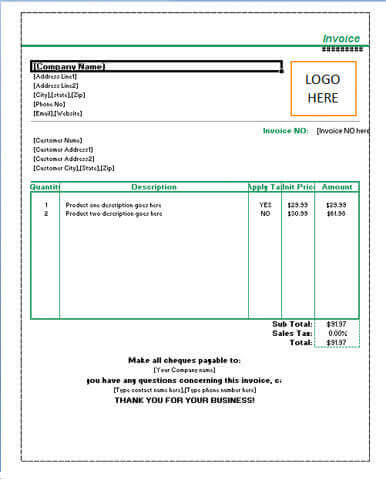 Once you input the required information, such as unit price and number of items, this spreadsheet will automatically calculate the subtotal and taxes. Customize this template with your logo so that clients can easily identify who they're doing business with.
Size: 37 KB
Downloads:

16822

Filename: Sample-invoice-with-optional-sales-tax.xls
Download
Basic Sample Purchase invoice format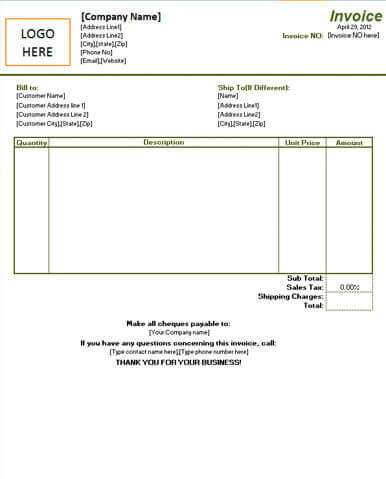 Free invoice format download in xlt format for your business. It is free to download, edit, email, and print. This template can be used for most types of businesses and billing; it has place to add your logo and company address, data, invoice number, and a table for products or services.
Size: 183 B
Downloads:

13205

Filename: Basic-Sample-Purchase-invoice-format.xls
Download
Word
Simple template invoice
Typical purchase invoice
Word Invoice Template example
Simple template invoice background
Blank Invoice Template
Free Sales Invoice with remittance slip
Simple template invoice with remittance slip
Simple Billing Invoice Template
Simple sales invoice sample
Black header simple Invoice Template
Blank Invoice Banded Row
Free Invoice Template for Word
Spare Parts Sales Invoice
Invoice sample for Word
Green gradient Billing Invoice Template
Standard Purchase Invoice Template in Word
Simple blue product invoice
Simple product invoice
Free Travel Invoice Template
Travel Invoice Template
Travel service invoice