Job Estimate Templates and Work Quotes
Job Estimate and Quotes – How To Make One, plus 11 Examples
Two ways businesses can provide pricing to potential customers are
job estimates
and
quotes
. Both of these costing forms then guide the final price included on the associated job quote. Many businesses, including those in the construction industry, provide tailored quotes based on specific client needs as opposed to offering a set price list that applies to every customer.
According to data from Sageworks, a financial information company,
construction-related companies dominate the top 10 fastest-growing industries
in the U.S. In such a booming industry, having efficient and effective ways to provide the costs of construction projects to potential customers is vital. This guide offers useful information about the differences between job estimates and quotes, why they are used, what should be included, and the pros and cons of using estimate software. At the end of the guide, we have provided free estimate templates to help get you started. These forms can be downloaded, edited to suit your business needs, and printed.
What Are Job Estimates and Quotes?
That job estimates and quotes are the same thing is a common misconception. The terms
"Job Estimate" and "Job Quote"
are often used interchangeably but, according to YourTradeBase, the two forms can be differentiated in a number of ways.
Job Estimate
Gives an indication of expected costs based on limited job information
May also include job schedule, proposed delivery date, your terms and conditions, and payment schedule
Useful if you are unable to guarantee the cost of materials or are unsure about the scale of the job
Is NOT legally binding
Job Quote
An exact quote for the job being offered, therefore cannot be changed once accepted by the customer. The final invoice and associated costs will match that of the initial quote provided to the customer
Includes more detailed information relating to the project requirements
Due to potential fluctuations in material costs, a completed job quote form is only valid for a finite period of time, after which the quote expires
Often preferred by customers, who will know what to expect in terms of cost, time, and materials
Is a legally binding contract between you and the customer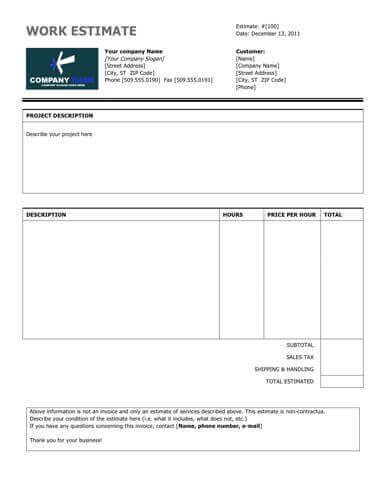 Size: 48 KB
Downloads:

84538

Download: zip and doc
Download
FEATURED TEMPLATE
Project Work Estimate
Word document with two sections: Project description and Project Details. Project description should be used to input an overview of the project. Project Details should be used to break down project to specific tasks, and quote price for each of those tasks.
Download
Why Should I Provide Written Estimates or Quotes?
Providing a verbal estimate or quote is not necessarily wrong, and having something in writing is not a legal requirement. There are, however, several benefits to providing a written document:
Resolve misunderstandings or legal disputes

– In the unfortunate circumstance that a dispute arises between you and the customer, a detailed quote provides proof to assist in the mediation process. Anything agreed to verbally is not only difficult to prove, but can also cause additional angst which would have been avoided if correspondence had been documented in writing.

Demonstrate a high level of professionalism

– If you want to be taken seriously and to give yourself the best possible chance when bidding on construction projects, a written quote should be a given. Put yourself in a potential customer's shoes. Would you choose a service provider who only gave an estimate over the phone or would you more likely select a company that provided a professional written document? It's a no-brainer.

Use a standardized document

– With a predetermined job estimate template, tailor costs, time, and materials based on specific client needs, and remove the hassle of starting from scratch for each new work request. This will save you valuable time, reduce administrative costs, and ensure consistency.

Maintain accurate records

– When business is booming, losing track of customers and how each project is progressing is a risk. Keeping copies of documents may not be the most exciting part of running a business, but will pay dividends when asked for details about a particular project that was completed all those months ago.
Can't I Just Use Pricing Software?
Technology has its place in running, or working in, an effective and efficient business. However, it may not be the best option for you and your business. BuildSoft, a construction software provider, explores the pros and cons of using
estimating software in construction
:
Estimating Software Advantages
Streamline business processes, boost efficiency, and save time and money with appropriate software.
Manual entry of tasks and incidents of human error are reduced.
You can be more accurate when calculating labor costs, volume of materials needed, and the overall price.
Comparing similar projects to create efficiencies by basing estimates and quotes on previous projects can save time and money.
Estimating software enables you to manage and schedule your labor more effectively by measuring the delivery time of materials.
Estimating Software Disadvantages
Estimating software can be expensive and may be an investment that is just too costly for your business, particularly if you are a sole trader.
If you're not tech-savvy, learning to use the software could take a significant amount of time.
The software you purchase may not include regular updates or upgrades. The ever-changing nature of the construction industry means that the software package may soon become outdated.
What Should a Job Estimate Include?
Having outlined the differences between estimates and quotes, it's time to show how this can be put this into practice. The main difference between a job estimate and a quote is the level of detail. Although not as detailed as a quote, a professional job estimate should include the following items:
Your company information

– To create a professional-looking document, make sure to include your company's logo, name and key contact details such as postal address, email, and phone number.

Customer details

– Make it clear who you're providing the estimate for by inserting available customer information including their name, address, email, and contact number.

Estimate/job number

– Including "Job Estimate" or "Work Estimate" at the top of the document is important. Displaying the term "Estimate" in a prominent position ensures that you have clearly outlined that the estimate is exactly that and the pricing is therefore not legally binding.

Date

– This is the date that you have provided the written estimate to the customer, not the date the project was scoped. Aim to give a written estimate within a few days of scoping the work; timeliness means that you come across as professional and the customer is less likely to seek additional estimates from other service providers.

Project description

– This is where the bulk of the information should be. When scoping the work, aim to gather as much information as you can about what needs to be done to complete the job. Is the site easily accessible? Are there specialized tools or materials required? A detailed project description upfront will enable you to provide a more accurate estimate and may prevent potential misunderstandings and disputes later on.

Line items

– Sometimes, it is better to provide a detailed breakdown of the overall cost, both for transparency and to demonstrate value to the customer. Common line items used include materials, labor, and number of hours to complete the job.

Tax details

– Is tax applicable to the job? If so, include the tax rate and amount as a separate cost line item.

Total work estimate

– This figure is the overall price for the work required and includes line item costs and any applicable tax. Be clear about which currency you are dealing in and bold the total to make it stand out.

Terms and conditions

– This section usually goes at the end of the document and can be a standard statement used for all jobs. You may wish to include your payment terms such as when and how the customer should pay you once the work is satisfactorily completed. It is also a good idea to add a brief reminder that the document serves as an estimate only and that the given pricing is subject to change.
Lastly, it's a nice touch to thank customers for their business at the end of a written estimate. Not only does it humanize an otherwise formal document, but it also gives a subtle hint to the customer that the business transaction has already commenced and that you're keen to provide the requested service. If creating a document that includes all of this information seems daunting, our free job estimate templates, found at the end of this article, are there to simplify the process. We also provide sample construction estimate templates, as well as templates for many other kinds of projects.
What Should a Job Quote Form Include?
A written job quote is very similar to a job estimate but has some important differences. In addition to the items listed above for work estimate templates, consider the following:
Quote/job number

– Instead of using the term "Job Estimate" or "Work Estimate", a written job quote will have the words "Job Quote" or "Work Quote" clearly displayed. If an estimate was previously provided to the customer, use the same job number for the quote. In doing so, both forms are linked and you can easily see how the job has progressed from the project initial estimate to a more detailed quote.

Expiry date

– As mentioned, a job quote is valid for a period of time, and this should be clearly stated. The customer must accept the quote before the expiry date if they want you to complete the work at the given price. If they don't accept within the required timeframe, another quote with revised costs and new quote validity date will need to be provided.

Terms and conditions

– Unlike a job estimate, the statement at the end of a job quote will not include anything relating to potential pricing changes. Acceptance of a quote is a legally binding contract between you and the customer. To formalize acceptance of the quote, include a section in which the customer is required to sign and date the estimate form.
Again, don't forget to thank your customers, and be sure to check out our free job quote templates at the end of this article.
Construction Job Estimates
Construction estimates are similar to the general estimate template format, but may include more detailed information based on which estimating method you have chosen to use. Michael Stone, with Construction Programs & Results Inc., writes about two methods that are frequently used when documenting
construction estimates
:
Stick Estimating Method
List various aspects of the job
List number of hours each part will take
List materials to be used
List required subcontractors
List other items that may be needed e.g. permits, rentals
Put a cost against each line item
Finally, have someone check your estimate
Unit Cost Estimating Method
Compile line items for the job
Put a unit cost against each line item
Total the costs, and have someone check through your figures
Both methods involve applying your markup to the total cost before providing a final price estimate to the customer. Stone argues that unit cost estimating is a much quicker method than the stick estimating method, and is just as accurate. If your business involves providing construction estimates, consider which method you may prefer to use.
Free Downloadable Quote and Estimate Templates
To take the stress out of providing project costs for potential customers, we have created a range of free job estimate templates, job quote templates, all available for you to download. We hope they will help you create a professional document and will make the process of creating a price quote much simpler, quicker, and error free. We also offer a variety of
free invoice templates
, which will help you provide professional documents at each stage of the project.
Work estimate template in Excel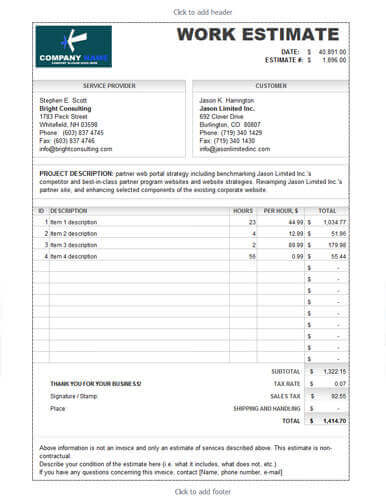 Blank fields include info about service provider and customer, project description, number of hours, price per hour, and a total work estimate. This document automatically calculates each line item total, subtotal and total.
Size: 183 B
Downloads:

67940

Filename: work-estimate-template-in-excel.xls
Download
Simple Job Estimate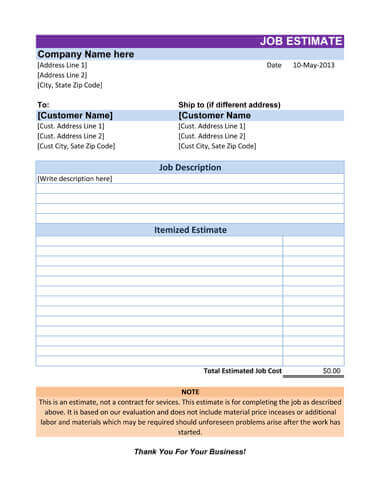 This basic template will automatically calculate total of your project. Simply enter individual line items, and price for each.
Size: 183 B
Downloads:

21010

Filename: simple-job-estimate.xlsx
Download
Simple Job Estimate with tax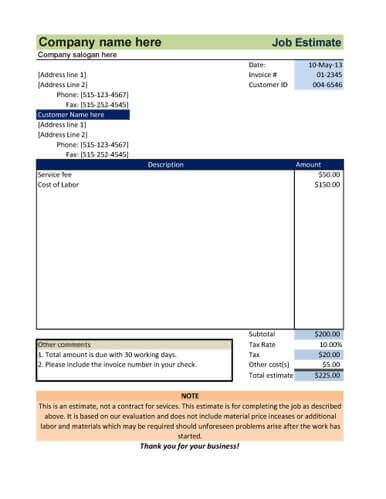 Basic estimate template in Excel where total cost of a project is calculated automatically. Enter tax rate to calculate total tax, and add 'other costs to calculate total. The template provides space for comments to customer and notes / terms.
Size: 23 KB
Downloads:

14518

Filename: Simple-Job-Estimate-with-tax.xlsx
Download
Project estimate in Excel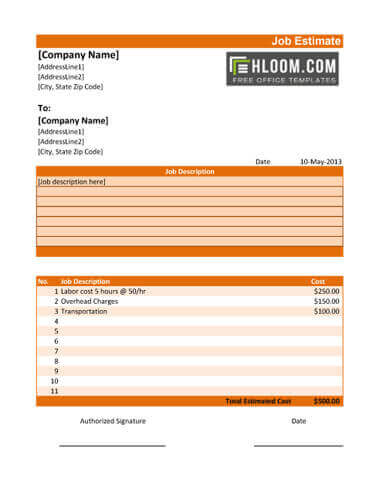 This Excel spreadsheet estimate calculates total cost of project in a style: the color of table rows is alternated automatically by a formula.
Size: 183 B
Downloads:

12696

Filename: project-estimate-in-excel.xlsx
Download
Hourly Job Estimate
This template is calculated from hourly rate and number of hours billed for project tasks. You can set tasks as billable or non-billable. The document will display total and effective hours for the project, and total and effective cost.
Size: 36 KB
Downloads:

6764

Filename: Hourly-job-estimate.xlsx
Download
Project cost and profit estimate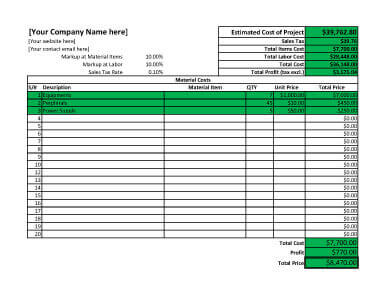 This spreadsheet is pretty complex and will calculate total cost of project that bills for both labor and products. Enter individual items of the project, markup, sales tax, and see total estimated cost of the project, and the profit
Size: 25 KB
Downloads:

12499

Filename: Project-cost-and-profit-estimate.xlsx
Download
Project Estimate Spreadsheet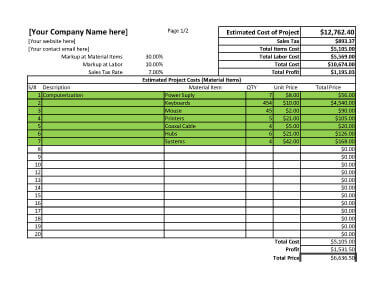 This two-page template allows to calculate both cost and profit of a project where both labor and material items are used.
Size: 26 KB
Downloads:

10235

Filename: Project-estimate-spreadsheet.xlsx
Download
Project Cost Estimate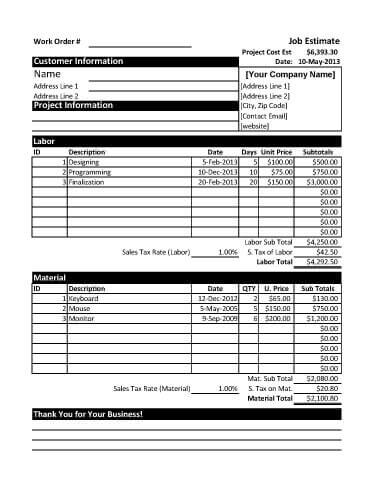 Proposal to send to customers where both labor and material are listed, and different tax rate applied for each.
Size: 23 KB
Downloads:

16676

Filename: Project-Cost-Estimate.xlsx
Download
Job Estimate Form in Word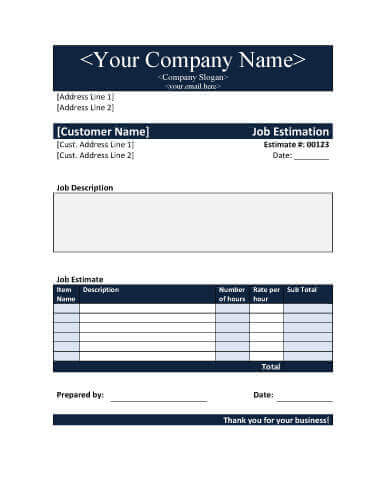 Basic sample in Microsoft Word. Easy to use and modify but does not calculate total automatically.
Size: 45 KB
Downloads:

11275

Filename: Job-Estimate-in-Word.docx
Download
Tehnical Project estimate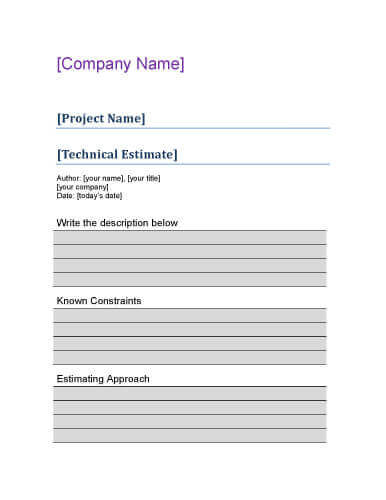 Multiple-page proposal for a technical project with sample content and headings.
Size: 66 KB
Downloads:

5417

Filename: Tehnical-Project-estimate.docx
Download