Fax Cover Sheets (How-To + 29 Templates)
Fax cover letters to use for business and private life
Even though the
very first fax machine
was made in 1842, today, fax machines are still not considered relics of the past. There are
17 million fax machines
in the U.S. alone, and 17 billion faxes are sent worldwide each year! At many jobs or internships, you may need to send faxes. Let's take a look at why the fax machine is still thriving, and what you need to know about faxes and fax cover sheets. Below, you'll find our
free fax cover sheet templates
, which you can download and print to make sending a fax easy.
Why Send a Fax?
Online faxing has provided a new way to send faxes, but many still send them the old-fashioned way. Why hasn't the fax machine
become obsolete
? First, it's a means of transmitting information using a method that's accepted worldwide. Many places still have unreliable internet service. Smaller or older businesses may not want to invest in an expensive computer or tablet, so they send documents by fax. In an office with limited access to computers or the Internet, a fax machine is helpful. Fax machines are also very reliable and secure. Unlike some email or online message systems, a fax machine will tell you if the fax has been sent successfully. A fax will hold up in court, where an email might not, and a traditional fax machine can't be hacked the way an email can. In fact, some places require the use of a fax machine for those reasons. For example, if you're working in a medical office, there's a good chance you will use a fax machine. Also,
HIPAA laws require privacy
, and faxing is usually the safest option.
How to Send a Fax
It's a good idea to learn how to send a fax. There are two ways to send faxes today: with a fax machine, and online.
How to Send a Fax with Fax Machine
First, you will put the document in the document feeder of the fax machine. An icon on the machine itself should show you which way the paper needs to be facing. The folded corner in the icon indicates whether the fax machine reads the underside or the top side of the document, thus directing you to place the paper into the machine face up or face down.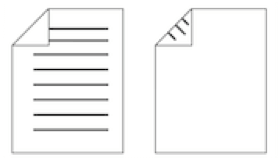 Next, you'll enter the fax number you're sending the document to. Then, press the "Send" button. The button may look different from one fax machine to another: it might be a green button, or have "Go" or "Start" on it. Some fax machines will give you a confirmation page once the complete fax is received. Otherwise, you will just wait until the fax is done scanning and transmitting. The document that comes through on the recipient's side will be an exact copy of the one you just sent. Finally, take the original document and keep it or dispose of it–if it's sensitive information, it may need to be shredded. Different types of fax machines can have
additional features
. Some work as a copy machine, scanner, or printer. Some allow you to schedule faxes to be sent later. Ones with large memory and paper capacity may be able to send multiple documents in a queue. There might also be a password you need to enter before you can send a fax.
How to Send a Fax Online
Today you can actually send a fax over the internet using your laptop, tablet, or smartphone. Using an online fax app is simple. Open the app or program, choose a file or enter the text you would like to send as a fax, and enter the necessary contact information, such as an email address. Then select "Send" and wait for the app to alert you that the fax has gone through. The app will likely send your fax as an image or a PDF. With some online fax apps, you can not only send and receive faxes from your phone or other device, but sign and edit them as well. Many of these apps are free up to a certain number of faxes–see
Lifewire's list of free online fax options
.
Fax Cover Sheet Templates
A fax cover sheet is an informational document that you send with a fax. You will position the cover sheet as the first sheet of the fax, so that it gets received first. Both traditional and online faxes can require a cover sheet. It is considered more professional to include a cover sheet with a fax. That way, all the necessary information is easy for the recipient to locate. You can ask at your job or internship whether they expect faxes with your
resume template
to be sent with a cover sheet.
What Should a Fax Cover Sheet Include?
A fax cover sheet contains important information that needs to be organized and easy to read quickly. It identifies who the sender of the fax is, who it is intended for, and includes contact information for both parties. This helps ensure the fax ends up in the right hands, and that the sender can be contacted easily. A professional fax cover sheet will typically have this information:
Company name (sender)
Company name (recipient)
Date
Fax number (sender)
Fax number (recipient)
Phone number (sender)
Phone number (recipient)
Number of pages (including cover sheet)
A professional fax cover sheet might also have this optional information:
Company logo (sender)
Company tagline (sender)
Individual's name (sender)
Individual's name (recipient)
Physical and/or email address (sender)
Physical and/or email address (recipient)
Urgency level
Subject ('regarding' or 're:') field
Whether a reply is expected
Short message about the fax document
Fax cover sheets should typically be simple and without fancy design elements. Occasionally, a fancy cover sheet is appropriate, such as when sending a fax from a creative business, or for a certain occasion (eg. birthdays, Christmas, event invitations). We have both simple and elaborate fax cover sheet templates for you to choose from below.
Printable Fax Cover Sheets
Our printable fax cover sheet templates save you from the tedious job of making a new, professional cover sheet each time you send a fax. They are free, and easy to download, edit, and print. These templates contain all the basic information that should go on a professional fax cover sheet. Just remove the sample information from the template and replace it with your information. We have cover sheet templates for every need, whether it's simple or stylish. Take a look and see which ones are best for you.
Generic Fax Cover Sheet Templates
Simple Cover Sheet
Basic Fax
Classic Bordered
Clean Fax
Prominent Business Name
Efficient Fax Cover
Business Cover Sheet
Letterhead Fax
Uncomplicated Fax Transmittal
Professional Fax Form
Banner Fax Cover
E-Claim Cover Fax
Logo with Boxed Return Fax
Logo with Simple Return Fax
Hand-Off Basic Fax
Just Facts
Straightforward Blank Fax
Stylish Fax Cover Sheet Templates
Flight Fax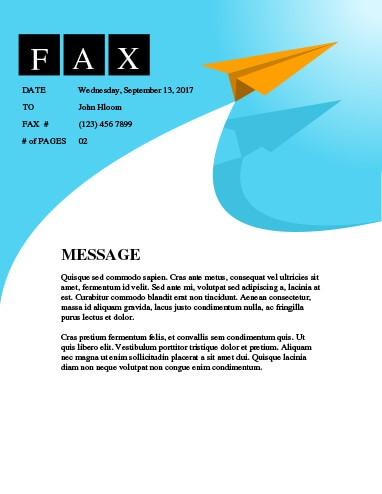 The paper airplane featured in this colorful template suggests youthful creativity and motion. While sender information is absent, there is still plenty of white space for additional messages.
Size: 59 KB
Downloads:

3040

Filename: Flight-Fax.docx
Download
Geometric Fax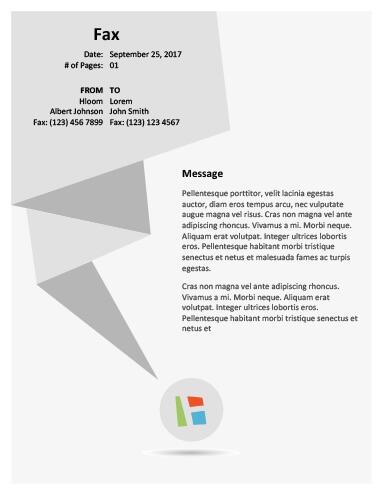 The geometric design adorning this template, and the space for a logo, make it perfect for firms in fields such as architecture or design. Includes space for a sizable message.
Size: 56 KB
Downloads:

3015

Filename: Geometric-Fax.docx
Download
Merry Christmas Fax
For a more lighthearted template, this whimsical form features an antlered moose. With room for a message and the sender/receiver details, this fax-cover sheet is sure to brighten someone's day.
Size: 62 KB
Downloads:

2864

Filename: Merry-Christmas-Fax.docx
Download
Quotation Bubble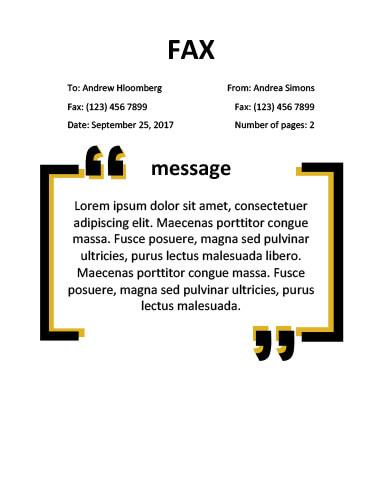 This creative template features room for sender and receiver information. A black and gold call-out box, bookended by quotation marks, leaves enough space for a mid-sized message.
Size: 30 KB
Downloads:

3006

Filename: Quotation-Bubble.docx
Download
Message Amplifier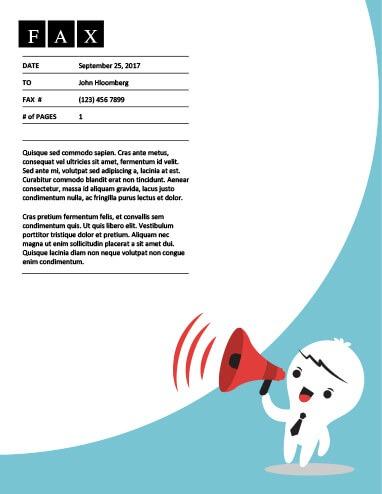 This cover sheet amplifies your message with a smiling character and bullhorn. While sender information is absent and receiver information limited, this form does leave room for a sizable message.
Size: 39 KB
Downloads:

2857

Filename: Message-Amplifier.docx
Download
Pencil Fax Cover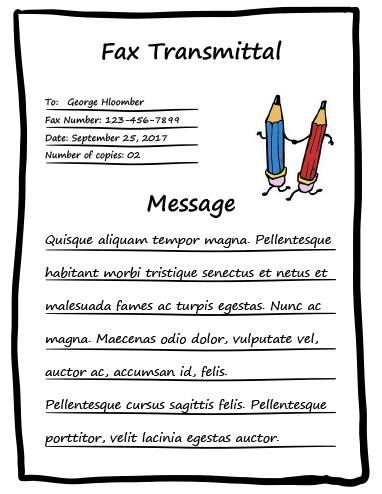 Most appropriate for schools and other educational settings, this cover sheet features cartoon pencils. It includes ample message space but limited room for sender details.
Size: 131 KB
Downloads:

3003

Filename: Pencil-Fax-Cover.docx
Download
Speech Bubble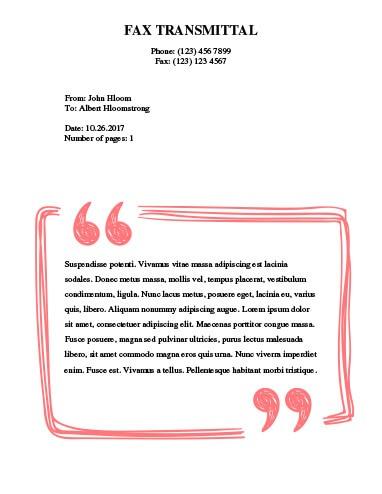 This friendly looking template includes your contact information, but not space for the recipient's number. A large area for a message is enclosed by a speech bubble.
Size: 43 KB
Downloads:

2952

Filename: Speech-Bubble.docx
Download
The Business Card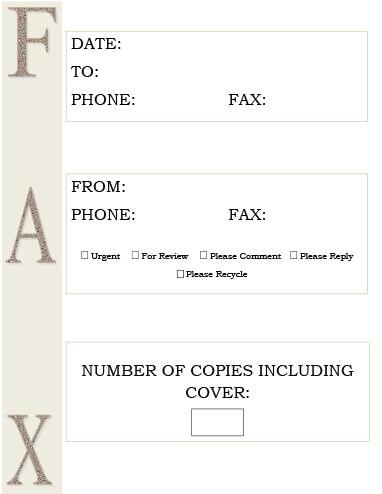 This professional template has space for all the pertinent sender-receiver details also includes check-boxes for five categorizations of urgency. Best used when your fax needs no additional messages.
Size: 183 B
Downloads:

3042

Filename: the-business-card.docx
Download
Clipboard Cover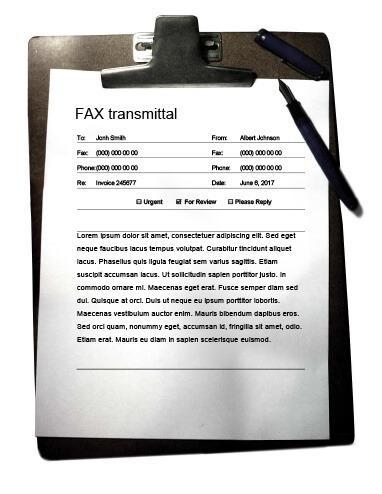 The clipboard image of this template reinforces its checkboxed request for urgency, review, or reply. With room for a significant memo and recipient and sender information.
Size: 2 MB
Downloads:

2982

Filename: Clipboard-Cover.docx
Download
Sidebar Blocks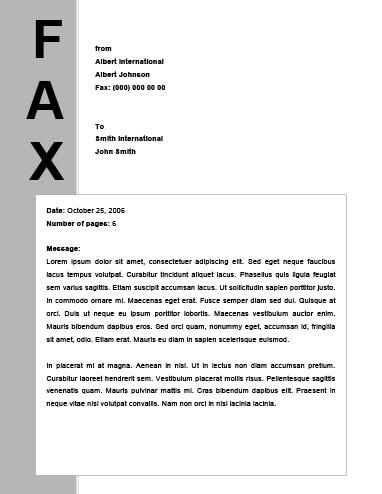 This template features sender and receiver information in a column at the top-left of the page, and includes room for an additional message in a clean, square call-out box.
Size: 61 KB
Downloads:

3010

Filename: Sidebar-Blocks.doc
Download
Big Square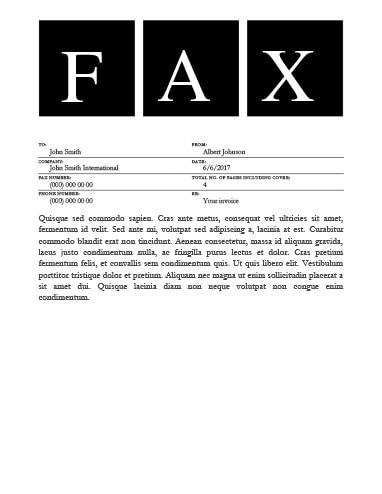 The large F-A-X at the top of the page makes a dramatic statement, but still leaves room for sender and receiver details, as well as an additional message.
Size: 183 B
Downloads:

2855

Filename: Big-Square.doc
Download
FAX on FAX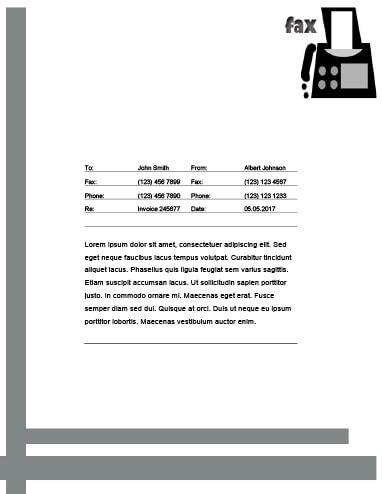 The emoji-like fax machine on the top right gives this form a whimsy that recipients will enjoy. It includes pertinent sender and receiver details and room for a small message.
Size: 183 B
Downloads:

2966

Filename: FAX-on-FAX.docx
Download