Memo Template
48 Free Memo Templates, Fully Editable in MS Word
People have become too used to emails hitting their inbox. And because they are easy to miss or delete, they may not always be the best option for your message. An internal memo might be a better choice, especially if what you need to say is important. Writing a memo rather than an email may seem daunting, but it isn't – especially when you use our free memo templates that break it down into step-by-step pieces.
A
memo
, or
memorandum
, is a brief written report from one person or department to another. It's often a form of mass communication rather than a one-on-one. An interoffice memo may communicate an organizational directive or change in policy or procedure, or combat the company grapevine with its rumors and hearsay.
When Should You Use a Memo?
A memo is the right form of communication when you want to:
Persuade
Issue a directive
Provide information
Communicate semi-formally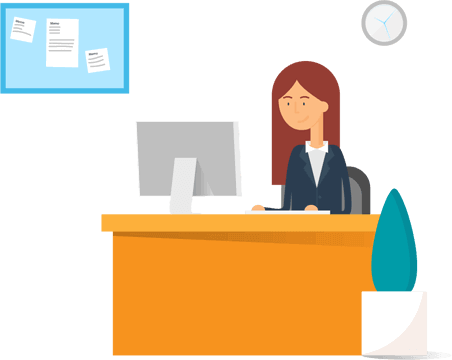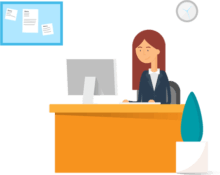 Email is rampant in the business world. It's not unusual to get dozens or even hundreds of emails every day. Which makes sense, given the purpose they serve; if you are writing a quick communication that you know will be deleted, email is a great option. However, when what you need to say is more important than an email warrants, send an interoffice memo to your staff instead. And if you are writing to someone outside of your organization, a business letter is an even better option. Memos should not be confused with a private placement memorandum, which is a legal document supplied to investors when selling stock securities in a business, or a credit memo, which is a credit note given to a buyer.
Different Types of Memo Documents
You can use a number of different types of memos in your business.
Internal memo

– A communication between members of, or groups within, a single department

Interoffice memo

– An internal communication between two or more departments; similar to an internal memo, but with one or more added departments

Office memo

– Another name for an internal memo

Business memo

– A formal correspondence between two parties within a company

Policy memo

– A directive sent by the head of a department to all employees communicating a change in company policy

Operational memo

– Similar to a policy memo, an operational memo issues a directive to all employees discussing a change in operational procedure

Memorandum of agreement

– An agreement between two parties describing a working relationship. Unlike most memos, a memorandum of agreement is a legal document

Memorandum of understanding

– A memorandum of understanding is the same as a memorandum or agreement
Memo Format
Memos should be a concise communication with a clear purpose to a person or group of people. It typically has a specific format—but don't worry, our free memo templates have done all of that for you, so that you don't miss anything important.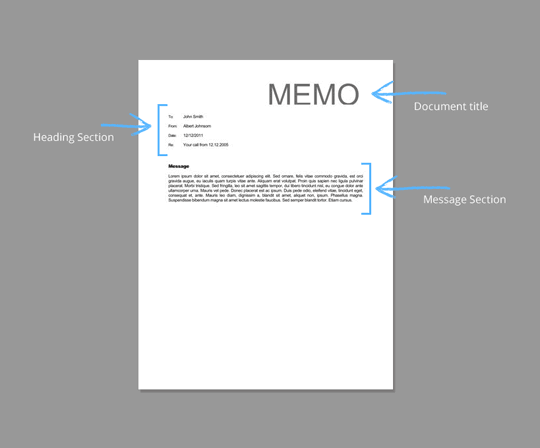 Heading
The heading is arguably the most important part of your memo. Without a good lead, readers may decide it's not worth their time to read your communication. The heading typically lets readers know the date, subject, and recipient of the memo.
To:
This is the recipient(s) of the internal memo. Use only the first name if it's an informal communication, and the first and last name and department if it's more formal. If the memo is meant for an entire department, address it to that specific department .
From:
Memos are usually from a specific person. Use the same level of formality that you used on the recipient line.
Subject:
Be specific so that your readers know whether or not they are interested in reading your memo. Instead of saying "Important Information" say "Important Information regarding XYZ Company's Stock Purchase Plan"
Body of the Memo
Introduction
The first section is the purpose of the memo. It gives readers the context for the communication and contains a brief highlight on the reason for the memo. In the introduction to your internal memo, let readers know the situation or event you are addressing.
Purpose
The main body of the memo is going to be the message, including background information and the resolution. This section may include statistics, examples, or reasons so that readers understand how the decision was reached.
Conclusion or Action
The final paragraph will be clear on what action is being taken so that all readers understand. It may include a directive, call to action, or what other actions can be taken.
Before Hitting Send
Proofread your document

– Since it's a professional business document, ensure that it doesn't contain any typos or spelling errors.

Check your terminology

– Does the document contain words, abbreviations, or acronyms that everyone will understand? Use the definition or a different word if it's going to cause confusion with readers.

Use white space

– Make sure paragraphs aren't so long that you lose readers. Break long paragraphs into shorter ones and consider adding bullet points or sub-headings.

Get rid of emotion

– A memo should be factual rather than emotional. Replace emotionally charged words with objective ones in order to retain your professional demeanor.

Logical

– The memo should be logical and easy to understand. Does it flow in a methodical manner or is the information all over the place? Don't make assumptions about what background information readers bring.

Length

– A memo should not be very long. If it's much more than a page, you should either write more succinctly or switch formats.

Is a memo appropriate

– If you are divulging something sensitive, a memo may not be the best form of communication. For example, if you are firing someone, you should probably tell them in person that they need to update their resume.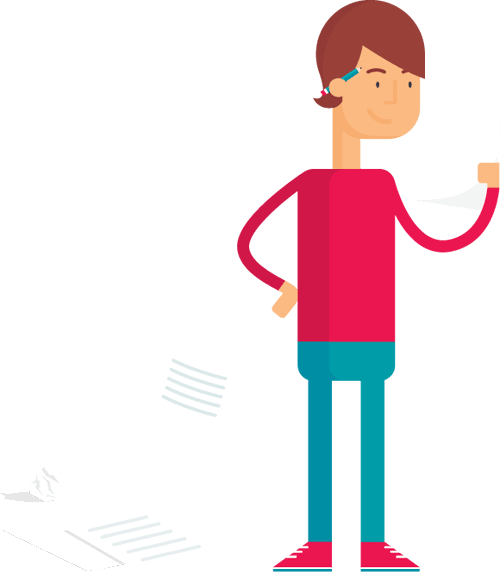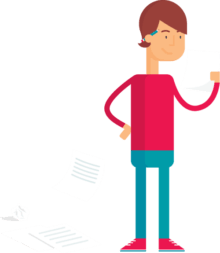 Free Memo Template Examples
The free memo templates below are all formatted and ready to use. Simply download the theme you want, add the appropriate text, and you are ready to send out this simple communication.
Simple
Black Line memo sample
Blue Gradient sample of memo
Red Sidebar Business Memo
Big title blue sidebar
Very Simple Memorandum
Blue and Brown memo example
Simple gradient business memo
Simple lines design
Simple elegant free memo sample
Brown Sidebar
Elegant Simple Memo sample
Simple sidebar business memo
Sidebar address design
Memo template word 2010
Telepro Memo Template
Confidential theme memo sample
Simple elegant memo
Blue elegant memo
Simple confidential memo template
Technova Innovation Memo Template
Elegant Outlined Memo
Creative
Header waves simple design
Floral design
Blue waves memo letter example
Flexible technology
Free memo template with a clock
Creative writing design
Post it Sticky Note Design
Green gradient
Corporate blue waves
Blue striped header
Global company theme
Corporate blue waves header
Wayland High School
Binary code technology theme
Computer mouse IT theme
Paper with a paper clip memo template
World map sample
Skyblue memo
Corner lines
Paper clip sidebar sample
Orange header pin
A simple memo with blakish blue and red theme
Notebook background theme
Chemical theme
Blue mountain header