Contemporary Resume Templates
Eye catching resume templates where you are the news
A resume is your first chance to impress a potential employer. If you are looking for a
resume template
with a contemporary edge – either a
one-page
or a two-page resume, in a
chronological
,
functional
, or
combination
format – we have just the right layout to help you with your job search. On this page, you'll find our
best contemporary resume templates
that feature layouts reminiscent of a professionally designed newsletter, advertisement, or flyer. These eye-catching designs feature advanced formatting and creativity; all you need to do to make it your own is to add your job history, professional experience, skills, education, and objectives.
Contemporary Resume Format
While there is no single format or layout for contemporary resumes, there are characteristics that make this modern resume type easy to identity. Here are a few hallmarks of contemporary resume design and formatting:
Creative use of colors and shading to define sections.
A two or three column layout that allows for clear division of sections.
Bulleted lists and short sentences are more prominent.
The overall feel is like a newsletter or advertising flyer that highlights your skills, experience, education, and objectives in a creative manner.
Don't be intimidated; we've done the hard part. While our contemporary resume formats are designed with more advanced formatting tools, they are easy for you to customize.
Contemporary Resumes and Applicant Tracking Systems

The resumes on this page are excellent choices for many types of industries, corporate cultures, career levels, and job descriptions. However, they are not the most suitable when your resume gets screened by an Applicant Tracking System (ATS). These systems are designed to allow employers to quickly screen, rate, and manage applications and resumes, but, they have limitations. The software scans each resume, plucking out the relevant information, and then creates a special applicant file. One of the limitations of this system is that it simply cannot extract information out of a document that has advanced formatting elements such as columns and text boxes. If you are applying online, or you suspect that the organization you are applying to uses an ATS, select one of our professionally designed

ATS-optimized resume templates

for the best results.
Navigating Columns
Many of the contemporary resume templates on this page use the columns feature to highlight career achievements, skills, education, and work history. If you've never worked with columns before, the thought of changing text and formatting may be daunting. Don't let it be!
Using and formatting columns
is quite simple. As with any advanced formatting, there are a few things to keep in mind:
It is not advisable to use the "Tab" key to move between columns, as that can change the formatting or remove certain design elements. Instead, click in the upper portion of the next column, section or text box to preserve the design.
Many of our resumes use pops of color and different fonts to highlight section headings and other key points. When replacing text, do it line by line to protect the formatting.
If you do want to manipulate the layout of the columns, add an additional column, or remove a column, follow best practices for columns in Microsoft Word.
Updating Text Boxes
Text boxes are often used as headers or footers in our templates. Our designers frequently use them to highlight key contact information, your personal introduction, your objective, or as section headings. For further emphasis, a background color can be used. To change the text, click inside the box, select the text, and delete it. Now you can add your own personal information as recommended by the design and formatting. If your content doesn't fit the dedicated space, you can enlarge the box size, or make the text smaller.
Adding a Photo
Many of the contemporary designs include a place to add a photo. If you are considering adding a photo, it is important to remember that, while a resume photo is expected on a resume in many European countries, many corporations and government entities in the United States do not allow the inclusion of photos in resumes or cover letters. In fact, some organizations will delete an application and resume that contains a photo before a review is even completed. Be sure to find out if a resume photo is appropriate in your country and industry, and to read the job description and resume submission guidelines carefully before including a photo.
Select a professional facial photo in the same dimensions and size as the one in the template.
To replace the photo, double click on the place-holding graphic, and then select "Change Picture" from the pop-up menu. This will open your file system; locate the photo you desire, click on it, and hit "Insert."
Working with a Skills Meter
Skills Meters are two-column sections that list skills, and, to the right of them, have boxes or other graphics that allow you to select your skill level. They are a great way to show your proficiency in tasks required in your profession. The best way to update a meter on one of our templates is to select the skill title, and change it to reflect one of your top skills. Then, to change the skill levels, highlight the appropriate area to demonstrate your skill level and then select the appropriate text or background color.
Contemporary Resume Examples
On this page, you'll find resumes that are appropriate for a wide range of careers and businesses. The personality of an organization may dictate a more conservative approach, such as with a
simple resume template
, however there is a growing number of organizations that appreciate more
modern resumes
or contemporary designs.





Matching Culture for Culture
There is increasing opinion that resumes should not only reflect your personality and your career; they should also show that your personality is compatible with that of the organization. For example,
Google states on their career site
that they actively seek "people who can bring new perspectives and life experiences to our teams." They are widely recognized as having a progressive, creative, dynamic, and energetic culture, and if you want to be a part of their team, your resume and cover letter should reflect your personality. In general, applying to Silicon Valley, IT, entertainment companies, and other organizations with a more progressive atmosphere, the resumes you find on this page could be suitable. On the other hand, when applying to a financial institution or a government agency, a more conservative approach is probably more appropriate.
Careers Suitable for Contemporary Resume Formats
Some careers that a contemporary resume format could be appropriate for include marketing, PR, interior design, photography, sales, graphic design, journalism, software engineering, and architecture, and even for organizations with a moderately conservative culture. If you are a financial analyst, healthcare worker, accountant, or are in the legal field, and unless you know that you are applying to a company with a very progressive culture, stick with a more traditional resume format.
Selecting the Right Format
Our contemporary resume layouts are available in chronological, functional, and combination formats. Selecting the right one for your career level and job type is vital.
Generally, the chronological format is best for mid-career professionals who want to highlight their work history, including length of time on jobs, titles held, and company names.
The functional format is a great choice for recent graduates and for those without a stable job history to highlight, including those who have had significant gaps in employment.
For professionals seeking to change industries or job titles, a combination format may do the best job of highlighting relevant skills and experiences.
Two-Column
A two-column format provides greater differentiation of the sections, allowing you to craft a professional resume that leads the reader to your greatest assets. One of the great benefits of using one of our professionally designed templates is that the columns are already defined, and you can quickly maneuver through the templates using the hints and tips provided above. Browse through our two-column contemporary resume samples and select the format and layout that best suits your needs.
Artistic Flyer
Bulletin
Sidebar
Cavalier
Icons and Bullets
Marquee
Nascent
Refined
Net Profile
Splash Page
Majestic
Transatlantic – America – New York
Big Bold Header
Little Spaces
Power Elite
Newsletter
Blogging
Texture
Fine Points
Three-Column
The three-column contemporary resume samples on this page have more of a newsletter feel than the two-column samples above. In general, our three-column templates use more color and graphics, creating a distinct style well-suited for professionals in creative industries. With section headers that are easy to identify, the reader can quickly move through the introduction and contact information and get to the meat of your experience. This format is a great choice for mid-career professionals and those in upper management with an impressive work history, special certifications or education, professional affiliations, and awards, all of which a potential employer will find extraordinary. Other more linear type three-column layouts may be better suited when applying to organizations with a more conservative personality or culture. Here, well-crafted short bullet points give potential employers insight into your history that can be further expounded upon in your cover letter. The Skills Meter is perfect for highlighting your expertise and advanced skills; this section may just prove to be the tipping point to getting you to the interview. Browse through our three-column contemporary resume samples, and select the one that best reflects your personality while highlighting your skills and competencies.
Slated for the Job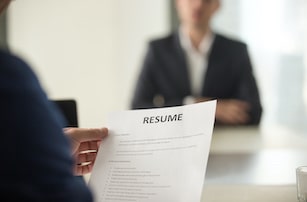 Creative and distinctive, this stylish resume template is easy to read and is designed to draw the eye towards key competencies, skills, and social media accounts. While it doesn't hide your work history, positioning your experience in the center column allows the two side columns to garner the most immediate interest. The green tones are soothing and sophisticated, and this design translates well into a wide range of industries and corporate personalities. It is an excellent choice for communications professionals, graphic designers, web designers, and mid-level sales managers.
Size: 183 B
Downloads:

23783

Filename: slated-job.docx
Uploaded: 2014-05-09 22:51:00 / 6418
Download
Leaflet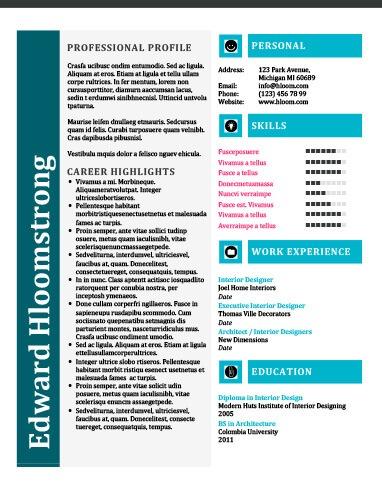 A chic design with a touch of attitude, this creative resume features a striking dark blue vertical sidebar and complementary gray and white shading in the columns. Red is used to bring attention to your skills, while blue is used to highlight most important aspects of your work experience and education. This resume is well-suited for marketing professionals, sales managers, PR professionals, and others with impressive skills that are relevant to the position being applied for.
Size: 183 B
Downloads:

10535

Filename: leaflet.docx
Uploaded: 2014-05-08 17:12:00 / 6113
Download
Full House
If you have lots of skills, awards, achievements, education, and experience to share with potential employers, this modern resume may be perfect for you. The small margins and multiple sections allow you to highlight the information that you feel is most relevant. The skills graphs at the top of the page are a perfect way to display your expertise. Light tans, creams, and greens give this resume a professional and creative charm. This resume is well suited for those in the entertainment industry, advertising, branding, and IT.
Size: 183 B
Downloads:

9713

Filename: full-house.docx
Uploaded: 2014-05-08 13:59:00 / 6017
Download
Full Page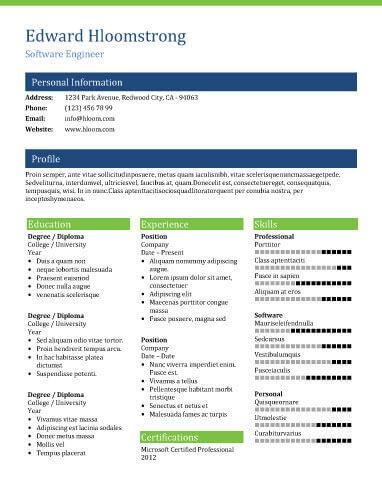 You can pack a ton of information into this contemporary styled resume format. The dark blue and lime green colors create a dramatic and professional backdrop where you can highlight your education, experience, and skills. Cleverly designed with three columns, this resume is perfect for recent graduates with multiple degrees, or for professionals with various designations. In addition, the skills-ranking list allows you to highlight your core competencies that are most relevant for the position.
Size: 183 B
Downloads:

12183

Filename: full-page.docx
Uploaded: 2014-05-08 13:17:00 / 5972
Download
Multitasking
The three columns in this superb resume are packed with the information that hiring managers need in order to invite you for an interview. Here, your key strengths and skills are highlighted first, and your work history follows. For jobs that require you to juggle a variety of tasks, the eye-catching cartoon in the center speaks volumes. Office administrators, executive assistants, personal assistants, and project managers have plenty of space to expand on their multitude of skills and strengths in this resume template.
Size: 183 B
Downloads:

5738

Filename: multitasking.docx
Uploaded: 2014-05-08 18:28:00 / 6171
Download
Formatting Hints and Tips
Resume templates
are a great way to create a resume; our designers fashion and construct them carefully with an eye on style, while applying advanced formatting techniques. To help you preserve the original design and integrity of the template, here are our best tips.
When copying and pasting from a previous document, be aware that the original formatting might unintentionally also be copied. You could instead retype the text in the new document to preserve the fonts, colors, and spacing, or you can select "match destination formatting" when pasting. You can also apply document styles.
Highlight and delete text in the template to replace it with your own content. Keep an eye on the allowed spacing; if your content is longer (or shorter) than what the template was designed for, you can adjust the size of the font to try to make it fit. Start slowly, going up or down a single point size at a time. If you adjust one section heading or bulleted section, be sure to apply the same type size to all similar sections to preserve the consistency of the design.
When working within a text box or columns, highlighting then deleting all of the text will also remove any special fonts, bullets, and characters. When replacing text, it is best to highlight and delete small portions at a time, even just single lines, in order to maintain the original formatting.
Conclusion
Using color, graphics, and columns judiciously creates resumes that are a pleasure to view and read. Partner one of these professionally designed
resume templates
with a
cover letter
following the guidelines recommended by hiring agencies and firms, and you'll increase your chances of getting an interview. Contemporary resumes aren't suitable for everyone or for every position you apply to, but they can be a powerful and eye-catching tool in your arsenal to get the job you desire. Our extensive library contains the best chronological, combination, and functional formats, and one-page and two-page templates, all designed for a variety of professions, career levels, and industries.