Chronological Resume
Definition, Format, Advantages, Layout, Outline, and 103 Examples
Having a well-presented chronological resume significantly increases your chances of landing a job interview. In this article, you will find a detailed step-by-step guide, free samples, and free templates for creating a compelling chronological resume.
What Is a Chronological Resume?
A chronological resume is one of the three main resume formats. This format draws attention to your work experience. Your current job or most recent position is listed first, and it continues in reverse chronological order through the rest of your work history.
Main Advantages
A Chronological resume clearly shows what positions you have held and for how long.
Recruiters are typically more familiar with chronological resume format and tend to favor it.
A chronological resume gives you an advantage if you have worked with well-known companies.
Recruiters prioritize chronological resumes when they are hiring for senior executive positions.
Main Disadvantages
A chronological resume makes gaps in your work history more noticeable.
This format is not convenient if you are applying for a position in a field you have not worked in before. For example, you've been working in accounting for the last 10 years, but now you are ready for a position as a web developer. With a chronological resume, a recruiter would find it very difficult to look beyond your accounting roles.
If you are a student or just starting your career, a chronological resume would expose your lack of experience.
Chronological vs Other Formats
There are three main types of resume formats:
Chronological or Reverse-chronological,
Functional or Skills-based, and
Combination, also known as Hybrid.
Choosing the chronological resume for the right reasons will impact your chances of standing out among your competitors. Keep reading to understand the differences among the three types of resumes and how these might apply to you.
Chronological vs. Functional

A chronological resume focuses mainly on work experience and previous job activities. A functional resume, also known as skills-based, focuses on your skills and achievements. Ask yourself which you want to highlight. The following key points can help you choose the best type of resume for you:
WORK EXPERIENCE: The chronological resume clearly displays a history of professional growth and maturity. In a functional resume, that information is not as easy for a recruiter to process. Are you applying for a position where a particular role in your employment history is relevant? If yes, the chronological resume might be the best choice for you.
SKILLS: The functional resume gives a quick view of your abilities and training. On the other hand, the chronological resume only covers the skills related to the achievements or job duties you decide to mention. Are your skills your biggest strength when applying for the new position? If so, a functional resume may be more effective in your case.
STARTING A CAREER: Recruiters usually prefer the chronological resume over the functional, but it may not play in your favor if you have little or no work experience. The lack of experience is more noticeable in the chronological format.
WORK GAPS: If you stopped working for a long time, it is easier to keep from revealing that in a functional resume. If the gap was a long time ago, there is no reason to avoid the chronological format.
CHANGING CAREERS: If you are looking to change your career, a chronological resume would make the transition more obvious. You may want to go with the functional format in this case.
Chronological vs. Combination

The combined resume, as the name implies, puts together information from chronological and functional resumes. Consider the following to help you decide whether a chronological or a combination resume is a better fit for you:
FOCAL POINT: A combined resume showcases work experience and time at each position, as a chronological resume does, but it has a strong emphasis on the skills you have acquired. Assess how similar your work history is to the position you are applying for. It may be necessary to focus your skills so your previous roles seem more alike. On the other hand, if you have remarkable achievements, a chronological resume is a better format for describing them.
MORE RESPONSIBILITY: If you are applying to a higher position than the one you currently hold, you can use a combined resume to highlight your skills and still show the recruiter your impressive work history.
REPETITION: The combination format can easily become repetitive. Chronological resumes are less redundant.
Comparison Table
| | Chronological | Functional | Combination |
| --- | --- | --- | --- |
| Focal point | Work experience | Skills | Both |
| Work experience | Detailed | Not detailed | Detailed |
| Time on each position | Present | Not present | Present |
| Skills | Not present | Present | Present |
| Use for changing career | Not convenient | Convenient | Not convenient |
| Layout | Professional / Traditional | Creative / Non-conventional | Midpoint between professional and creative |
| Main Benefit | Shows information recruiters want to know about job positions and activities | Displays key skills needed for the new position | Includes the best features of both formats: work history, skills, and achievements |
| Main Downside | The lack of experience is more obvious than in other formats | Recruiters may not favor it, as it isn't straightforward about previous jobs | May be redundant |
Chronological Resumes Examples





The best way to understand how a chronological resume works is to see some real examples. These chronological resume samples will give you a picture of what your own resume can look like.
Below are some useful examples.
Experienced Electrician Resume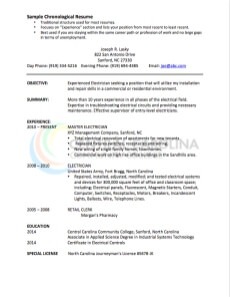 From Central Carolina Community College, this electrician sample chronological resume is in a classic format with focus placed on work experience. Because this template showcases the applicant's work history and timeline, it is perfect for people who are staying within the same career or profession, and it's not a good fit for people who have had gaps in employment.
This example is for an experienced electrician with more than 10 years of experience in all phases of the electrical field. It can be used by applicants in other industries for a type of job in which education is gained not through traditional universities but apprenticeship.
Education-Focused Architect Resume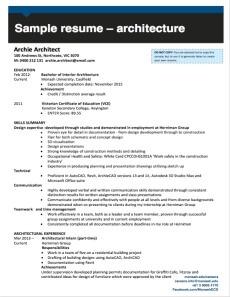 Created by Monash University, this architect resume template is designed for recent graduates with limited work experience. Education is prioritized by listing it first, and skill sets are highlighted by the amount of space they take. Because work history is limited, it has been relegated to the bottom of the page, and non-relevant work history is on the second page.
This example is for a recent graduate with a bachelor's degree in architecture and an internship with an architectural firm. Other industries for which this type of resume would work well include fields such as veterinarian or medical technicians, engineering, or law.
Compliance Officer Resume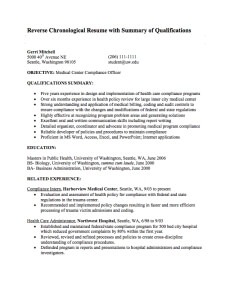 By listing qualifications first, this reverse chronological resume from the University of Washington's School of Public Health shows that the applicant understands the needs of the job. Education and work experience are both important for this career, but the applicant reinforces her knowledge of the job by listing previous, relevant special tasks.
This example is of an applicant with many years in related fields and multiple related degrees that show potential employers she has the skills they need. This model can be great for careers that value experience. While a traditional chronological template also focuses on years of experience, this template tries to answer the question, "Experience doing what?"
Chronological Nursing Resume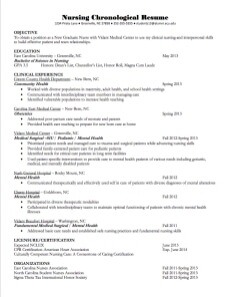 This nursing chronological resume from East Carolina University showcases a complex work history while highlighting work-related experiences. With the timeline prominently justified to the right of the text, the statement made is that the applicant knows her work history is valuable, but also knows that her experiences are even more critical.
This example is for a nursing student who expects to graduate soon, and is applying for a position as a New Graduate Nurse. It would also work well for careers in which education, experience, and licensing are equally important—medicine, safety, or law, for example.
Chronological Resume for Young Teacher

Originally drafted by Tidewater Community College, this teacher resume example is in the classic, chronological format. Education is listed first because it's not only the most recent, but is also the applicant's strongest, qualification. The value of the work history timeline is shown by justifying it to the right, where it is both prominently displayed and also removed from the more important, relevant list of experiences.
In this example, the applicant's master's degree in teaching will be a strong asset to any school looking to groom a young but knowledgeable teacher. Work history, while limited to student teaching and teaching assistance, shows a long-term commitment to the field.
Chronological Resume Templates





If you think the chronological resume layout is best for you, you can get started building your own. You already know how this resume looks from the previous samples. Now, you can easily create one with our chronological
resume templates
.
Pick your favorite one:
Basic and Simple
Clean
ATS Optimized
Creative
Modern
Simple
Newsletter
Portfolio
Chronological Resume Builder
The previous chronological resume templates and samples will help you considerably, but a resume builder will help you create an even better resume. Use our free resume comparison tool and choose between the best resume builder tools for you.
The builders you will find there offer a variety of features for every kind of resume. If you've chosen to create a chronological resume, make sure to use the features that preserve a chronological format. For example, you can pick a text-based layout with a professional look that will let you highlight your work experience. Remember that chronological formats should have a traditional layout, so pick one without images or graphics.
Pick a template that has enough space for you to emphasize your work history, which is important when you're writing a chronological resume. The builders allow you to customize your template according to your needs.
You will also see the option to use phrases to enhance your resume. If you use this feature, be sure to adapt the text with relevant keywords for your job experience, and use a traditional writing style. Don't risk your professional image by using bold adjectives or statements.
A chronological resume builder will make the process of writing your resume easier. Follow the steps below for using the tool successfully.
Chronological Resume Layout
An effective chronological layout typically has certain characteristics that help you get the desired results. Try to incorporate them into your resume to make it more effective. For example:
A chronological resume should have a conservative look and a traditional design.
To maintain a professional style, stick to black text and a white background for the entire document. Give yourself some license to add a bit of color (in subheadings, for example) if you are applying to a modern firm.
The document should not exceed two pages. If you keep it brief and relevant, there is no reason to use more space.
Make it easy for recruiters to find the keywords and information they need. You can do this by breaking the text into smaller paragraphs and listing your work experience in bullet points. Being concise and straightforward is best.
Your chronological resume should give a clear picture of progressive career development and how one position led to the next one. Ensure this by describing each role in a separate section.
How to Write a Chronological Resume
Now that you have the tools you need, here are instructions you can follow to write an effective chronological resume.
Chronological Resume Outline
The structure of a chronological resume is simple and straightforward. There are some indispensable elements, and the order in which you display them is also important. The outline of your resume should look something like this:
Personal Information
Professional Profile
Professional Experience / Work History
Education
As you can see, your employment history should be listed before your education. In chronological resumes, the employment section is the most important. As an optional segment, you can add additional sections for Professional Affiliations or Languages after Education. Doing this may enhance your resume as long as it doesn't extend it to more than two pages.
Here are the exact steps you need to take to create each of the sections.
Before Starting
Go back and review the job offer. Each job you apply to is different, and you'll need to adapt the description of your activities and achievements to the position. Read the job ad in detail, and search for keywords. Ads usually contain what the company thinks is essential in a candidate.
Later, you will use the same keywords to write about your past roles. Think about any achievement related to the job requirements, and write it down. Using the same keywords will help you make clear that you have what the company is looking for when you create your resume.
There is a good chance your resume will be scanned by an Applicant Tracking System (ATS). The ATS automatically searches for keywords from the job description. Resumes may be discarded at this step if they don't have enough of the required keywords, so make sure to include them.
Personal Information
This section should include the essentials: your complete name, address, email, and phone number.
It is not necessary to write your full address. Just add a general location, such as the city name. State 'Willing to relocate' if it applies to the position. Sometimes recruiters will reject your resume if they think you live too far to commute.
For your phone number, a mobile number is preferable. This will make it easier for recruiters to contact you. Always use a professional email address, which should include your first name and last name but no nicknames.
You can include a job title in this section if your current job title is to the same as the title of the position you are applying for. This will reinforce the message that you are who the recruiter is looking for.
You can add a link to your professional website if you have one and to your LinkedIn account as well.
Professional Profile
It is important to make a positive impact from the very beginning, so make sure this section has an impact. Here you should underline the key points in your work history and focus on your most relevant achievements.
The professional profile should be concise and have around 50 words summarizing your professional experience, skills, and accomplishments.
Start with the number of years of work or internship experience, your area of expertise, and your main job duties. Then specify important facts and accomplishments with quantified information. Continue with objective skills and abilities that will be useful in your new position. Also include relevant awards, degrees, or certificates you hold.
To have a better understanding of this section, let's compare two professional profiles. Here is a bad example of a Corporate Real Estate Executive's profile:
In this example, it is not clear what the executive's specialty is. Of course, every company would like to hire someone 'highly motivated,' but just using the phrase alone doesn't show it is true. The last sentence could also be improved by describing 'ongoing professional development' in more detail.
Now, let's have a look at this example:
Objective facts and measured statements are what make the second profile example better than the previous one. Quantifiable information in a summary has the following benefits:
Gives the recruiter a tangible sense of what you've accomplished.
Provides proof that your statements are more than just words.
Places you above other candidates who didn't elaborate on their achievements.
Helps the recruiter imagine you achieving the same results while working for them.
Work Experience
This is the main component of your resume. It should list your principal tasks and biggest achievements from your previous jobs in bullet points. List each by company name, position, and dates.
Recruiters will be looking for different elements, such as:
Who you interacted with (customers, managers, contractors, etc.).
The tools and software used (ERP systems, databases, etc.).
Work produced (depending on your activities, this can vary between tangible products, analytical reports, applications, etc.).
Product or service knowledge (proven expertise).
Environments you are familiar with (multi-cultural startup, crowded sales floor, working alone, etc.).
The most common practice is to include only your paid jobs. However, you can also add volunteer work or university placements if these are relevant to the position for which you are applying.
Your current and latest roles should be described in detail, because recruiters are interested in what you can do for them right now. Older positions can be summarized, as recruiters will be less interested in those.
If you were promoted to different job positions within the same company, separate these roles so the growth is more evident.
Usually, each job position displays the start and end date by month and year. However, if there was a gap you want to conceal, you can include only the years.
Prioritize activities by ensuring that the most relevant information for your target employer is at the beginning of each role.
Add measurable figures that point how you excelled in former roles. Quantitative results have a bigger impact with the recruiter because they show a structured and meticulous job performance.
Try, for example, 'Designed the strategic budget plan, which saved $50,000 in the first quarter of 2017' instead of 'Involved in the strategic budget plan for the year 2017.' Just as in the career profile, your achievements get more attention when they are quantified.
Education
A chronological resume highlights your work history, so the education will usually go at the end of your resume. The less work experience you have, the more detailed the education section should be.
You should mention only the most relevant information. Providing the name and location of your university, major, type of degree, and year of graduation is usually enough. You may include GPA if you recently graduated and it is 3.0 or above.
Conclusion
A chronological resume allows the recruiter to see your employment history in a quick glance. Learning to create an effective chronological resume will help you land a job interview and continue consistent professional development. Let's review some of the main points for achieving this:
Download our free samples and templates to help you build a persuasive chronological resume.
Stick to a professional layout and arrange the information in an easy to navigate format.
List your current job or latest position first. Explain recent jobs in detail and summarize older roles more briefly.
Include keywords mentioned in the job ad. These may be skills or responsibilities.
Quantify information about your achievements. Include it in your professional profile and in your work history.
If you follow our recommendations, they will help your resume to stand out, and recruiters will be more likely to notice it. Happy job hunting!