10 Free Cover Letter Templates for Google Docs
Learn how to use Google Docs to build a cover letter from scratch with our step-by-step writing guide. Are you also looking for aesthetically pleasing yet easy-to-use templates? We've got you. Browse our free downloadable cover letter templates, and find the best one for you.
Use This Template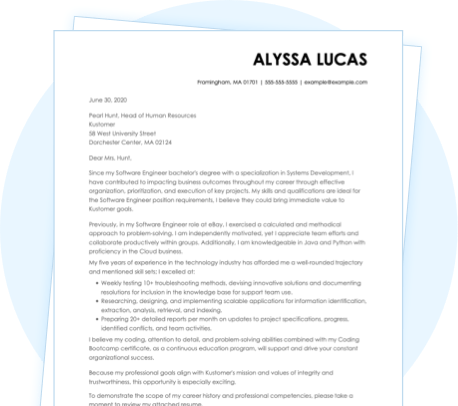 Featured In:
Table of Contents
Here are more resources that can help you
Free Downloadable Cover Letter Templates for Google Docs
Pick your favorite of these cover letter templates and upload them to Google Docs for easy editing. Remember to fill it in with your resume content and edit the formatting if necessary.
Substantial

With a modern Century Gothic font and bright blue pop of color in the heading, this template is perfect for creative yet business-minded professionals such as marketing managers, copywriters and web designers.

Blue Side

A light teal side bar makes this contemporary cover letter template stand out, making it ideal for professions like graphic designer, event planner and real estate agent.

Ardent

The brown shades and option for a profile picture make this creatively designed cover letter template a great choice for a wide range of roles like camp counselor, personal trainer or daycare worker.

Glimmer

Steel blue background heading and casual yet professional font make the Glimmer cover letter template a top choice for accountants, bank tellers and data analysts.

Circles

The Circles cover letter falls on the creative side with plenty of options to share your headshots, photography or artistic work. This template is an excellent option for actors, photographers and cosmetologists.

Organized

With its centered heading and option to include a brief bio, this template has enough design to give your cover letter some personality. Journalists, high school teachers, and lawyers will love it.

Steely

A grey header, option for profile picture and classic font make this cover letter a fine choice for financial analysts, research assistants, and doctors.

Upfront

This minimalist cover letter template combines subtle fonts with lots of white space. A strong choice for architects, web developers or IT managers.

Streamlined

The bold dark turquoise side bar and simple font of this template make this cover letter design an appropriate option for pharmacists, mechanical engineers and medical assistants.

Button Down

This simple black and white cover letter includes the option to add a profile picture. We recommend this template to construction managers, security guards and registered nurses.
Why Use Google Docs to Write a Cover Letter?
Google Docs is a web-based word-processing program created by Google so users can create all kinds of documents, among them cover letters. There are many benefits of using Google Docs for your job application; you can edit your document both online and offline and it auto-saves as you type, a great tool if your computer suddenly crashes or turns off.
Google Docs offers a small selection of free cover letter templates. Using these templates is as easy as filling them in with your cover letter content and sharing it through GDocs or Gmail. Of course, like anything, Google Docs also has some cons.
Let's break down Google Docs pros and cons when it comes to writing a cover letter from scratch:
Pros:
You can access your cover letter document from any device by simply logging into your Google account, meaning you can work from your computer, iPad, and even make last-minute changes right from your phone.
Google Docs file-sharing system is super easy to use and secure. You can choose which accounts have access to your doc by sharing your doc via private invite.
It's free! Google Docs are completely free to use by anyone with a Google email.
Cons:
The cover letter template selection is very limited. You can only choose from five cover letter templates that are filled with dummy text, meaning they don't offer any informative content to help you craft an effective cover letter.
There's some lack of privacy when sharing your document with others. If multiple people have access to your cover letter, they can all view it at the same time, see who else has seen it and when.
When uploading external templates, Google Docs can make it hard for the template to perform correctly, requiring you to resize and reformat it and potentially jumbling up your document.
How to Create a Cover Letter Using Google Docs
Now that you know the benefits and disadvantages of using Google Docs, you can reference the following step-by-step guide on how to build your cover letter in this word processor.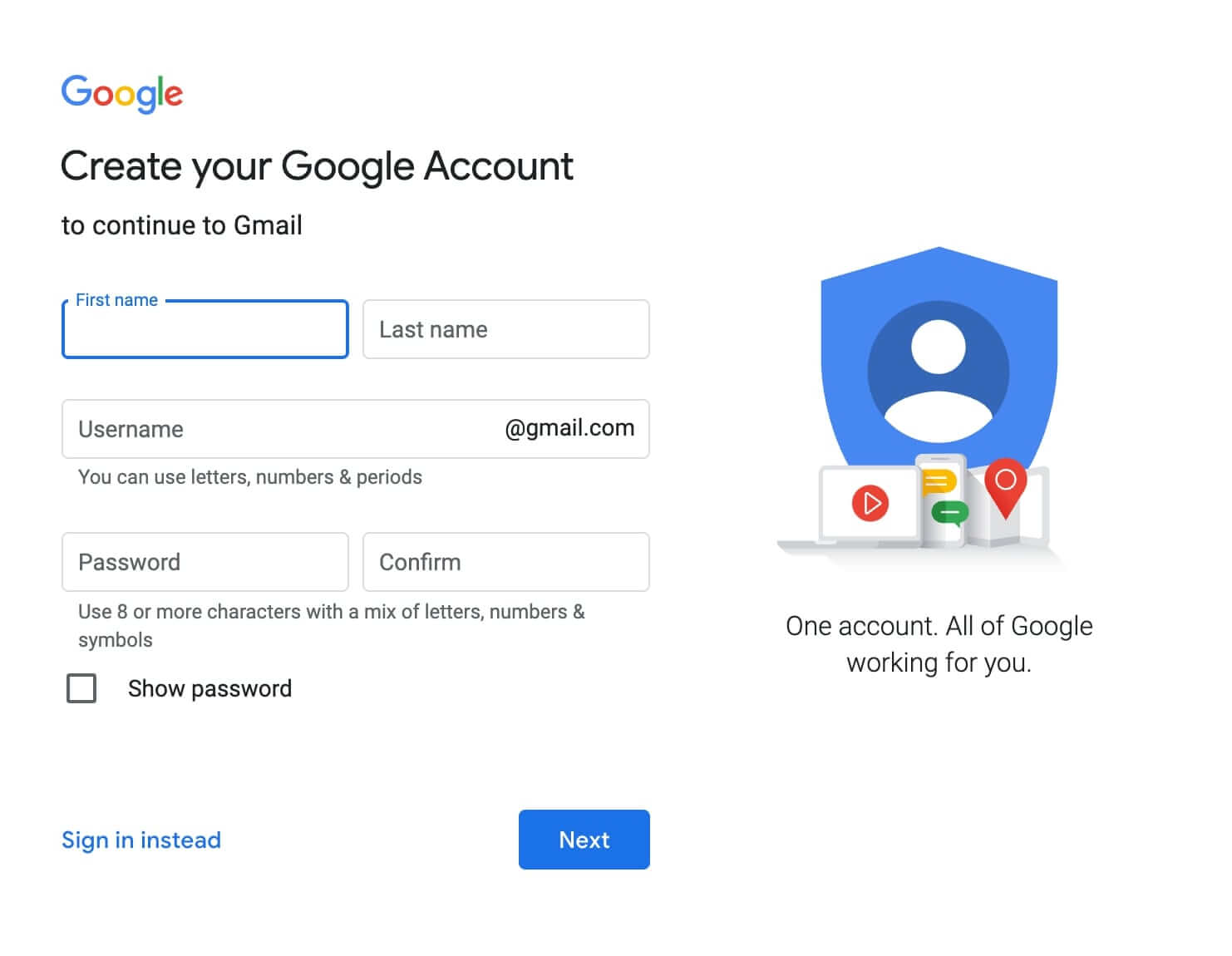 1. Create a Gmail account if you don't already have one. You'll need Gmail to access both Google Drive and Google Docs.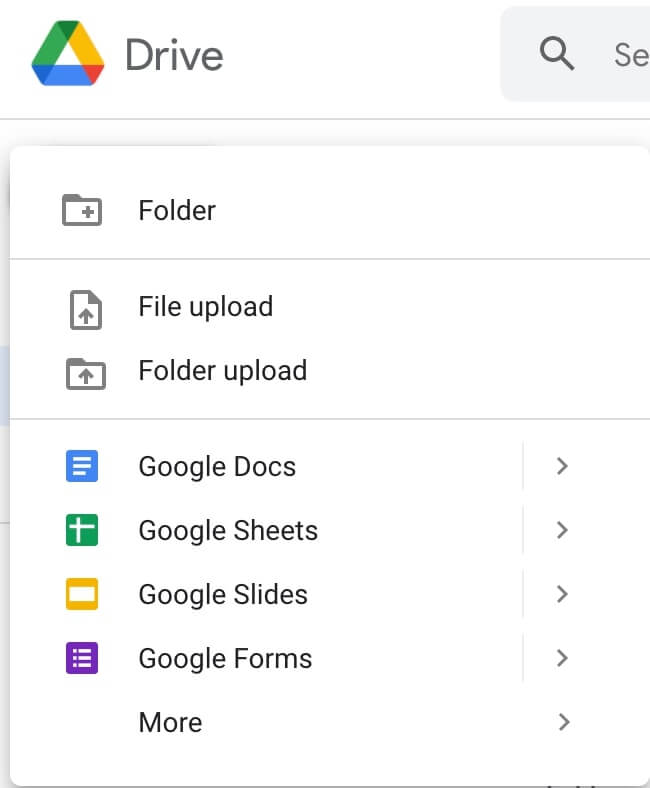 2. Upload your cover letter template to your Google Drive. Once you open your drive, click the "+New" button and choose "File Upload." Choose your cover letter template from your computer downloads and upload it. Once the template finishes loading, click it to open it in Google Docs. It might upload as a docx file, so to change it, click File > and Save as a Google Doc for easier editing.
On the other hand, if you prefer to use a Google Doc native cover letter template, open Google Docs, click "Template Gallery" in the top-right corner, and choose your favorite template. Then replace the dummy text with your information.
3. Format your Google Doc cover letter template. When you export a file to Google Docs, its formatting may shift. To fix any empty spaces or jumbled text, adjust the margins, line spacing and move text boxes or design elements around. When copying-pasting text, remember to "Paste without formatting" so the font and size match the text in the doc.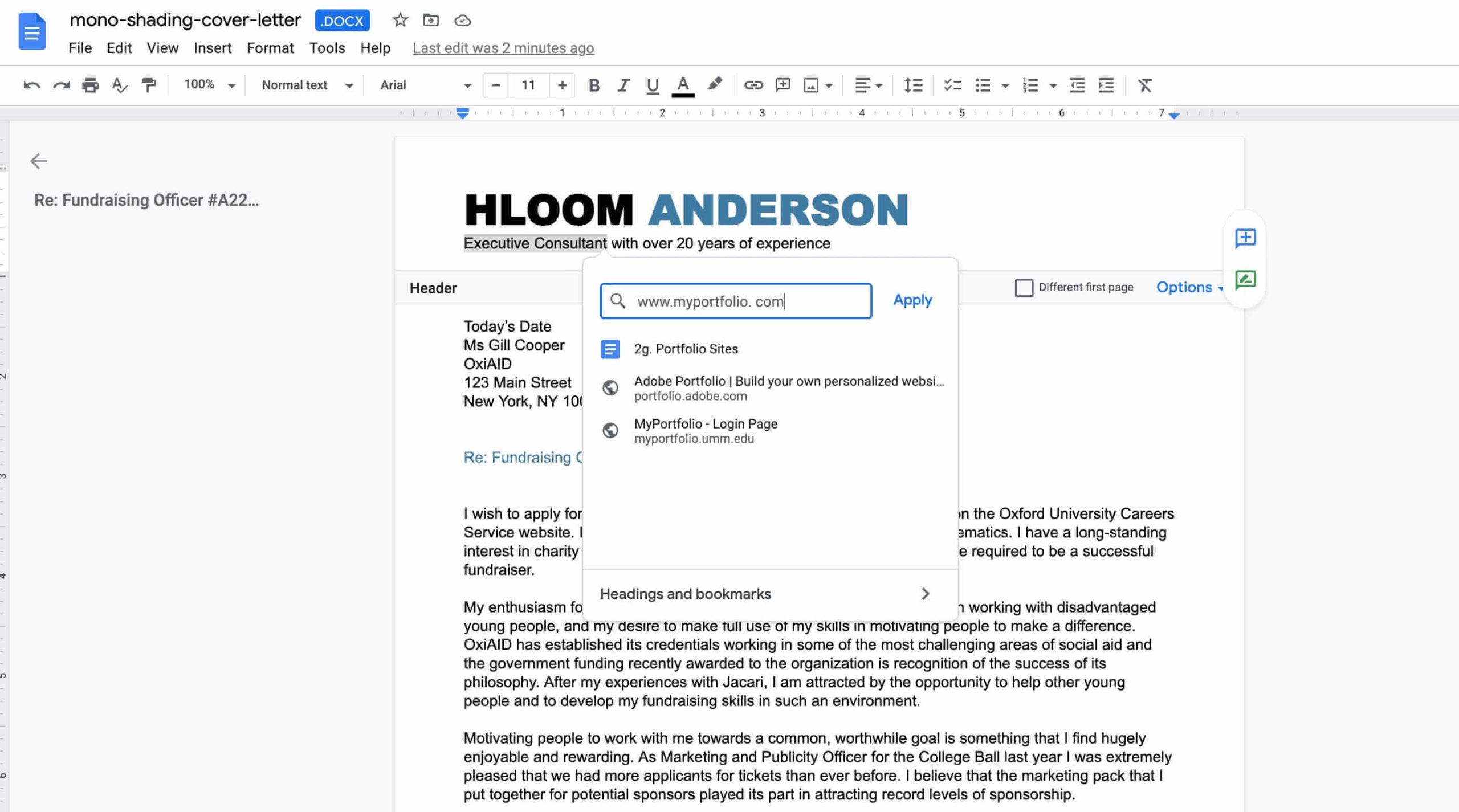 4. Add links to your work and portfolio. An excellent way to add value to your application is by including links to your portfolio in your cover letter. Since a Google Doc will be shared electronically, recruiters will easily be able to see examples of your work with just a click.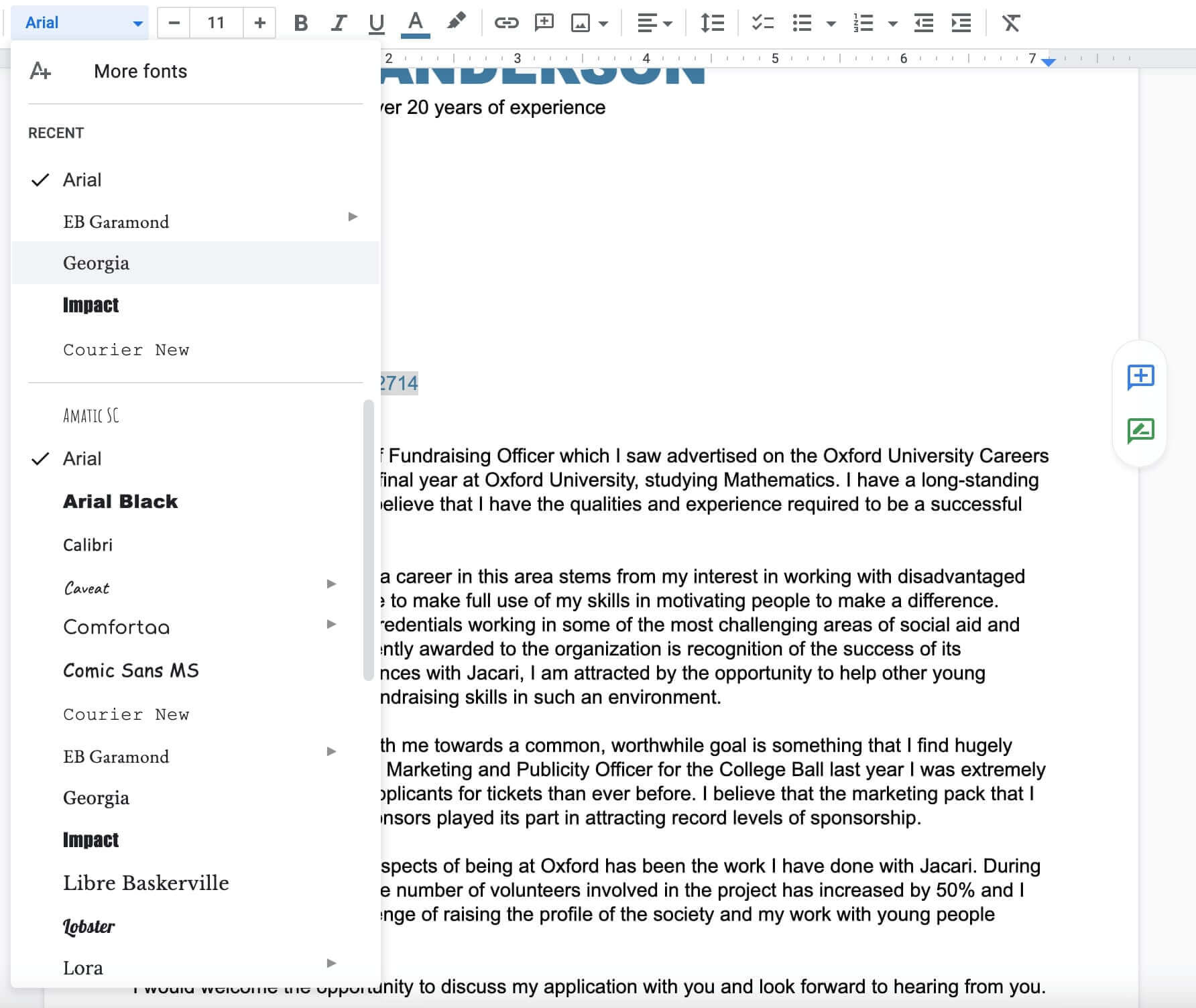 5. Change the color and font of your resume to give it your own personal touch. Whether you're using a native Google Docs template or one of our free downloadable templates, it's a good idea to differentiate yourself since millions of people might be using the same cover letter templates. Just remember to keep the color combinations and fonts professional.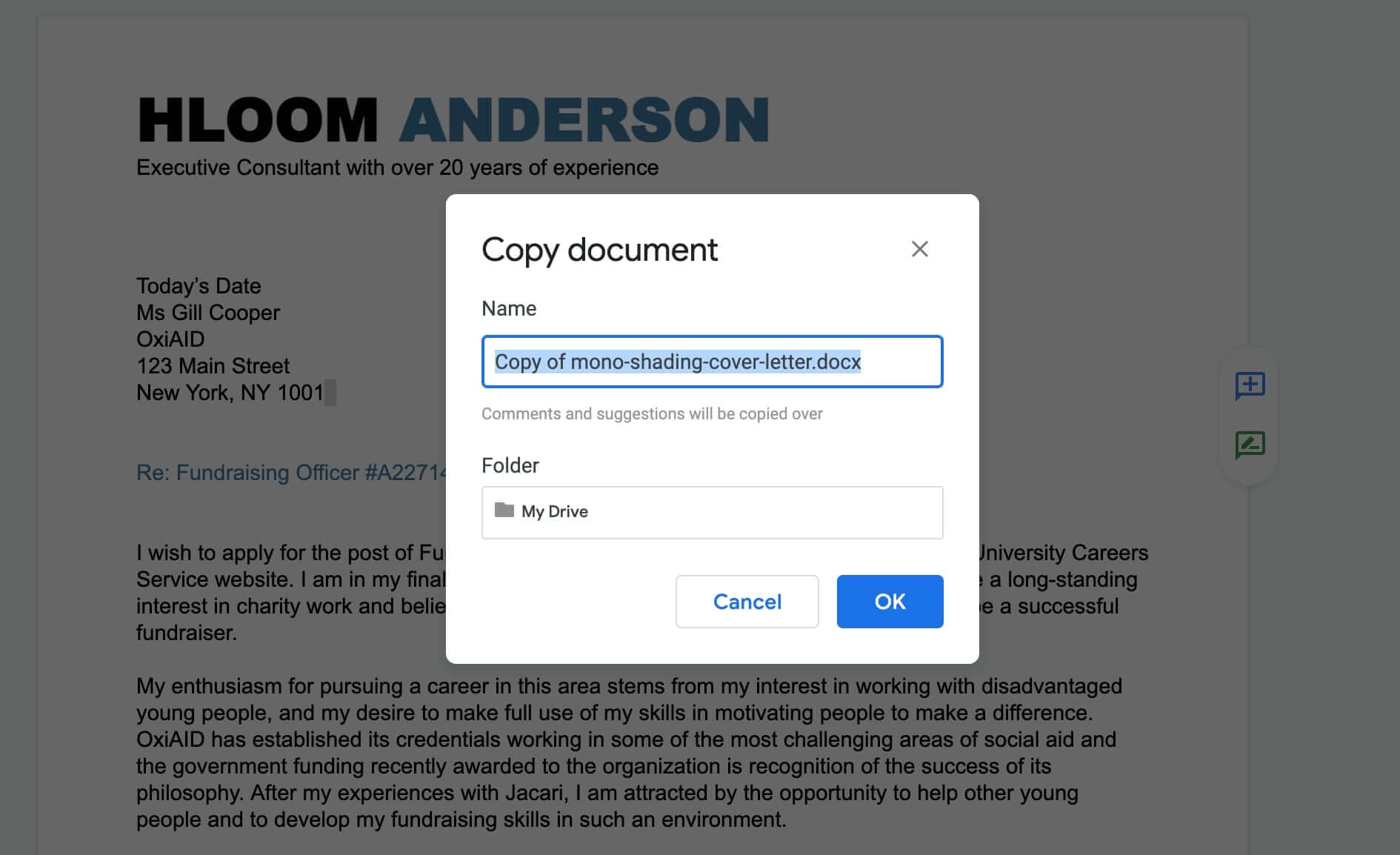 6. Make a copy of your cover letter. If you're sending the same document to multiple people, it's best to duplicate your cover letter for each recipient. This way you prevent everyone accessing the doc at the same time. Remember that Google Docs file sharing allows everyone with a link to see your doc and see who else has viewed it and when.
Pro Tips for Using Our Cover Letter Templates
When you're writing a cover letter from scratch, there's more to it than copying your plain text onto a template or Google Doc. There are some formatting fundamentals you need to pay attention to make sure you craft a cover letter that conveys professionalism.
Review these following tips to ensure your cover letter looks impeccable:
Choosing the right template: Identifying the values and characteristics of your job, company or industry will help you choose the most appropriate cover letter template. We have templates for the majority of job titles; however, not all of them will fit every role. If you're in a more traditional field like law or finance, you should pick a template with classic fonts and sober colors. For creative industry professionals like graphic designers, you can pick templates with slightly more bold colors and design features that express your creativity.
Length and spacing: Your cover letter shouldn't be more than one-page long. To write a concise letter, avoid run-on sentences and use an active voice. If you're struggling to keep it short, make sure your cover letter's line spacing stays between 1 to 1.5. And if you still need to reduce some length, you can also format your body paragraph using bullet points.
Font: Use a 10- to 12-point font. Larger sized fonts will take up more space from your cover letter and smaller fonts will be harder to read. Fonts like Arial or Times New Roman are the safest choice, while fonts with too much flourish won't look professional, and might not be scanned by applicant tracking systems (ATS).
Margins: Your cover letter's margins should range between 1 to 1.5 inches for the most proportionate look. This margin range will allow you enough space to write a long-form letter in one page without it looking cluttered.
Alignment: Align your paragraphs to the left for the most intuitive reading flow, and avoid centering your letter as this makes it confusing to read. If you're indenting paragraphs, follow through with all of them and make the indent the same length, one tab is appropriate.
File format: When sending your cover letter electronically, it's important you choose file formats like PDF, which prevent others from tampering with your letter. With Google Docs, you can download your cover letter in multiple file formats like .docx, .odt, .pdf and .txt
Upgrade Your Cover Letter
A template is enough help for your job application if you've already got an A+ cover letter written down. However, if you're having trouble crafting a letter that accurately reflects your potential as an employee, give our Cover Letter Builder a try. Our builder takes in your working style, top skills, and desired role to automatically create a personalized cover letter for you. This cuts back your writing time in half! All you have to do is add your specific professional anecdotes and make further edits to personalize it even more.
Build a Cover Letter
FAQ
Updated: March 14, 2023
Where can I find more templates in Google Docs?
Google Docs only offers five cover letter templates, but you can find a variety of templates for your job application such as resumes, as well as other job-related documents like job promotion letters, project proposals and statements of work.
Are Google Docs resume templates good?
Google Docs resume templates will get the job done, but they're not the best templates you'll find on the web. They're limited to a chronological format, and lack some essential formatting fundamentals. If you want to make sure you use a professionally-designed resume template, check out our resume template gallery.
What is the best resume template on Google Docs?
Out of the five resume templates you will find on Google Docs, there isn't one that's better than the other. They follow a similar structure and differ only in font type and colors. If you want to find excellent template options for your resume, check out our collection of Google Docs resume templates. For more resume resources check out these best free resume templates.
Gabriela Barcenas
Gaby is Hloom's resident writer, a certified professional resume writer (CPRW), and a baking enthusiast. She likes to defend the use of the functional resume to her friends in HR. She graduated from the University of San Francisco with a B.A. in English and Creative Writing and wrote about career growth, tech startups, education, fashion, travel and lifestyle culture throughout her career.