Free Dog Walking Log Templates
Printable ready-to-use dog-walking forms
Imagine, you were just hired by someone to walk their dog when they are not home. If you like dogs this is great opportunity to make money doing something you love. This job can also count as one of your first working experiences and a reference, so you need to make sure you are doing it in a very responsible and professional way. When the time comes, you can add this work on
your first job resume
.
Using dog walking logs
To do your work in the most professional way, consider keeping dog-walking log. Some dog owners will even ask you to fill one out and will have one ready and printed. Other dog owners won't ask you to keep the log but even then consider filling it out anyway. Using dog-walking log has a number of benefits:
you will be paid fairly based on the time worked
the owners will know everything about their dog pooping and peeing business
the log is a record of events in case something goes wrong
Free dog walking log templates
If you are not great at fancy computer designing, we have good news for you. We have prepared a number of basic and easy-to-use templates that you can simply print out and fill out. Below you will find a few examples that are easy to download and customize in Microsoft Office Word or OpenOffice. Template samples below include the following info:
Dog's name
Walk date
Time of pick-up
Time of drop-off
Total time spent walking
Poo / pee record
Notes
Dog-walking log sample 1
Basic Dog-walking log sample with walking table and graphic of a dog.
Size: 183 B
Downloads:

5618

Filename: dog-walking-log-sample-1.doc
Download
Dog-walking log sample 2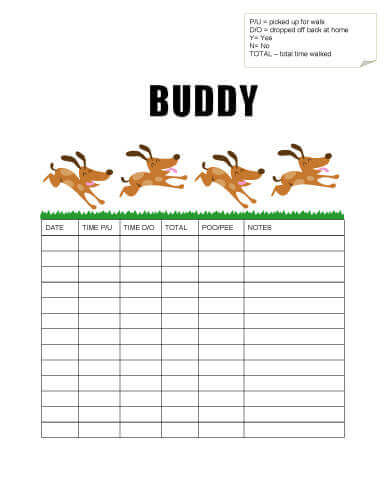 Cute simple template with image of happy dogs running on the grass.
Size: 183 B
Downloads:

4946

Filename: dog-walking-log-sample-2.doc
Download
Dog-walking log sample 3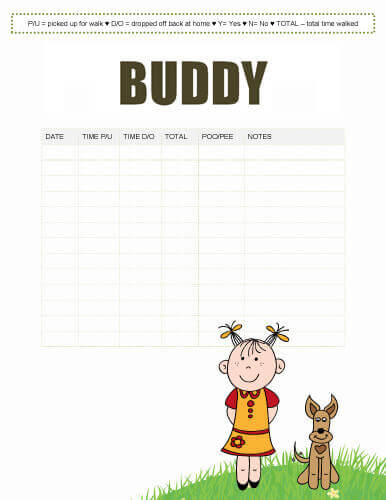 Cute green theme with image of a girl and a dog, walking record table made with green dashed lines.
Size: 183 B
Downloads:

3985

Filename: dog-walking-log-sample-3.doc
Download