Credit Card Authorization Form Templates
A Guide to Credit Card Authorization Forms plus 40 Free Examples in MS Word
Dealing with customer payments can be complicated, but with consumers preferring to pay for goods and services using a credit card, it's vital that your business is set up for credit card authorizations. To get you started, we have a range of free samples and templates available for you to download and customize in MS Word and also
resume samples
. In addition to our free templates, this guide provides useful information on when to use a credit card authorization form, the associated advantages, what a form should include, and relevant legal requirements.
When To Use a Credit Card Authorization Form
There are many instances when businesses may need to authorize credit card payments, particularly if the merchant does not have physical access to the credit card at the time a transaction is processed. Consider whether any of the following scenarios apply to your business transactions:
The credit card holder is not physically present

i.e. they have placed an order on the Internet, over the phone, via email, or by standard mail. Verbal or written authorizations of credit card purchases, or card not present transactions, are typically used by merchants that do not have a traditional shop front e.g. airlines. Businesses that do not operate with physical point of sale infrastructure may also need to use credit card authorization forms.

Credit card billing occurs in the future

– At the time of transaction, the customer's credit card is not charged, and the sale is instead pending against the cardholder's account. These "authorization only" transactions are commonly used by hotels and car rental companies where an initial temporary charge may then be adjusted based on actual costs incurred e.g. hotel room service charges. Businesses can also use this type of transaction for customers that wish to put items on hold that are temporarily out of stock.

Credit card payments are of an ongoing or recurring nature

– These card on file transactions occur when the cardholder has authorized for the credit card to be used as the standing method of payment. Examples include businesses that offer subscription-based services, and prefer to automate transactions for repeat clients.
Advantages of Using Credit Card Authorization Forms
There are multiple benefits to adopting payment authorization forms for your business, including:
Efficiency

– When capturing customer and payment information, instead of having to complete and store multiple forms, you can use a single credit card authorization form. This will improve business process efficiency, and reduced documentation can simplify the organization and retention of records.

Ability to build consumer trust

– It's not sufficient to write a customer's payment details on just any old piece of paper. You need to instill confidence in the cardholder that their personal information will be secure. The first step is to use a well-designed payment authorization form that demonstrates your professionalism and commitment to proper transaction documentation.

Protection against fraudulent activity

– Certainly, there are security risks associated with payments using credit cards, but authorization forms are invaluable when having to address a chargeback claim. This is where the cardholder reports an unauthorized transaction and attempts to have the charges reversed. Keeping proper records of completed and signed forms also ensures that you are protected from potentially fraudulent transactions.
What Information Should the Form Include?
Whichever form template you choose to use, your business information (business name, address and phone number) should be clearly displayed. Your form should include space for:
Cardholder and credit card details
The cardholder's details

– Customer's full name, billing address and contact information

Credit card details

– Credit card type e.g. Visa, Mastercard; credit card number, expiry date and CVV security code

An authorization statement

– Here is just one example: I, [cardholder's name] authorize [your business name] to process a charge against my credit card account in the amount of $[agreed amount]

The cardholder's signature

– The form must be signed and dated for it to be valid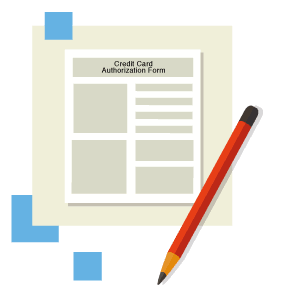 Recurring transactions
It may be that you have ongoing or recurring charges with a customer. According to an article published by Square on
payment card processing best practices
, you will need to include the following additional information on the authorization form:
transaction amounts
frequency of the charges
the duration for which cardholder permission is granted
Refunds
If you are refunding a payment, make sure you issue the refund directly back to the customer's payment card. Feel free to use our Credit Card Refund Authorization Form template for this purpose. If you must make the refund via cash, check, or into a bank account, get the customer to sign a written statement that they have received the refund.
Standards for the Collection and Retention of Credit Card Information
The laws regarding the collection and retention of credit card information vary from state to state. To fill this legal void, a proprietary security standard, the
Payment Card Industry Data Security Standards (PCI DSS)
, was created to provide a way of measuring and maintaining secure practices in organizations that handle cardholder information.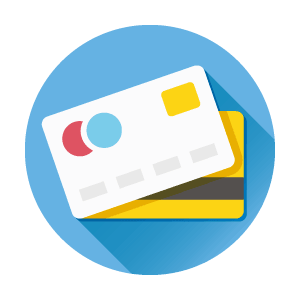 Despite PCI compliance not being enforceable by federal law, some U.S. states refer to the PCI DSS directly. For example, in 2009, Nevada incorporated the standard into state law, requiring merchants doing business in that state to comply with the standards. Even if you are not currently required to comply with the PCI DSS, this may change in the future, and maintaining compliance with the standards is another indicator of your business' professionalism. Many of the templates we've provided include a brief statement referring to the storage of credit card information. Depending on your business credit card information retention policy, this statement is something you may wish to include to allay customers' fears around potential fraudulent activity.
PCI DSS Requirements for Compliance
At a high level, there are 12 requirements for compliance established through the PCI DSS:
Install and maintain a firewall configuration to protect cardholder data
Do not use vendor supplied defaults for system passwords and other security parameters
Protect stored cardholder data
Encrypt transmission of cardholder data across open, public networks
Protect all systems against malware, and regularly update antivirus software programs
Develop and maintain secure systems and applications
Restrict access to cardholder data by business need to know
Identify and authenticate access to system components
Restrict physical access to cardholder data
Track and monitor all access to network resources and cardholder data
Regularly test security systems and processes
Maintain a policy that addresses information security for all personnel
For in-depth information on PCI compliance as well as access to webinars, tutorials, and guidance visit the
PCI Security Standards Council webpage
.
Credit Card Authorization Form Examples
Whether you need to process one-off transactions or recurring payments, choose from our range of customizable samples. The below templates have been designed to suit various business sectors, including healthcare, hospitality and legal services. You'll also find sample forms for use in various scenarios, including credit card refund authorization, membership charge authorization and fee charge authorization for Visa and Mastercard.
Multiple User Credit Authorization Form
Invoice Payment Charge Authorization
Fee Charge Authorization for Visa and MC
Hotel and Incidentals Charge Authorization Form
Airline Ticket Charge Authorization
Elegant Blank Credit Card Authorization Form
Flexible Donation Charge Authorization Form
Direct Payment Authorization Form
Donation Charge Authorization Form
Charge Authorization Form with Remittance Slip
Charge Authorization with In-Office Section
Charge Authorization with Driver's License
Equipment or Services Charge Authorization
Blanket Charge Authorization Form
Standing Card Authorization Form for Healthcare
Single or Recurring Invoice Charge Authorization
Professional Credit Card Authorization Form
Permit Application Charge Authorization via Fax Form
Membership Charge Authorization Form
Hotel Credit Card Authorization Form
Legal Services Charge Authorization Form
Monthly Recurring Credit Card Authorization Form
Generic Credit Card Authorization Form
Single or Recurring Charge Authorization Form
Standing Credit Card Authorization Form
Credit Card Refund Authorization Form
Participant Charge Authorization Form
Recurring Premium Charge Authorization Form
Software and Services Recurring Charge Form
Flexible Start Recurring Charge Authorization Form
Deposit and Application Fee Charge Authorization
Event Charges Authorization Form
Hotel Reservation Charge Authorization Form
Credit Authorization Assignation Form
Student Coursework and Accommodations Charge
Established Client Charge Authorization Form
Student Third-Party Vendor Charge Authorization Form
Outstanding Accounts Credit Card Authorization Form
Travel Expenditure Charge Authorization