21 Christmas Coupon Templates: printable DIY gift for anyone
Download printable Holiday gift coupons in MS Word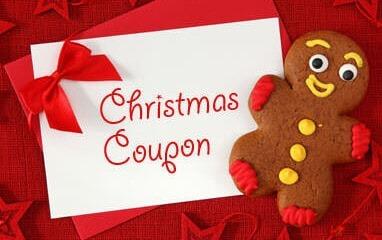 Are you running out of Christmas gift ideas? This is an expensive time of year when it comes to gift giving. So, why not give something of yourself or from your business? A Christmas Coupon is the answer to the dilemma of what to get, for whom and how much to spend.
Why use coupons as a gift?
Everyone appreciates coupons: Make yours personal
Show off your talent: Give a coupon that represents your craft or your business
Do a favor: Show your appreciation with a "service" coupon that promises help or assistance for someone who lives alone
Reward for purchase: Present customers with a coupon to draw them back to your business
Be creative: Use value in the form of money, discount, sale, a promise, a trip or a surprise
Get the word out: In business, print coupons for new customers
Show your appreciation: Do not forget the service and supply people in your life
Meet the neighbors: Coupon certificates are a good way to welcome new people to your world.
Are you convinced that gift coupon is a great idea of a gift? Here are just a few suggestions for Christmas Coupon ideas:
Give your mom a coupon for a dinner at her favorite restaurant
Give your spouse or partner a coupon for a day at the spa
Give your child the promise of a trip to the circus or a theme park
Attach a coupon to a certificate for your boss' favorite coffee shop
Give your customers who make a purchase, a discount coupon for their next visit
Give business associates a coupon for your promised assistance with a business task, such as photocopying or creating a presentation (something they do not enjoy doing)
Give a book of coupons to someone who is always doing things to help you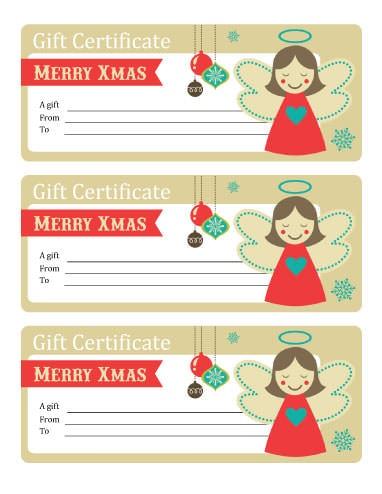 Size: 191 KB
Downloads:

11816

Download: zip and docx
Download
FEATURED TEMPLATE
Angel Xmas Coupons
An angel and ornaments with a generic Christmas greeting.
Our Free Christmas Coupon Collection gives you a variety of opportunities to express yourself, impress business associates and attract customers.Downloadable in Microsoft Word, these coupons are already designed with themes and blank lines to fill in the information. You can easily customize the coupon to fit your style and message. Be sure to check our Christmas Gift Certificates, Christmas Flyers, and Christmas Invitations as well; if you are good with MS Word you can easily do some magic of making a coupon from a flyer by moving around text and images.
On this page you will find 21 free templates for you to download and customize to your purposes. Using Microsoft Word, simply type your text on each blank line; insert a picture or clipart; print on a color computer, or take the saved file to a printer to print a large volume. Or, print it as is, and fill out by hand to give it a personal touch.
Here is how:
Download the template file
Open with Microsoft Word
Click on each blank line to type your information
Add a logo, picture, clipart by choosing Insert on the menu bar and select the type of item to insert
Add a symbol using Autoshapes on the Drawing Toolbar
Use the Mail Merge feature to insert a large number of names automatically
Change the font and color with Format>Font on the menu bar
Save the file and print the coupons on a color printer (It is better to use a card stock or 24 lb paper).
Trim the coupon to the right size.
20 More Christmas Coupon Templates
Scroll through our Christmas Coupon Templates below to choose just the right certificate, coupon or exchange from the many designs. The styles of art are very eclectic and professional. Choose one or more that fit your occasion and personality. The choices include elegant, generic, seasonal characters, classic and cartoon design themes.
We hope you enjoy our efforts to make your Christmas gift giving a little simpler and more personal. Send us a message with any new ideas you have for coupon types. Let us know how your coupons were received by the benefactors. Others will smile at your creativity and ingenuity. Happy coupon prepping, printing and gifting.
Red festive design
Art Deco Theme for Business
Red Decoration Landscape Design
Holiday Coupon Book
A Special Gift Reindeer Coupon
Happy Holidays with ribbon banner
Happy Holidays With Ribbon Coupon
Snow Theme Holiday Sample
Laughing Santa Design
Santa Coupon
Holiday Sale
Holiday Sale Blue Theme
Red And Green Merry Christmas Coupon
Christmas Gift Coupon
Generic Gift Coupon
Gift Coupon With Value
Merry Christmas Rounded Borders
Discount Offer
Cartoon Bubbles Coupon
Multipurpose Holiday Coupon