Assessment Templates
Simplify the assessment process with downloadable templates
Whether you're a teacher assessing student performance or a manager conducting interviews, an assessment is a great way to gather information and evaluate progress. Simply put,
assessments
are
evaluations
. They play a valuable role in improving outcomes, but creating one from scratch is overwhelming. By understanding the different ways to evaluate and choosing a template, you can easily create a customized assessment form.
Assessment types vary in the information they gather and the format used to gather information. Some use an open-ended question format while others have checklists seeking specific information.
With a performance assessment, the administrator of the form is observing the task as it is undertaken. On the other hand, some assessments are self-administered. Whatever form it takes, the purpose is to gather the relevant information and improve overall outcomes. With the following assessment templates in Microsoft Word and Excel format, you can quickly create the perfect form, tailored to finding the information you seek.
Needs assessment templates
A
needs assessment
is used to determine "what is" versus "what should be." The "need" is the gap or discrepancy between the two. Data is gathered and criteria are set to implement actions that will improve services, organizational operation, or a combination. Needs assessments are often used by service providers and are also used by communities, the educational system, and corporations to address system issues.
Office Ergonomic Assessment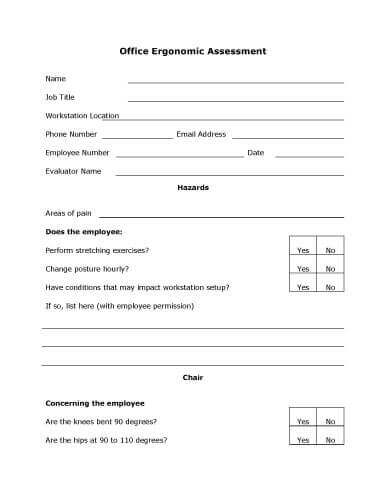 The below sample office ergonomic assessment is meant to be conducted by a selected evaluator and then shown to management and stored for reference. It covers all of the basic ergonomic tests in a computer workplace environment and provides space for the evaluator to make suggestions for improvement at the end of each section. In the format of questions with "Yes" or "No" check boxes, this assessment is among the most organized and quickly readable of its kind.
Size: 32 KB
Downloads:

3907

Filename: Office-Ergonomic-Assessment.docx
Download
Information Technology Assessment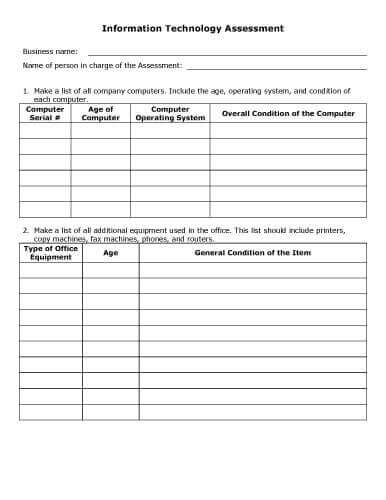 This information technology sample shows how detailed the process really is. This particular assessment was for a Michigan Apple Farm. The type of equipment and the programs used can be switched to reflect the technology used by any type of business or non-profit organization. In addition to inventorying the technology and equipment the company uses, the assessment also provides answers to specific questions including data storage, protection, and how well employees understand how to use the technology.
Size: 34 KB
Downloads:

3675

Filename: Information-Technology-Assessment.docx
Download
Home Security Assessment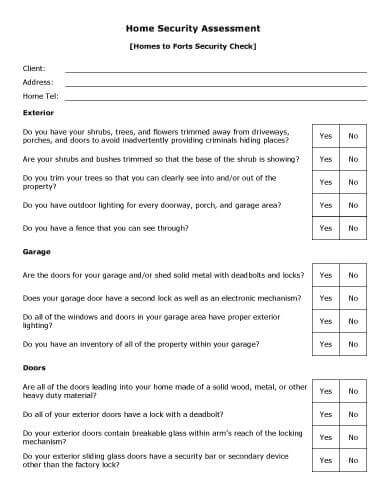 This particular sample is for a homeowner searching to update his security system. The security company completing the assessment is called Homes to Forts, and the individual seeking to update his security is Jeremy Safensound. The sample begins with the exterior of the home and concludes with the interior. Jeremy Safensound lives in a residential neighborhood with a large home and a large backyard. This sample also covers a large safe located within the home as well as a two door garage.
Size: 34 KB
Downloads:

3460

Filename: Home-Security-Assessment.docx
Download
Home Safety Assessment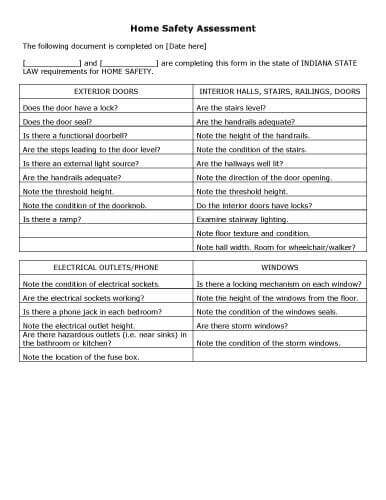 The following home safety assessment sample is for an elderly couple moving into a home in the state of Indiana that they need to assess for the use of medical equipment and other special health needs. The assessment will focus primarily on the fundamental home requirements and measurements of the home for medical equipment.
Size: 37 KB
Downloads:

3198

Filename: Home-Safety-Assessment.docx
Download
Risk assessment templates
According to ready.gov, a
risk assessment
identifies potential hazards and analyzes what could happen if a hazard occurs. They aren't just for the government and natural disasters though. For example, there are many
benefits of a risk assessment in the workplace
, such as optimal productivity, happier employees, more qualified employees, financial savings, and positive image. The Health and Safety Executive shares detailed information on how to perform a risk evaluation
here
.
Job Risk Assessment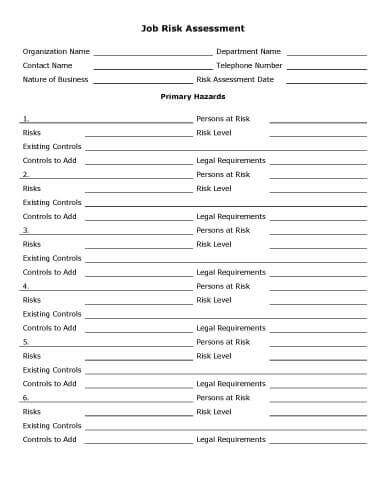 For a general guideline, this sample job risk assessment has proven useful in a wide spectrum of industries. It is easily customizable and easy to add spaces where necessary. Employers must keep in mind that the principle of the assessment is to identify and evaluate all major possible threats to the organization and use that information to take countermeasures against them. This process is meant to ultimately reduce risk in the company so it should be treated seriously in order to reap the most out of it.
Size: 32 KB
Downloads:

3613

Filename: Job-Risk-Assessment.docx
Download
Insurance Risk Assessment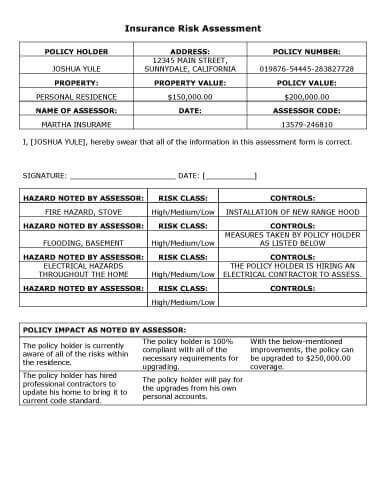 This insurance risk assessment sample is for a home located in California. The homeowner's name is Joshua Yule, and the insurance company is called IOU Insurance. This sample covers the basic information needed for the form as well as all of the steps Joshua Yule has taken to improve the safety of his home and minimize potential hazards.
Size: 39 KB
Downloads:

3288

Filename: Insurance-Risk-Assessment.docx
Download
Skill assessment templates
According to the
BMJ
(British Medical Journal), skills-based assessments are designed to measure knowledge, skills, and judgment for competency in a specific area. In this example, the BMJ is referring to evaluating the skills of physicians. However, skills-based evaluations have a wide range of applications. They are frequently used in education to assess basic skills like math and reading. In the workplace, they might rate technology, sales, or customer-service skills.
Technology Skills Assessment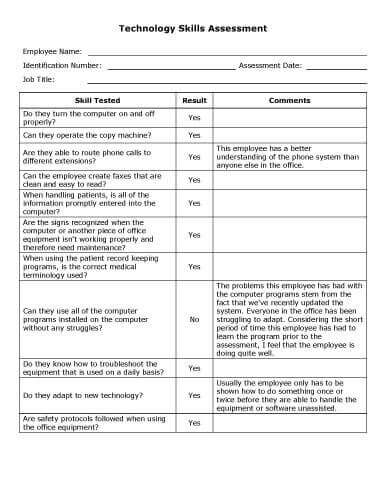 This technology skills assessment sample will be easy for managers to use during the testing process. When the employee completes an assignment, the manager makes a check mark next to the task if it was done satisfactorily. There is room for the manager to make comments. Since every person in the department needs to be assessed one by one, the manager should only plan on running one or two assessments per day. This particular assessment was performed on an employee who worked as a receptionist in a dental office.
Size: 36 KB
Downloads:

4305

Filename: Technology-Skills-Assessment.docx
Download
Sales Skills Assessment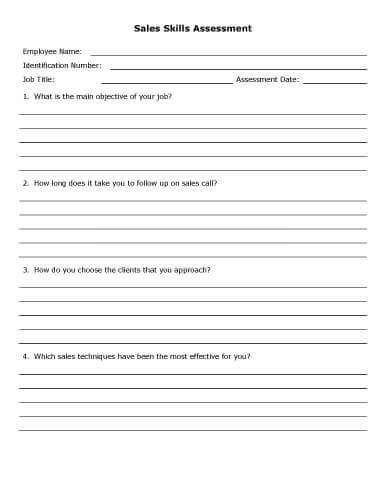 This sales skills assessment sample was used by an employer during the interview process and it could just have easily been used to assess a current member of the sales team. Questions can be modified to address a specific problem the sales manager has noticed. The most important thing managers need to remember when creating questions for the questionnaire will be asking things that make the salesperson really think about the selling process. After the salesperson has completed the questionnaire, the employee should meet with the manager to discuss the answers.
Size: 27 KB
Downloads:

3747

Filename: Sales-Skills-Assessment.docx
Download
Computer Skills Assessment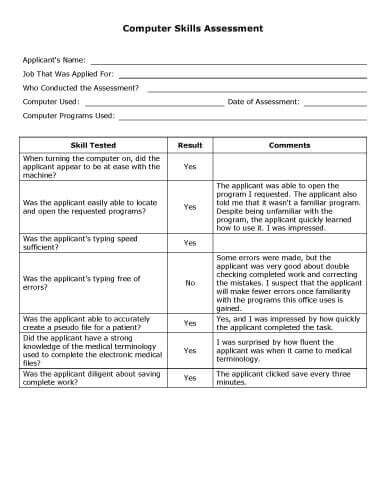 This computer skills assessment sample was taken from a test that was used to gauge if a job applicant had the basic skills needed to work in a healthcare office. The individual conducting the test asked the applicant to complete specific tasks and made a notation if the act was completed properly. The comment section made it easy for the human resource department to rate the results.
Size: 33 KB
Downloads:

3512

Filename: Computer-Skills-Assessment.docx
Download
Communication Skills Assessment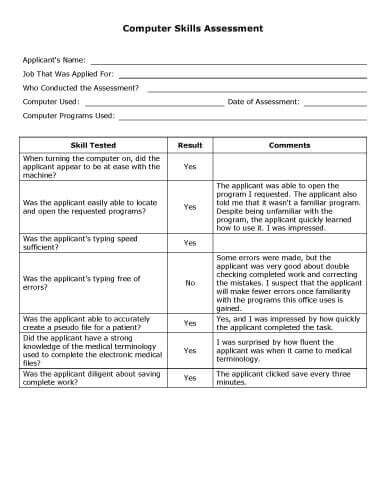 The communication skills assessment sample proves that getting information from employees about the current system for communicating does not have to be complicated. Just a few questions can generate a great deal of feedback. After the questionnaire has been submitted, groups will need to sit down and explore what can be done to improve both external and internal communication. Don't make the mistake of focusing on external communication while hoping the internal problems resolve themselves.
Size: KB
Downloads:

3630

Filename: Communication-Skills-Assessment.docx
Download
Basic Skills Assessment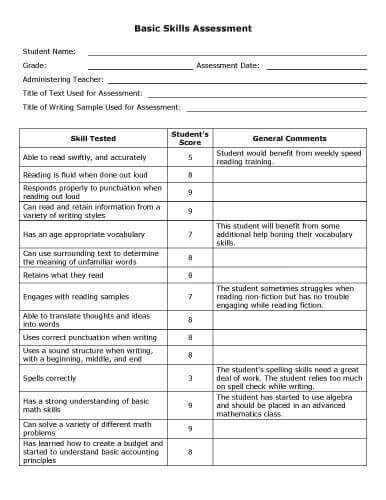 This sample basic skills assessment would be used at the end of the testing period. It includes all of the subject matters that a high school student should know. A guidance counselor would use the information on this form to determine what type of classes the student should be enrolled in the following year. Actual test results would be recorded in the score section. If the scores were very low, extra tutoring or even summer school might be suggested.
Size: 37 KB
Downloads:

3740

Filename: Basic-Skills-Assessment.docx
Download
Educational assessment templates
Assessment is a main component of the educational system, used to improve the teaching-learning process. A well-known example is the standardized test, which not only evaluates individual student learning but also progress within the school district, the state, or even the country. There are
different types of student assessment
beyond the standardized test, which is a
summative assessment
measuring progress after a large period of learning. These other types of evaluation in education include:
Formative assessment: an in-process evaluation of student learning with the purpose of course correction
Authentic assessment: a performance-based evaluation such as a speech, writing project, or science experiment
Elementary Reading Assessment
This elementary reading assessment sample was originally suggested by Dick Publishing for parents who homeschooled and wanted to assess children's reading abilities. The teacher marks each section as satisfactory or as a skill that needs further development. Presenting parents with the completed assessment score sheet helps them to understand their child's current reading level. Teachers can use the results to suggest things they can do at home that will help their child's reading and writing skills improve.
Size: KB
Downloads:

3362

Filename: Elementary-Reading-Assessment.docx
Download
Diagnostic Reading Assessment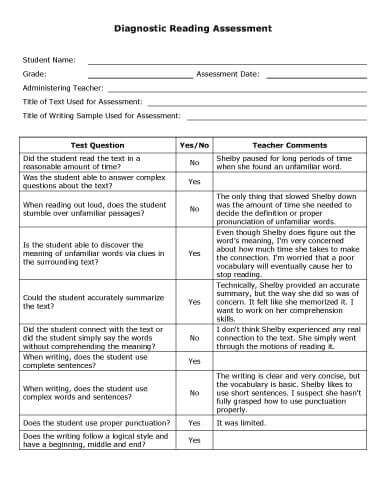 This diagnostic reading assessment sample was used to evaluate the reading and writing skills of an 8th grade student. Questions can be altered to fit any student's level of education. Teachers should mark yes if they feel the student shows a strong understanding of a critical skill and no if the student fails to perform adequately and needs additional tutoring. Any writing samples used to assess critical writing skills should be saved in the student's official school file.
Size: 37 KB
Downloads:

3206

Filename: Diagnostic-Reading-Assessment.docx
Download
Developmental Reading Assessment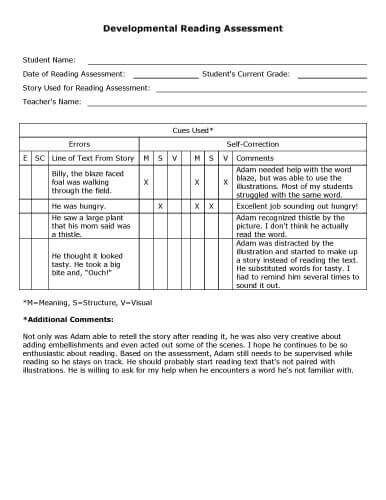 This is a developmental reading assessment sample that a public school teacher used to score one of her students. The teacher selected a book that was written for the child's reading level and that they hadn't read before. This teacher preferred to use check marks to note what tools the child used to problem solve. The score sheet remains in the student's permanent records. Future teachers will use the assessment to help track the student's progress as he or she continues to learn different reading concepts.
Size: 36 KB
Downloads:

3251

Filename: Developmental-Reading-Assessment.docx
Download
Assistive Technology Assessment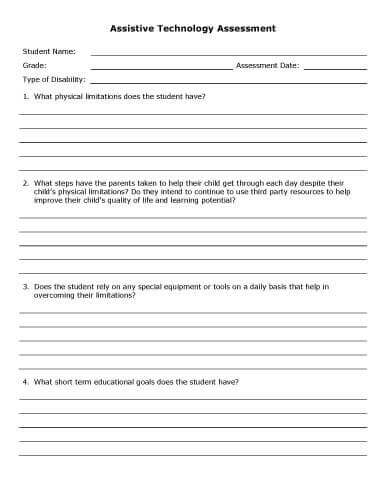 This assistive technology assessment sample is a questionnaire style. None of the questions should be answered without the input of the people involved in the student's life. It's extremely important that the student has a voice during this assessment process. The students should be urged to express all of their educational goals, and they need to be comfortable with the decisions that are made about the assistive technology tools they will use to help further their education.
Size: 28 KB
Downloads:

3009

Filename: Assistive-Technology-Assessment.docx
Download
Workplace assessments templates
A good assessment strategy in the workplace helps employers
make the right hiring decisions
and
evaluate employee skills
to identify strengths and weaknesses. The U.S. Department of Labor has a guide,
Testing and Assessment: An Employer's Guide to Good Practices
, which outlines a plan that managers and human resource professionals can use to make valuation decisions in the workplace. In addition, career and personality tests can help job seekers find the right fit in a job.
Job Performance Assessment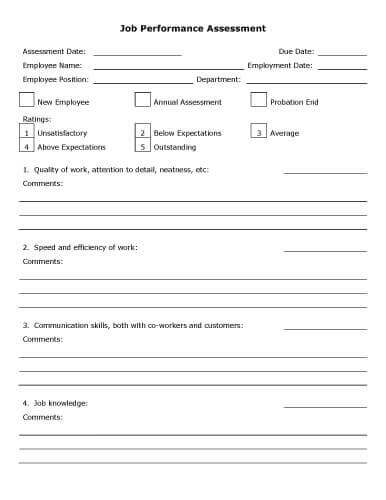 This sample job performance assessment is a general but thorough outline of how the test should look. It includes all the points the assessor should cover and everything a business needs to perform a generic employee assessment in order to make sure the workplace is being run competently, professionally and responsibly.
Size: 32 KB
Downloads:

4069

Filename: Job-Performance-Assessment.docx
Download
Job Interview Assessment
This sample interview assessment form is for a company hiring a new receptionist. The company titled Front Door Worldwide is looking for someone who is educated, friendly, and good with computers. The form will cover all of the basic desires that the company has for a new employee, as well as additional comments by the interviewer named Frederick Hasajobe.
Size: 39 KB
Downloads:

3734

Filename: Job-Interview-Assessment.docx
Download
Employee Self Assessment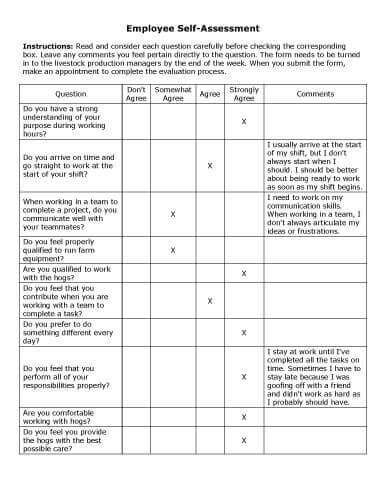 This employee self assessment sample was filled out by an individual who works on a swine production farm in Idaho. The areas of expertise can be altered to fit any type of job or work environment. After filling out and submitting the form, the employee and the farm manager meet to discuss the employee's job performance and future at the farm.
Size: 39 KB
Downloads:

3896

Filename: Employee-Self-Assessment.docx
Download
Annual Self Assessment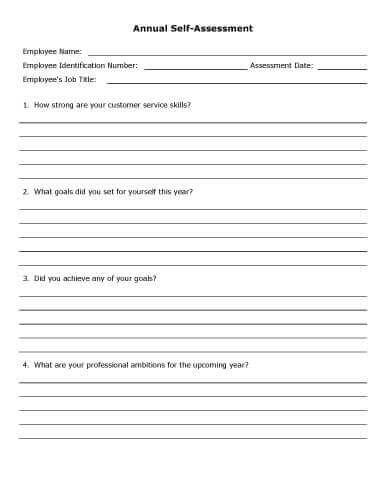 This annual self assessment sample questionnaire was used by a restaurant owner to help them evaluate the progress of their kitchen staff. With just a few minor adjustments, the questions can be altered to fit any job. Managers will want to instruct their employees on the importance of honesty. After the self assessment has been turned in, the manager will be able to start the next phase of the yearly employee evaluation.
Size: 27 KB
Downloads:

3363

Filename: Annual-Self-Assessment.docx
Download
Personality Test Assessment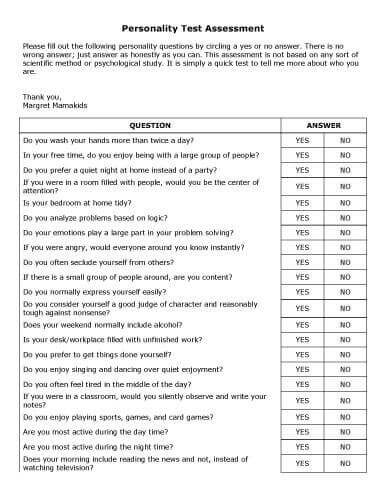 This sample is a basic overview of what the personality test assessment should look like. The author is a mother of three named Margret Mamakids who is creating a test for individuals interviewing to be her live-in nanny. The sample contains questions about hygiene as well as organization. It will also include basic personality questions so that the mother of three can assess the type of person she is interviewing. The mother of three is looking for an organized, outgoing, and active individual to watch her children, so she is looking for answers that will prioritize liveliness.
Size: 41 KB
Downloads:

3691

Filename: Personality-Test-Assessment.docx
Download
Career Self Assessment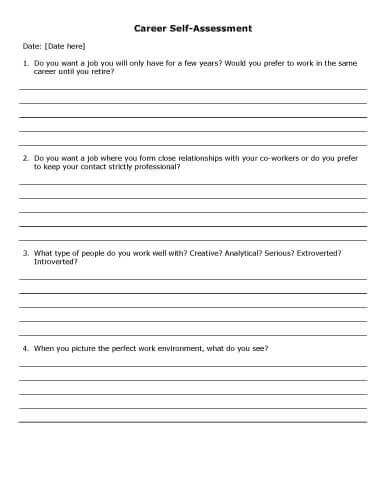 This career self assessment sample provides questions that career experts urge individuals to ask themselves before applying for long-term jobs. After answering each question, the person will have a better idea about the type of career and work environment that will make he or she the happiest. Knowing the answers to each question reduces the odds of an unsuitable job offer being accepted.
Size: 26 KB
Downloads:

3487

Filename: Career-Self-Assessment.docx
Download
Physical Fitness Assessment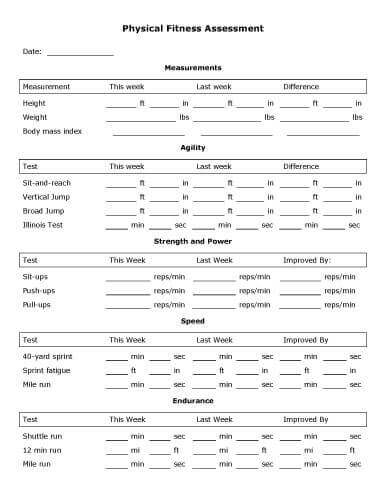 This sample is a general, commonly used test that can be found in most areas of the military and law enforcement. It includes activities that calculate agility, strength and endurance, as well as a few basic measurements, and is versatile enough to be used for almost any purpose, from tracking personal fitness goals to train for a professional sports team or military position. The user may use all the tests listed or pick and choose specific ones for his or her physical fitness assessment
Size: KB
Downloads:

3598

Filename: Physical-Fitness-Assessment.docx
Download
Customer Service Self Assessment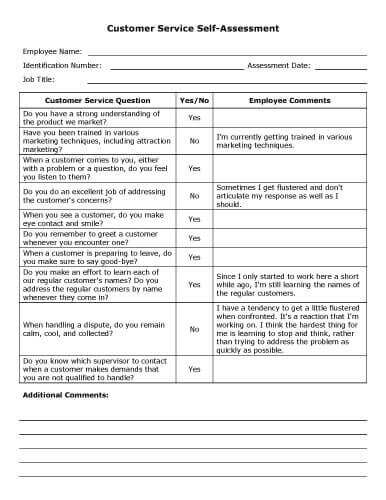 This customer service self assessment sample has skills that pertain to customer service and a place where the employees can mark whether they have a strong understanding of that skill or whether it is something they need to improve. A comment section makes it possible for employees to create a dialogue with their employer. The customer service assessment can be administered as frequently as employers feel necessary.
Size: 35 KB
Downloads:

3314

Filename: Customer-Service-Self-Assessment.docx
Download
Candidate Fitness Assessment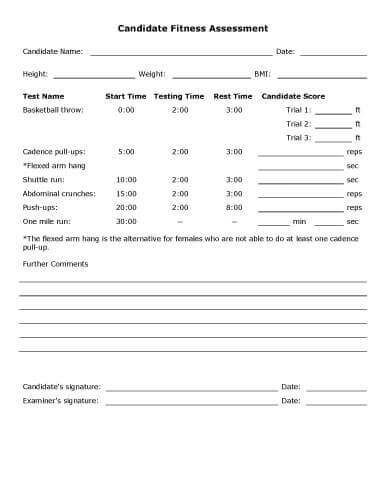 With the following candidate fitness assessment, the US Army, Navy and Air Force test their new candidates for admission. This sample consists of six physical examinations (the basketball throw, cadence pull-ups or flexed arm hang, the shuttle run, abdominal crunches, Push-ups and the one mile run), selected and sequenced to measure muscular and Cardio-respiratory strength, agility, speed, balance and endurance. They are all set with specific start and end times over one constant period, so the clock is running continuously throughout the entire test.
Size: KB
Downloads:

3053

Filename: Candidate-Fitness-Assessment.docx
Download
Health assessments templates
Since we've all been through one at our doctor's office, the health assessment is quite familiar to most people. This type can be very general or highly specific, such as with a neurological health assessment or a mental health assessment. It can also be physical. For example, it can evaluate if a candidate is able to meet the minimum requirements to work under demanding conditions, such as in the military or in law enforcement. Another example of someone who might use a physical assessment form is a personal trainer who needs to monitor a client's current condition and progress.
Nursing Health Assessment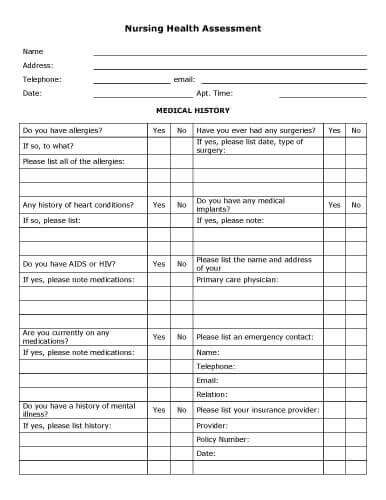 This particular nursing health assessment example will be for a patient, FibraMialga, who is suffering from immense pain. The nurse, HelpaLotapeople, has the patient fill out the form and then continues with a physical examination. It includes a previous medical history section, a pain evaluation section, and then a section dedicated to the nurse's notes and comments.
Size: 47 KB
Downloads:

3300

Filename: Nursing-Health-Assessment.docx
Download
Nursing Patient Assessment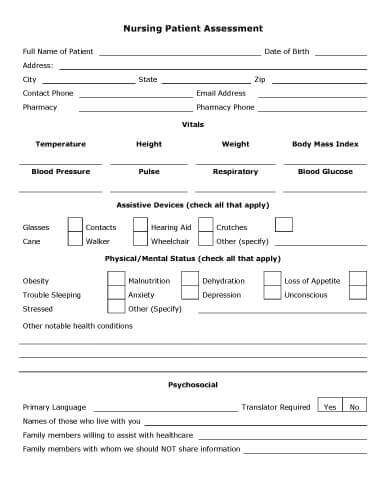 This nursing patient assessment sample form provides an ideal solution for most patient assessment needs in the nursing field. It covers all necessary initial information, provides a useful summary of patient data, and gives insight on services that the patient may desire or need. Essentially, it helps the nurse and/or organization to best serve the patient.
Size: KB
Downloads:

3306

Filename: Nursing-Patient-Assessment.docx
Download
Nursing Neurological Assessment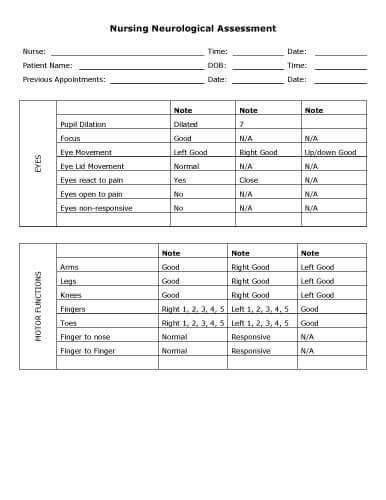 This nursing neurological assessment sample is an overview of what is expected in this type of assessment. The patient's name is Jarvis Nervousness, and he is suffering from continuous headaches and migraines. The nurse on call is named Susan Betterbrain. The assessment will cover the necessary sections for a neurological assessment and includes an area for basic information such as names, times, and dates. Finally, it includes an area for signatures for the nurse, doctors, and any other medical professional needing access to this assessment.
Size: KB
Downloads:

3000

Filename: Nursing-Neurological-Assessment.docx
Download
Pediatric Nursing Assessment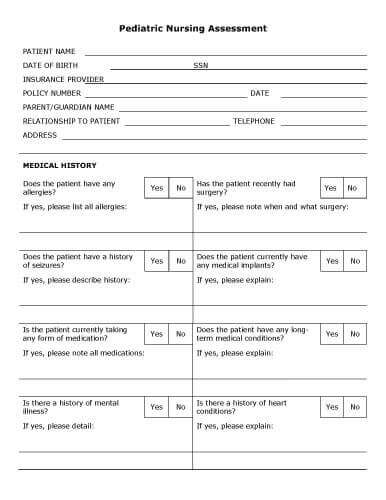 The following pediatric nursing assessment example contains information provided by Greg Mykidsick for his son, Jerold. It includes a brief medical history of the child, contact information, and the current state of the child. Jerold is suffering from constipation and is two years-old. The nurse taking care of Jerold is Martha Giveshots. The sample also includes a section for the nurse's notes and observations of the child.
Size: 40 KB
Downloads:

3198

Filename: Pediatric-Nursing-Assessment.docx
Download
Nursing Physical Assessment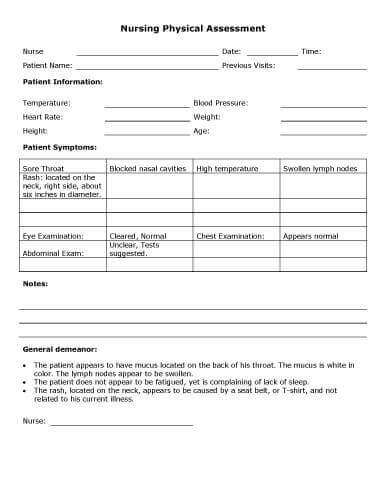 This nursing physical assessment sample is an overview of what is essential to this type of document. The example is between a patient, Hugo Whining, and his nurse, Mable Bluescrubs. Mr. Whining has an unknown ailment, but is certainly not short for symptoms and signs of illness. Mable Bluescrubs notes all of his symptoms and fills out the nurses' physical assessment form as proper as she can. The sample includes a section for noting symptoms, the patient's temperature and measurements, as well as a note and a comments section.
Size: 32 KB
Downloads:

2978

Filename: Nursing-Physical-Assessment.docx
Download
Personal Trainer Assessment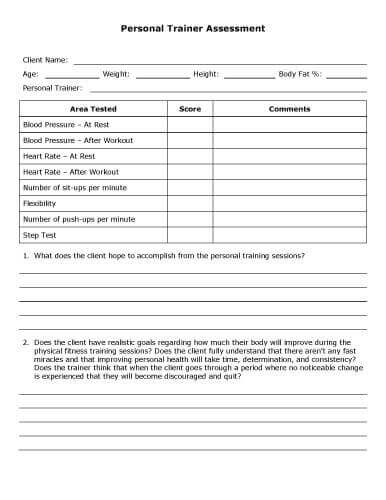 This personal trainer assessment sample is part checklist and part questionnaire. Personal trainers will ask their clients to provide a series of different exercises and will record the information on the assessment form. The second part of the form is a questionnaire which the client and trainer will discuss. Goals, commitment, and compatibility will have to be discussed during the assessment process.
Size: 33 KB
Downloads:

3070

Filename: Personal-Trainer-Assessment.docx
Download