HLOOM'S INDUSTRY-SPECIFIC RESUME EXAMPLES
Access a collection of resume examples and advice to kickstart your job search.

Six seconds. That's the average amount of time that recruiters and hiring managers spend looking at a resume. What does this startlingly short timeline mean for you? It means you need to make a strong impression with your resume, right away.

If you're unsure as to how to write a top-notch resume, you'll need to learn. You also need to know how to adapt your resume your field of interest, making sure it contains properly phrased, industry-specific content that demonstrates your understanding of the job at hand.

Starting off with a resume example is crucial to your success. Resume examples provide not only inspiration but also guidance on structure and key elements to include. Hloom's resume examples—organized by industry and job title, and paired with on-page writing tips—show you how to generate a unique, eye-catching resume in no time at all.
Build a Resume in 3 Steps
1
First things first
Decide which resume format will do the best job of displaying your work experience and skills. Chronological, functional, and combination are the three most common formats; you can determine which one is best-suited for you via our handy
Resume Format Guide
.
2
Next, you need to think about presentation,
specifically which resume template will work best for your needs. Things to consider here include industry (for example, if you're applying for a job in a conservative field, like finance, find a
basic template
) and method of submission (say you're submitting through an applicant tracking system— we have an
ATS template
you can use).
3
Finally, it's time to personalize
You need to customize your resume so that it tells your specific career story and speaks to the required skills and experience of the job at hand.
Create Your Resume Now
Food Industry, Restaurant & Bar Resume Examples
If you're looking to wait tables, bartend, or prepare and serve food to the public, these resume examples will provide solid starting points for crafting your resume. Formal educational credentials are not required for most jobs in this field, so focus on emphasizing your skills and work history in your resume. With population growth expanding, the need for more food industry-related jobs will continue to grow. Know that you should put your top-notch people skills front and center if you're looking for work as a server of any kind.
Customer Service & Retail Industry Resume Examples
These resume examples are ideal for those looking to assist customers in a customer service capacity, as well as cashiers, salespeople, and managers in a variety of retail settings, including clothing, furniture, and automobiles. Customer service and retail industry jobs both call for top-notch people skills, so be sure to emphasize yours. Also, customize your work history in such a way that you tell stories that spell out your greatest customer service accomplishments.
Office Worker & Administrative Assistant
Resume Examples
If you're looking for a job as an administrative assistant, bookkeeper, accountant, auditor, or general office clerk, you've come to the right place. Know that exceptional organizational and communication skills – and identifying related accomplishments – are key to landing most office worker and administrative assistant jobs. For more roles, a high school diploma (or equivalent) and some college experience are typically required, too. Also, be sure to note experience any experience you have with or expertise in particular software programs.
Maintenance & Janitorial Resume Examples
Cleaning professionals, grounds maintenance workers, facilities managers, and HVAC and refrigeration maintenance workers will be served well by these resume examples. For cleaning professionals of all stripes—from janitors to residential house cleaners—it will be important to emphasize a commitment to cleanliness, as well as strong organizational skills and proof of your physical capabilities. For more technical jobs, like facilities managers, emphasizing strong technical and leadership skills is a must.
Nursing & Healthcare Resume Examples
These resume samples are ideal for those in the wide-ranging field of healthcare—doctors, veterinarians, dentists, nurses, pharmacists, home health aides, EMTs, paramedics, and therapists of all varieties. The healthcare sector is expected to grow almost 20 percent by 2024, adding approximately 2.3 million new jobs. To take advantage of this growth from a career perspective, you'll need to emphasize your particular healthcare training and education. Remember to include relevant credentials after your name on your resume—RN or MD, for example–and to include relevant licensing information.
Marketing & Sales Resume Examples
Looking to springboard into a new career in marketing or sales? These resume examples work nicely for marketing professionals from a variety of backgrounds, including brand, product, and account managers, as well as a variety of sales roles, including insurance and real estate. Adding relevant soft and hard skills are key to a successful sales or marketing resume, so be sure to emphasize both. Also, emphasize any measurable achievements or successes in your work history section by using sales figures or other data.
Engineering Resume Examples
Engineers and others in the wide field of engineering, which includes civil, environmental, biomedical, agricultural, aerospace, and computer engineering, will find resume writing inspiration in these engineering resume examples. Technical and problem-solving skills are utterly crucial to focus on when crafting an engineering-related resume, and so is education—a bachelor's or associate's degree is needed for most positions in this field. Be sure to note any quantifiable accomplishments from a previous or current position in the Experience section by using data or statistics wherever possible.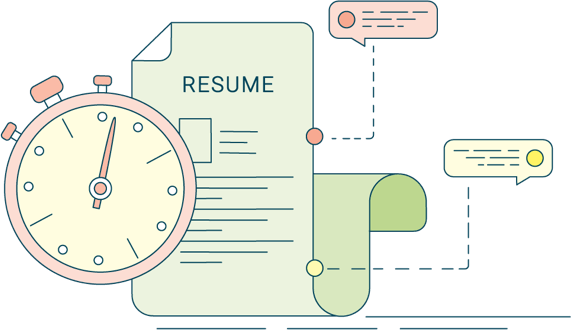 Should I Use a Resume Builder?
When you use a resume builder, you take away a lot of the guesswork involved in the sometimes puzzling art of writing a resume. A resume builder provides beginning-to-end guidance in resume writing, offering jobseekers step-by-step guidance in creating a customized resume.
Here's how a resume builder works:
First, you select a resume template from a library of professional designs, and then build out the resume with industry-specific bullet points. Along the way, custom content and personalized tips are provided to the jobseeker to help them find just the right words to describe their qualifications and allowing them to generate a resume that promotes their unique skills, experience, and qualifications.
Resume builders are useful for a number of reasons, one of the primary ones being that they allow jobseekers to generate resumes very quickly (usually, with just a few clicks). Also, since you're starting with a professionally designed resume template, a lot of the writing and formatting work is already done for you. What could be better than that?
Create My Resume
Education & Teaching Resume Examples
Teachers and teacher assistants—from preschool to postsecondary—will find resume inspiration in our collection of education and teaching resume examples. These examples are also ideal for educational directors, principals, and other professionals, as well. A great education and teaching resume should include a focus on work history, education, and skills; don't forget this when assembling yours. Share major classroom successes in teaching-related resumes, and stellar leadership, budgeting, and curriculum supervision successes in educational director-related resumes.
Construction Industry Resume Examples
The demand for skilled workers in the construction industry field is set to grow by ten percent by 2024, faster than the national average for all other occupational fields. Carpenters, electricians, drywallers, roofers, and general construction workers can take stock of this collection of resume examples when sitting down to assemble theirs. Keep this key piece of advice in mind—emphasize the technical skills needed for the particular branch of construction you're angling to find a job in to increase your chances of success.
Construction Industry
Resume Examples